New York Yankees Outfielder Harrison Bader to Miss Opening Day
Posted on: March 13, 2023, 11:42h.
Last updated on: March 17, 2023, 01:19h.
The bad news keeps coming in the Bronx. Harrison Bader, New York Yankees center fielder and former Gold Glove winner, will miss Opening Day because of an oblique injury.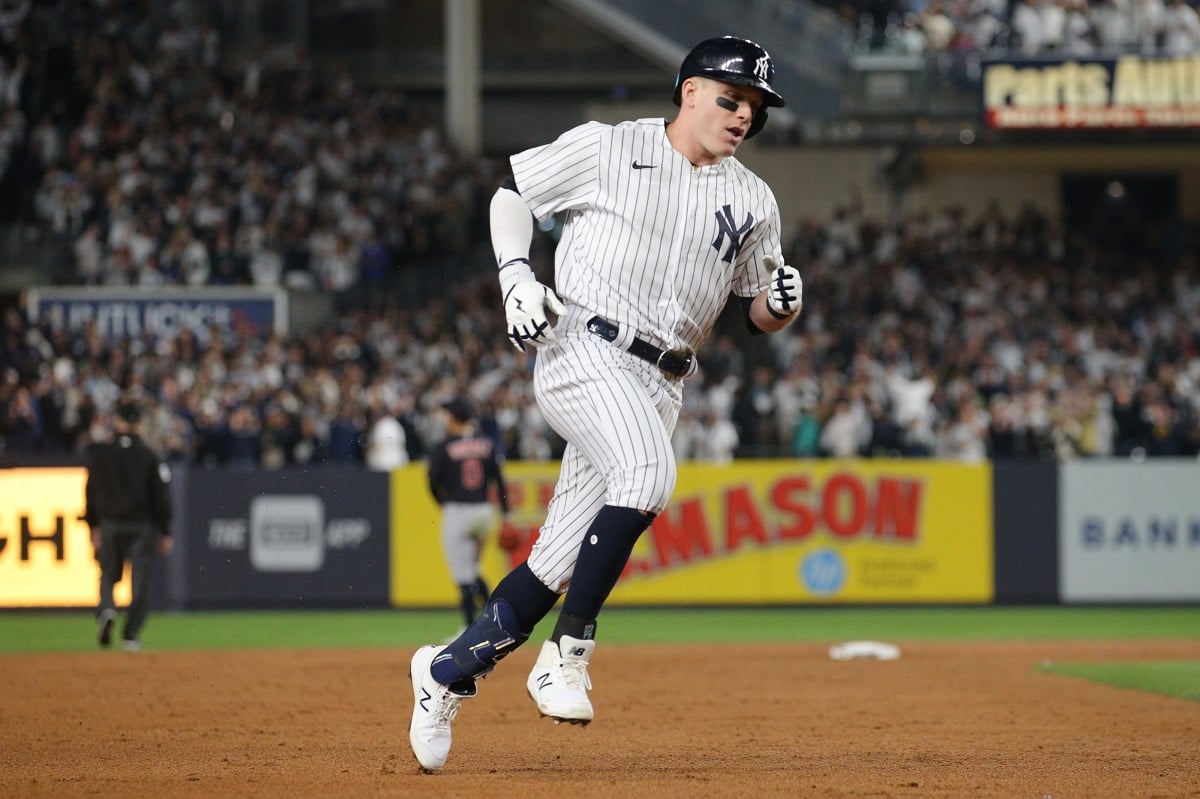 Bader strained his left oblique and is expected to miss at least six weeks of action. He's the first position player on the Yankees to end up on the IL this season.
Right fielder Aaron Judge started half of last season in center field and is expected to replace Bader until he's ready to return to the Yankees. Manager Aaron Boone has a few more weeks remaining in spring training to decide on his options in right field.
Bader Joins Four Pitchers on Injury List
The Yankees sent their second starting pitcher and fourth overall pitcher to the IL just last week. Left-handed veteran free agent Carlos Rodon went on the IL with a left forearm strain. Rodon will also miss Opening Day, but the Yankees expect him back in the rotation in early April, so he might miss only one or two starts.
The Yankees possibly lost Frankie Montas, a veteran right-handed starter, for the season while he recovers from surgery to repair a torn labrum. Montas hopes he can rejoin the Yankees at the end of the summer. But he's on the extended IL before the season even begins.
The Yankees are also short-handed in the bullpen without two valuable arms. Right-handed Tommy Kahnle had been one of Boone's favorite relief pitchers, but he will miss several weeks with biceps tendinitis. Right-handed Lou Trivino has a ligament strain in his right elbow and isn't expected to return until mid-May.
Despite the rash of injuries during spring training, the Yankees haven't seen a change in their futures at DraftKings. The Yankees are +750 odds to win the 2023 World Series, marking their first championship since 2009.
The defending champion Houston Astros are the consensus favorite to win the World Series at +600 odds. The Yankees are second cofavorites with the crosstown New York Mets at +750 odds.
Since 2017, the Astros have made four appearances in the World Series, winning the championship twice. The Astros won the American League pennant four times in the last six seasons. They're the betting favorite to win a third-straight AL pennant at +310 odds. The Yankees are a close second at +380 odds.
Bad Beat for Bader
The Yankees acquired Bader from the St. Louis Cardinals late last season in a trade for pitcher Jordan Montgomery. He appeared in only 14 regular-season games for the Yankees in 2022 before making a huge postseason splash.
A thrilled Bader couldn't wait to play his first full season with the Yankees. He was slated to start in center field on Opening Day.
Bader first noticed an injury last Wednesday after his first plate appearance in a spring training game against the Cardinals. He experienced discomfort and unusual pain in his left side and exited the game. Testing and imaging revealed a left oblique strain.
Oblique injuries can take a long time to heal compared to other strains. The Yankees didn't indicate the severity of Bader's injury, but even the lowest-grade oblique strain could sideline him for six weeks.
"Never had an oblique (injury)," Bader told The Athletic. "Which is why it's strange to me. It's definitely a punch in the face, but it is what it is."
Two of Bader's teammates, Aaron Judge and Giancarlo Stanton, suffered oblique injuries in past seasons. Both sluggers were sidelined for a couple of months, and it took several weeks after they returned to the lineup to find their groove at the plate. If baseball players rush back from an oblique injury, it can have an adverse effect on their power at the plate.
Local Kid Makes Good
Bader grew up as a Yankees fan in nearby Westchester County, just over the city line. He was a star athlete at Horace Mann in the posh Riverdale section of the Bronx, which is close to Yankee Stadium. Horace Mann is a swanky prep school that's not known for grooming future professional athletes. Bader stood out from his peers with a .500 batting average while setting the school record in home runs.
While most of his high school classmates headed to the Ivy League, Bader attended the University of Florida on a baseball scholarship. The Cardinals selected him with a third-round pick in the 2015 MLB Draft.
Last season, Bader got a once-in-a-lifetime opportunity to suit up for the Yankees and wear the legendary pinstripes. He won a Gold Glove with the Cardinals in 2021, and the Yankees took him to strengthen their defense while adding speed on the basepaths.
Bader took over the starting center field job in the postseason after Aaron Hicks struggled at the plate and in the field. In nine playoff games, Bader smacked five home runs, drove in six runs, and slashed at .333/.429./.833. He became an instant fan favorite in the Bronx because Yankees fans form a special bond with hometown players, especially if they excel in October.
Bader set a new franchise record with four home runs in his first six playoff games. He also joined an exclusive club of Yankee centerfielders — including Mickey Mantle and Bernie Williams — with three or more homers in a single postseason.
Next Man Up:  Cabrera, Ortega, Florial
Oswaldo Cabrera is primarily an infielder, but the rookie from Venezuela demonstrated his versatility last season by playing multiple positions in the outfield. He showed flashes of power at the plate with six home runs in 154 at-bats. In 44 games, he had a slash line of .247/.312/.429. Cabrera should earn a roster spot because he plays the infield and outfield.
Boone has also taken a shine to Rafael Ortega, another Venezuelan outfielder, who had a short stint with the Cubs last season.
Oretga has been one of the guys that stood out to me with the bat, especially against right-handed pitching," said Boone. "He's very much in the mix of things with outfield versatility, and what he can provide against right-handed pitching."
The Yankees have mixed feelings about Estevan Florial. He's one of their top outfield prospects from the Dominican Republic. But he didn't make much of an impact during his short stint in "The Show" last year. In 17 games as a September call-up, he batted a paltry .097. The Yankees are in a tough spot with Florial because he's out of minor league options and in a sink-or-swim situation.
The Yankees are also keeping a close eye on center fielder Jasson Domínguez. Dubbed "The Martian" by his teammates in the Dominican Republic for his alien-like skills on the diamond, Domínguez made a huge impression in spring training games. He's only 20 years old and earned a promotion to Double-A ball at the end of last season. Domínguez isn't expected to make the big league roster, and the organization is in no rush to call him up until he gets a full season of AAA ball under his belt.