Wynn Las Vegas Buffet Returns June 18, Casino Staple Redefined
Posted on: June 16, 2020, 09:29h.
Last updated on: June 16, 2020, 11:42h.
The Wynn Las Vegas buffet will reopen Thursday, June 18, but the eatery will operate in a vastly different manner in wake of the COVID-19 pandemic.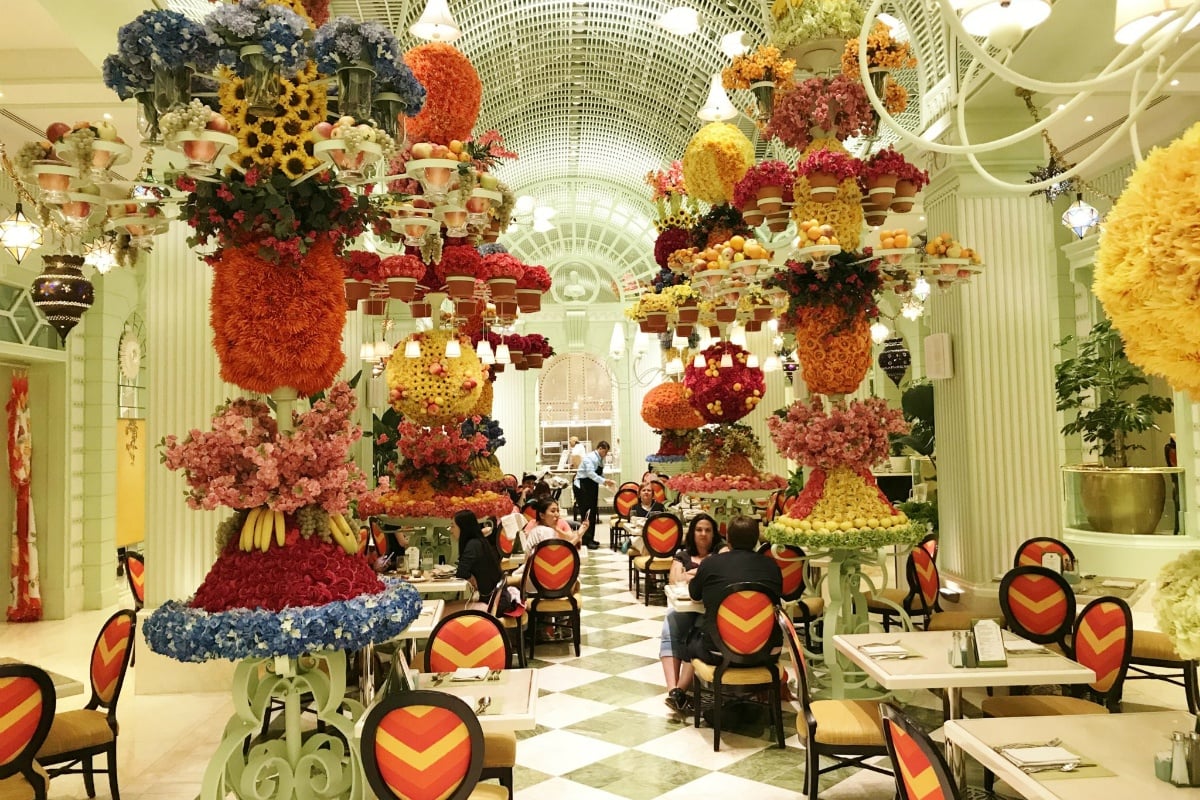 Buffets and casinos go hand-in-hand like America and apple pie. But the longtime pillar of a traditional Las Vegas experience will be different come Thursday.
The main change is that diners will no longer serve themselves. Instead, customers will make their selections at their table, and a server will prepare their plates and deliver the food.
Brunch will be served Monday to Thursday 11:30 a.m. to 3:30 p.m., and dinner 3:30 p.m. to 9:00 p.m. A gourmet brunch will be offered Friday 11:30 a.m.-3:30 p,m,, and 8:00 a.m. to 3:30 p.m. on the weekends. A gourmet dinner buffet will run 3:30 p.m.-9:00 p.m. Friday through Sunday.
The Wynn Las Vegas buffet will offer guests some 90 dishes, "from slow roasted prime rib, crab legs and sushi, to desserts galore."
Each diner can eat all he or she wishes for a two-hour period. Costs range from $36.99 to $65.99. Unlimited alcoholic drinks, including beer, wine, and cocktails, ranges from $24.99 to $29.99, dependent on the meal.
Still a Buffet?
During phase two of Nevada Gov. Steve Sisolak's (D) reopening plan, buffets, cafeterias, and self-serving dining facilities must remain closed. So, the question must be asked, is The Buffet at Wynn Las Vegas, under its upcoming operational procedures, still a buffet?
"Fun fact: A 'buffet' where servers deliver your food is called a 'restaurant,'" Scott Roeben, aka @VitalVegas, tweeted.
Roeben's Twitter followers had a mix response. "Buffets are restaurants," said one person. Another: "I think we need a new word, cause at a 'restaurant' you have to order from a specific list and are charged based on that order. We should call the new model a 'Full Service Buffet.'"
The all-you-can-eat buffet is largely credited to the late Las Vegas casino executive Herb Cobb McDonald, who in 1946 implemented a $1 AYCE buffet (all-you-can-eat) at the El Rancho Vegas on the Strip.
Future of Buffets
Along with servers delivering diners their food, the Wynn Las Vegas buffet has spaced tables further apart to maintain social distancing. Single-use menus will be offered, as well as mobile ordering.
Nearly every casino on the Las Vegas Strip had a buffet before the region was forced to close. While the Strip has moved upscale over the last two decades, the AYCE buffet has survived. The coronavirus, however, will likely result in permanent changes to the eateries.
"It's one of the things people want to do," said Amanda Belarmino, an assistant professor at UNLV's William F. Harrah College of Hospitality. "Gambling, going to the buffet. It's all part of the experience."
Belarmino added that the new buffet model at Wynn will help the resort better learn about guest preferences when it comes to food, which could result in better cost controls.
Similar Guides On This Topic