Woods Gets Fourth Surgery on Back, Return in Question
Posted on: April 21, 2017, 04:00h.
Last updated on: April 21, 2017, 11:06h.
The back that Tiger Woods carried the PGA Tour on for two decades got its fourth surgery, and his return this season and beyond is in serious doubt.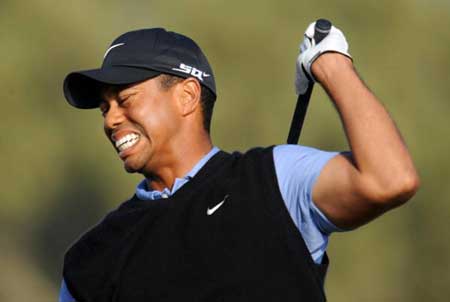 The 14-time major championship winner announced on his website that he had the procedure done just two days after he divulged plans to design a public golf course at Big Cedar Lodge 10 miles south of Branson, Missouri.
During that public event, Woods hit two balls on a 100-yard par-3 hole and did not look in pain swinging a golf club. His first ball apparently missed the green, but the second one found the putting surface. Two days later he was on an operating table.
He first had a back operation prior to the 2014 Masters, then two more in the fall of 2015. He had planned to play in this year's Masters, but pulled out the Friday before.
Surgery Explained
The most recent procedure was necessary to correct effects from the previous three surgeries. The golfer's bottom lower-back disc severely narrowed, causing sciatica and severe back and leg pain and the therapy he was doing wasn't working.
The fusion surgery entailed removing the damaged disc and re-elevating the collapsed disc space to normal levels. This allows the one vertebrae to heal to the other. The goal is to relieve the pressure on the nerve and to give the nerve the best chance of healing.
It was performed by Dr. Richard Guyer of the Center for Disc Replacement at the Texas Back Institute, who said in a statement that it went well.
"After he recovers from surgery, he will gradually begin his rehabilitation until he is completely healed," Guyer said. "Once that's accomplished, his workouts will be geared to allowing him to return to competitive golf."
No Timetable for Return
Woods had said he was ready to come back to competitive golf late last year and oddsmakers liked his chances in tournaments. He stumbled in the two events he played in 2017. In February, he missed the cut at the Farmers Insurance Open in San Diego and then a week later in Dubai, shot a 77 and withdrew from the tournament.
The expected six-month recovery time will probably keep him out for the rest of the 2017 season. He was a plus-660 underdog to win the U.S. Open in June, as sports books gave him little chance to return to his old form.
Woods, though, firmly believes this is not the end of his career and predicts he'll be playing again on tour.
"The surgery went well, and I'm optimistic this will relieve my back spasms and pain," Woods said. "When healed, I look forward to getting back to a normal life, playing with my kids, competing in professional golf and living without the pain I have been battling so long."