Woman Named GoldenPalace.com Watches Her Son's Golf Career Move Towards the Jackpot
Posted on: August 28, 2016, 01:07h.
Last updated on: August 28, 2016, 01:15h.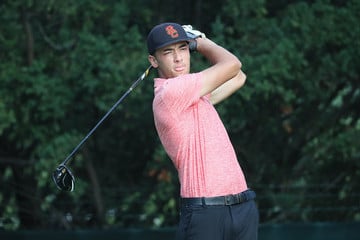 GoldenPalace.com is an online casino that operates from the Mediterranean island nation of Malta. It's licensed for Internet gambling by the Malta Gaming Authority and authorized to market to residents of the United Kingdom through its UK Gambling Commission license.
But GoldenPalace.com is also the legal name of a 44-year-old woman living in Southern California. No, seriously.
Eleven years again in 2005, Terri Ilagan auctioned off the rights to legally change her name on eBay. The owners of GoldenPalace.com came in with the winning bid of $15,199 and Ilagan obliged.
At the time, the mother of five said she needed money to raise her family. Her husband went along with the scheme, though the family admits they have continued to call her Terri.
The money was used to support the children's activities, and that included Jonah's golf tournaments.
The marketing scheme by GoldenPalace.com reentered the news this week after her son Jonah Texeira reached the semifinals of the United States Golf Association's Amateur Championship.
The US Amateur is the most prestigious tournament in non-professional golf. Its list of winners includes the likes of Bobby Jones, Tiger Woods, and Jack Nicklaus.
"That little incident jump-started our family financially," Ilagan told Golf Digest this week. "He (Jonah) was nine. I would never have thought in a million years I'd be involved in golf now."
Good on You, GoldenPalace
The online casino website has generated plenty of press for its outlandish "investments." The digital gaming operator was extremely active in online auctions during the mid-2000s.
The website paid $28,000 for a grilled cheese purportedly showing the Virgin Mary, nearly a quarter of a million dollars for a Volkswagen Golf that previously belonged to Pope Emeritus Benedict XVI, and $25,000 for William Shatner's kidney stone.
Most of the highly publicized stunts do little good other than attracting curious visitors to GoldenPalace.com.
But in the case of GoldenPalace.com and GoldenPalace.com, aka Terri, the story has a happy ending thus far.
Jonah lost in the semifinals of the US Amateur, but will begin his junior year at the University of Southern California (USC) this week. He hopes to make a career playing the game he loves.
Surprisingly, on his official USC bio, Texeira fails to mention his mother's unique name. He does, however, note that his oldest sister Keana Texeira is a pop singer who gained fame in Japan.
Marketing Ploys
The GamblingPalace.com name is amusing, but for the casino industry, not exactly surprising. Gaming companies have long pulled off everything from comical to controversial acts to garner attention.
No one is guiltier of shameful, or at the very least, questionable, marketing strategies than Paddy Power. The Irish bookmaker that's now joined with Betfair once offered lines on whether US President Barack Obama would be assassinated.
It's not just the casinos that sometimes cross the line.
Numerous businesses have received backlash for taking a marketing risk, from Carl's Jr.'s risqué ad featuring Paris Hilton washing a Bentley to McDonald's using tragedy like 9/11 and the Boston Marathon to try and humanize its brand.
Comparatively, GoldenPalace.com paying to name someone GoldenPalace.com seems like a more calculated wager. And it's providing returns over a decade later.