Wisconsin Indian Casino Wars Coming to a Head
Posted on: November 11, 2013, 05:30h.
Last updated on: November 11, 2013, 04:24h.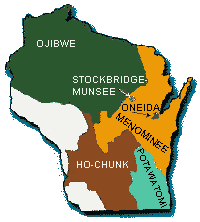 Many people watching new casino battles from the outside might think they're pretty cut-and-dried: on the one hand, you have the pro-casino constituents looking for economic growth and more jobs; on the other, you have residents and clergy, warning of traffic jams, criminals and the wages of sin that gambling might bring.
But in reality, who lobbies for and against new casinos in an area is a more complex topic than it appears on the surface, and the possible Kenosha casino being bandied about in Madison, Wisconsin is a perfect example of this subtext.
Governor in the Middle
Wisconsin Governor Scott Walker is trying to placate several warring constituencies concerning the proposed Native American casino project, not the least of which are competing casinos who are worried about the possibility of lost revenues if a rival house goes up too close to theirs. Now Walker is trying to figure out how to get the Kenosha economy moving without impacting jobs in Milwaukee.
"In the next few days I will be announcing what steps we are going to take and how we can try to mitigate those concerns," Walker said recently, noting that he has not yet decided what to do.
At stake are 1,400 potential construction jobs and 3,300 casino worker jobs that the Menominee tribe (who are behind the Kenosha project) are promising if approved; on the other side of the coin, the Forest County Potawatomi tribe that runs the Potawatomi Bingo Casino near Miller Park say they could lose 3,000 worker jobs if the competitive casino goes up.
The U.S. Department of Interior's Bureau of Indian Affairs gave a thumbs-up for the Menominee tribe's proposal for an off-reservation casino in Kenosha in August, at which point neither a developer nor any kind of management team had been named; in early October, the $808 million project planned for the former Dairyland Greyhound Park property got the blessing of the Hard Rock Cafe International, Inc., who have now signed on to fulfill both roles. If completed, the new Hard Rock would be a 100,000-square-foot gaming facility with 3,100 slot machines and 75 table games, and would be unrolled in phases.
Approvals Rest with Walker
Now, it all rests with Walker, who says his final approvals are relying on Wisconsin's 11 federally recognized Indian tribes to come together and smoke the peace pipe. And while seven of those tribes currently back the newly designated Hard Rock's entree into Wisconsin gaming, the Potawatomi's resistance has become a major sticking point. And siding with the Potawatomi are, not surprisingly, other Indian tribes with casino loyalties of their own, including the Ho-Chunk Nation (which has several casinos in the Madison, Wisconsin Dells and central Wisconsin areas) and the Oneida Tribe of Indians of Wisconsin (which has a Green Bay property).
As for the Guvner, he has his own issues to contend with: re-election. He comes up for a vote again next year, and obviously can't afford to tick too many people off. He also made a 250,000 job campaign vow in his first term, so he knows that could come back to haunt him if not handled delicately.
"To me the bigger issue is about jobs, trying to look at the potential of new jobs at the same time try to mitigate any damage that would be done elsewhere," said Walker.
"The time for leadership to rise is the time when you have the toughest of decisions and be the most creative in finding ways to address the problems people face in the state," he added. "I think we are going to find a creative way to move this forward."
One unnamed source says the conditions Walker might impose include a requirement that the Menominee reimburse any competitors for any drop in profits; an idea that sounds pretty crazy to us, but one which the the Menominee apparently agreed to last month and recently reaffirmed.