Massachusetts Gaming Commission Okays Revere Vote While Caesars Sues
Posted on: December 13, 2013, 05:30h.
Last updated on: January 23, 2014, 02:13h.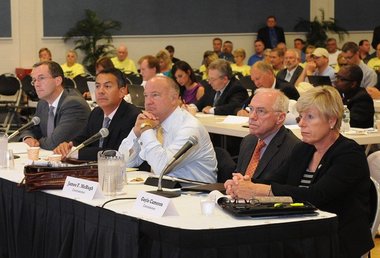 Suffolk Downs may well have their modified casino plan approved by Revere voters – but the state of Massachusetts isn't taking their word for it. The gambling commission announced this week that they're willing to allow a Revere-only version of the Suffolk Downs casino plan to go forward, but only if race track/partner Mohegan Sun is willing to allow Revere to vote again – this time on the new proposal.
New Hope for Suffolk Downs
That decision is largely a win for Suffolk Downs, which saw its hopes of an East Boston casino dashed on November 5. Voters there soundly rejected their casino proposal, which would have had all of the major buildings and parking facilities located in Boston. However, Revere voters also went to the polls that day – the proposed casino would have bordered Revere, and some small elements of the facility would have been in their town – and overwhelmingly approved the same plan, creating a sticky situation for regulators.
That gave Suffolk Downs the idea of transferring the entire casino to Revere, something Revere seemed rather happy to accommodate. But as many Boston officials argued, that wasn't what the votes had approved on election day, and it wasn't fair to assume that they would be okay with a Revere-only casino.
The Massachusetts state gambling commission ultimately agreed with this, voting unanimously to permit a new referendum to be held. Suffolk Downs will have seven days to decide whether or not to accept this decision, with Suffolk Downs COO Chip Tuttle saying that they will likely do so.
Under the new proposal, Suffolk Downs would act as the landlord of the new casino property, while Mohegan Sun would build, own, and operate the casino itself. The new facility would be independent of the race track, which Suffolk Downs says would continue its current horse-racing operations.
Caesars Sues Commission Chair
Meanwhile, Caesars Entertainment – the original partner for Suffolk Downs – has its own set of issues with the Massachusetts Gaming Commission. Caesars was originally expected to be the partner for the East Boston casino project, but was dropped by the race track after state regulators raised concerns over the company's suitability, based on bizarre allegations of an association with another hotel group – Gansevoort – and their dealings with a third-party who was reported to have had dealings with a Russian mob figure.
Now, Caesars has filed a lawsuit against gaming commission chairman Stephen Crosby, saying that he had a potential conflict of interest that he failed to disclose in a timely manner. This conflict of interest, they say, affected the objectivity and fairness of the state's review of their suitability as a gambling operator.
Crosby said earlier this week that he made all of the necessary disclosures about his friendship and former business dealings with a co-owner of land that is designated for use in an Everett casino proposal by Wynn Resorts. Crosby said he would recuse himself from a review of the land deal involving Paul Lohnes, who Crosby says he has known since the 1970s.
Caesars, though, says that Crosby's disclosures to Governor Deval Patrick and the state Ethics Commission weren't enough. The Wynn proposal would have to compete directly against a Suffolk Downs plan for the only casino license in eastern Massachusetts, meaning that eliminating Caesars from the competition would help the Everett proposal's chances of gaining that license.
The Caesars lawsuit also alleges that they were held to a different standard then some other casino operators who were bidding for licenses in the state. The suggestion that Caesars ultimately led to Suffolk Downs parting ways with them as a casino partner, and the resulting confusion may have been the deciding factor in East Boston voters rejecting the casino plan.