Waterfront Manila Pavilion Casino Fire Kills Five, Hundreds Evacuated
Posted on: March 19, 2018, 03:00h.
Last updated on: March 19, 2018, 03:27h.
Five employees of the Waterfront Manila Pavilion Hotel and Casino have been killed in a fire that engulfed the building on Sunday morning and raged for 25 hours before firefighters were able to get it under control on Monday.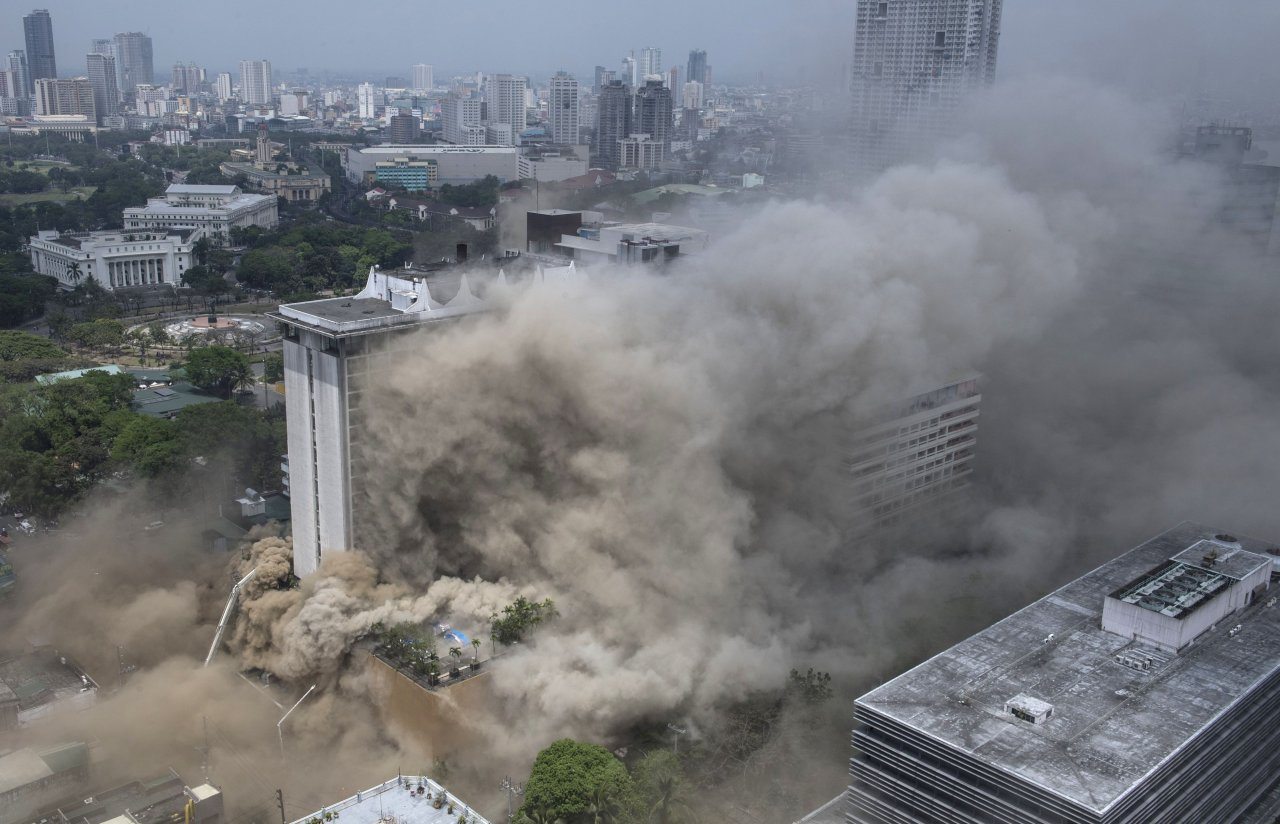 More than 300 hotel guests, including foreign tourists and employees, were evacuated from the casino.
The 509-room hotel casino is based in the heart of Manila's Ermita tourist and commercial district and owned and operated by Acesite (Phils.) Hotel Corp, a subsidiary of Waterfront Philippines Inc.
Among the dead were a treasury officer as well as two security guards who were trapped in the fire as rescuers tried in vain to reach them. Their bodies were discovered on Monday morning.
Echoes of Resorts World
Manila's disaster-response agency chief Johnny Yu told reporters that 23 people had been injured and at least six hospitalized having been overwhelmed by heavy smoke. Local television images from the scene showed thick, grey clouds billowing from the hotel tower's first and second floors as guests were being evacuated.
"The smoke is very heavy and, second, there's the wind that we're trying to overcome," Yu said at the height of the blaze. "Our firefighters are having a lot of difficulty."
While there's no suspicion of foul play, the scenes were grimly reminiscent of the Resorts World Manila atrocity last year. On June 2 deranged problem gambler Jesse Javier Carlos torched gaming tables and slot machine chairs at the casino, before dying from a self-inflicted gunshot wound in the adjacent Maxim's hotel.
His actions led to the deaths of 37 people at the property, most of whom were killed by suffocation caused by smoke inhalation. Seventy more were injured in the stampede to escape the building.
Sprinklers Failed  
In the wake of the attack, the Philippines casino sector was ordered to step up its security and emergency response capabilities. Politicians accused Resorts World of negligence by allowing Carlos, who had been previously excluded from the casino, to enter unchallenged, while heavily armed and carrying a large can of gas.
On Monday, police said it was unclear whether the fire at the Waterfront Manila Pavilion had started in the casino itself on the lower floors or in a mezzanine area that was under renovation. Some reports suggested the building's sprinkler system had failed.
Acesite said in a filing to the Philippine Stock Exchange on Monday that operations would be suspended until it had received clearances from the relevant regulatory agencies. An investigation into the cause of the fire is underway.
The company's stock plunged by as much as 10 percent during morning trade, while shares in its parent, Waterfront, fell by 8.3 percent.
Similar Guides On This Topic