Washington Caps Off Vegas Golden Knights' Storied Run in Stanley Cup Final, Just One Game Away from Win
Posted on: June 5, 2018, 09:00h.
Last updated on: June 5, 2018, 09:05h.
The Washington Capitals are a single victory away from winning their first Stanley Cup in franchise history. If they do, the Vegas Golden Knights' history-making run will come to a disappointing close.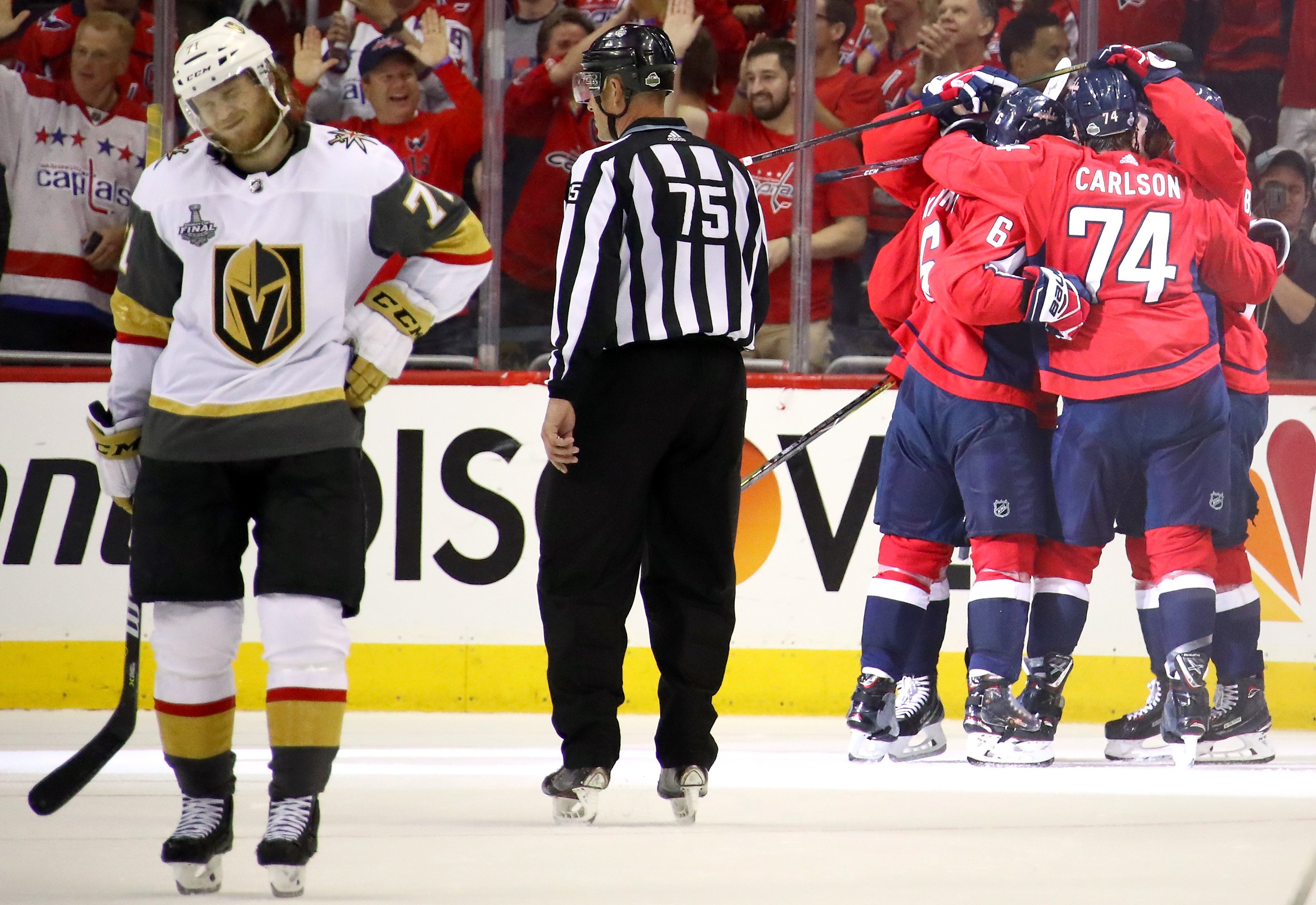 The Caps dominated Game 4 Monday night in Washington, DC. They took a 3-0 lead in the first period, and while Vegas managed to get the score to 4-2 in the third, it never felt close, and the Capitals added two more goals to win 6-2.
Now up three games to one, Washington needs just one more win to claim the team's first Stanley Cup Trophy in its 44-year history.
The Golden Knights have overcome long odds all year. They smashed a 24-year-old record for the number of NHL games won by a first-year team, and became the first team to reach the Stanley Cup Playoffs in their inaugural season since 1979-80.
Now forced to win three in a row against a very good Capitals team, the Golden Knights will need to once more overcome improbable odds.
Game 5 is back in Las Vegas at T-Mobile Arena on Thursday. The puck drops at 5 pm PT (8 pm ET).
Sportbooks believe the Knights will regroup and push the series to Game 6. Vegas is the favorite for Thursday at -140 (implied chances of winning 58 percent). A $100 bet and a Knights win nets $71.43.
Not a Done Deal
In a city where millions come to test their luck inside casinos, the Vegas Golden Knights are hoping for nothing short of a jackpot win. Just one team in NHL history has come back from a 3-1 Stanley Cup Playoffs deficit.
ESPN hockey writers Emily Kaplan and Greg Wyshynski say the odds are against the Knights winning the Cup, but remind fans not to count them out.
Need we remind you that this is a team that opened with 500/1 odds to win the Stanley Cup? That every member of this self-proclaimed band of misfits felt slighted at some point in the past year … It feels fitting for them to have to overcome an even greater deficit to claim the grand prize," Kaplan and Wyshynski concluded.
Vegas didn't necessarily play poorly in Game 4, but needed just a couple of bounces to go their way. Caps goaltender Braden Holtby admitted, "We obviously got some breaks."
Vegas Wins Regardless
Should the Washington Capitals hoist the Stanley Cup when the best-of-seven series is over, Las Vegas casinos will actually see their coffers flushed with an estimated $5 million to $7 million. That's because numerous sportsbooks across town printed futures on the Knights prior to the start of the regular season at extremely long odds.
Printed slips now in serious jeopardy of becoming worthless include a $400 bet on 300/1 odds (would pay $120,000), a $500 bet at 200/1 that would net $100,000, and a small $60 wager on 500/1 odds (pays $30,000).
While a Capitals win would bring the Golden Knights history-making season to a close, it would be absurd to label the end result a failure.
Disappointing, perhaps, but few could have reasonably predicted such success for Las Vegas' first major pro sports team.
Similar Guides On This Topic