Villanova Reaches NCAA Men's Basketball Title Game in Historic Fashion, UNC Cruises Over Syracuse
Posted on: April 4, 2016, 08:13h.
Last updated on: April 4, 2016, 08:20h.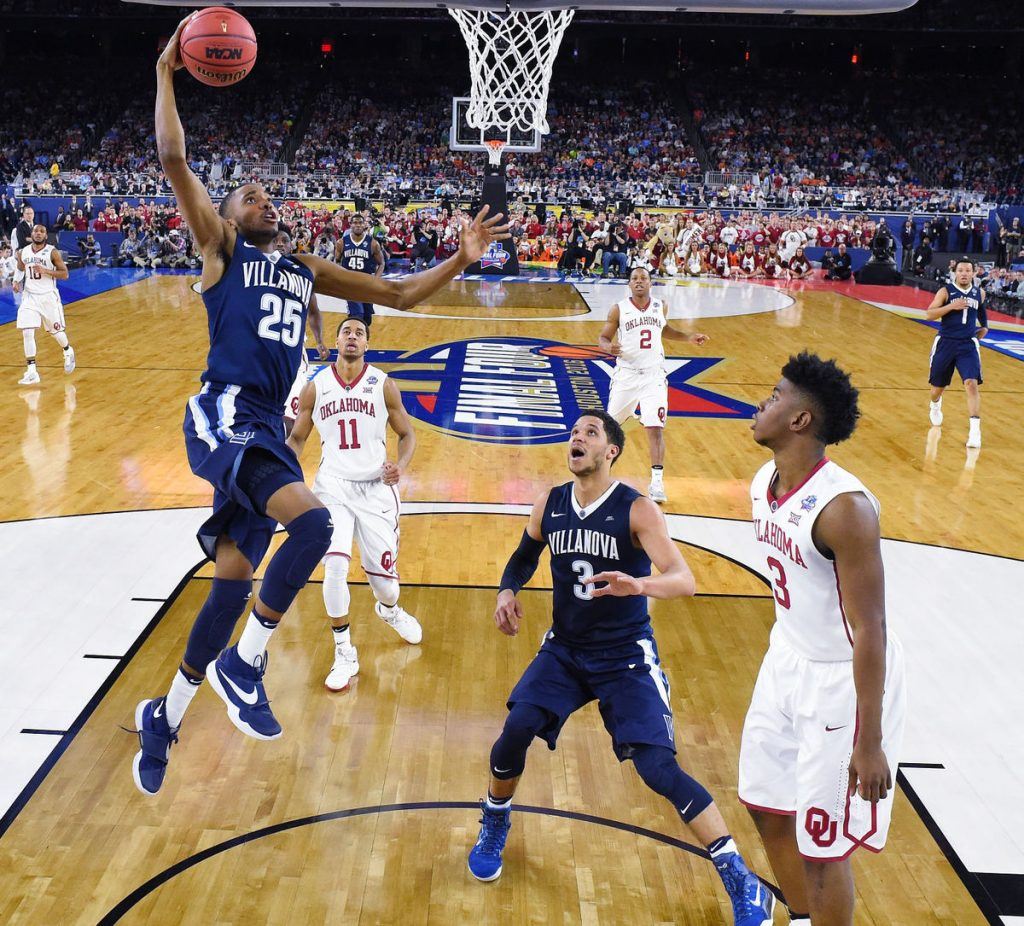 The Villanova Wildcats bested their fellow two seed opponent Oklahoma Sooners 95-51 on Saturday night for a lopsided 44-point shellacking that was the largest margin of victory ever in a Final Four game.
Las Vegas sportsbooks had the team from Philly as just a two-point favorite heading into the contest. Bettors who placed money on head coach Jay Wright's squad had little angst during the 40-minute game as Villanova took control roughly halfway through the first half and never looked back.
Their opponent for Monday night's 2016 NCAA Division I Men's Basketball National Championship is the University of North Carolina. The #1 Tar Heels were a 10-point favorite over Syracuse, the largest spread in Final Four history, and they covered it handsomely Saturday by beating the Orange 83-66.
Tonight's title game tips off at 9:19 pm ET in front of 70,000 fans in Houston's NRG Stadium. With Jim Nantz calling the action, many are speculating, and perhaps betting, as to whether Nantz will conclude the game with the line, "Houston, we have a winner."
Super Nova
Saturday's two Final Four games were expected to feature a blowout and a nail-biter. The latter was predicted to be the Nova-Oklahoma game, but it didn't happen.
The books in Vegas basically had the matchup straight up, as a two-point spread is one free throw from being covered. However, no sports analyst or Nevada spread expert could have predicted the fire Villanova caught in the Final Four.
The Wildcats shot an astonishing 71.4 percent from the floor. For comparison, the NBA as a whole is shooting 38.2 percent during the 2015-2016 season. 
"That was just one of those nights," said Wright, the stylish coach who has won numerous "best-dressed coach" awards. "I feel bad for Oklahoma; we've all had those night. They've had a great season, they're a great team."
Heel the Heels
Villanova's storied March Madness run has the Wildcats back in the title game for the first time since they won their only National Championship in 1985. But before they can cut down the nets and call themselves the best in the nation, Villanova will need to take down UNC, a program that has won the title five times including in 2005 and 2009.
Tar Heels head coach Roy Williams has battled controversy this year after reports surfaced that some 3,100 student-athletes over the last 18 years participated in phony classes to keep their academic marks above the eligibility requirement. It's estimated that 12 percent of those athletes were members of the basketball team.
Villanova (34-5) is currently a 2.5-point underdog against UNC (33-6) among a consensus of the books in Las Vegas with a total over/under score of 149.5.
Over the last 10 NCAA title games, the favorite has won six times.
Is that enough to sway you to put money on UNC over a team that triumphed to victory in the Final Four by 44 points? You would certainly need to be a betting man to take that sort of leap.