Max "altiFC" Altergott Takes Down Super High Roller Event in Monaco
Posted on: May 25, 2013, 05:35h.
Last updated on: May 25, 2013, 04:37h.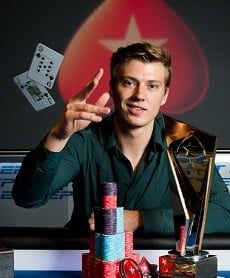 22-year-old online player Max "altiFC" Altergott thrilled audiences with his talent for high-stakes poker recently by winning the €100,000 Buy-in Super High Roller event at the PokerStars and Monte Carlo Casino European Poker Tour Grand Final.
First Time Live
Hard to believe this was Altergott's first major live tournament, as the German high-stakes cash game player beat out the competition to take home a whopping € 1,746,400 ($2,260,161), as well as a victory bracelet worth €10,000.
As one of the most highly respected high-stakes cash game players on the online circuit, Altergott decided to take a rare punt at the live tournament, simply because he and a friend had never played in Monaco before and obviously fancied a little glitz and glamor to go with their poker hands.
Noting that he'd played against much of the competition online, Altergott said that he "had a good feel for their playing styles, but they still presented a serious challenge, and I was pleased to be able to beat them".
And beat them he did. In fact, he beat out a total of 42 entrants to the Super High Roller event, which created an overall prize pool of €4,851,000 ($6,275,141), which really got the juices going for everyone taking part.
Tough Final Table
There was some serious competition at the final table for Altergott, including Vladimir Troyanovsky from Russia, Jason Mercier and Scott Seiver from the U.S., and Canadians Mike Watson, Sorel Mizzi and Tim Adams.
When it came down to heads up, Altergott was left facing Mercier. But after some stiff competition from the poker pro, Altergott eventually went on to send Mercier to the rail, leaving him with the second place prize of  €1,115,700 ($1,443,190), so he was hardly going back to the U.S. with his tail between his legs.
With such an introduction to the major live tournament scene, it's certainly safe to say that Max "altiFC" Alergott is a player worth keeping an eye on.