VEGAS MYTHS RE-BUSTED: A Casino Drained its Pool Because Black Singer Dorothy Dandridge Used It
Posted on: June 2, 2023, 08:04h.
Last updated on: October 28, 2023, 07:57h.
EDITOR'S NOTE: "Vegas Myths Busted" now publishes new entries every Monday, with a bonus Flashback Friday edition. Today's entry in our ongoing series originally ran on Jan. 6, 2023.
---
The truth of racism's shameful blight on Las Vegas history is bad enough. No embellishment is necessary.
Yet, according to memes and articles posted regularly to social media and the internet, the entire swimming pool at the Last Frontier Hotel was once drained and cleaned because African-American entertainer Dorothy Dandridge dipped her toe into it. Though this seems like something that could have happened during such a bigoted era of Las Vegas' history, it never did.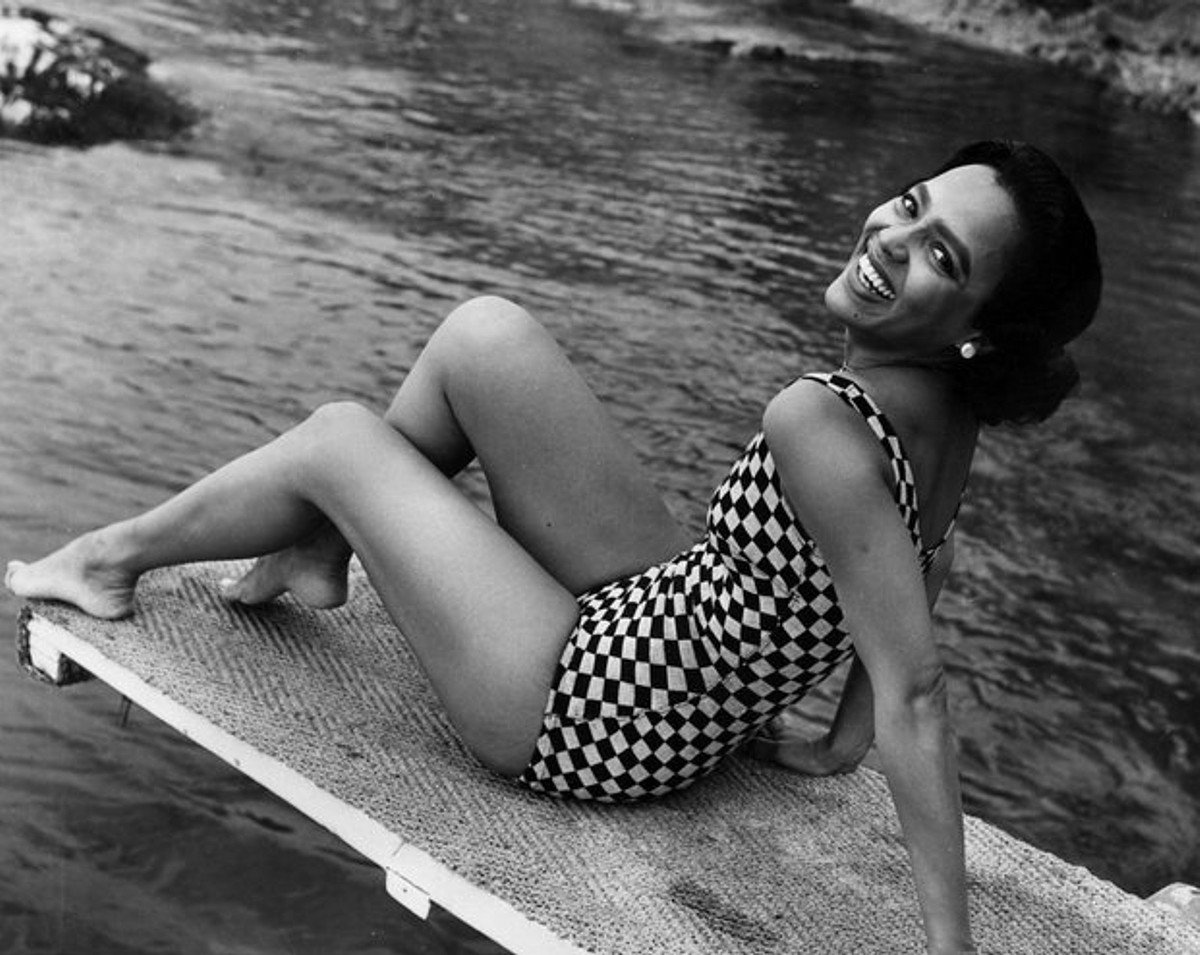 The incident is said to have taken place in April 1953, back when people of color couldn't stay, gamble, or dine in any Las Vegas casino hotels. This was true even of greatly admired black headliners. Nat King Cole, Ella Fitzgerald, and Sammy Davis, Jr. all had to slip in through stage and kitchen doors to perform and leave the same way after taking their bows.
Entertainers of color were forced to book rooms at boarding houses on Las Vegas' Westside, the historic African-American community five miles northwest of the Las Vegas Strip. The most renowned was run by entrepreneur Genevieve Harrison, whose Harrison House is now listed on the National Register of Historic Places.
At the time, Dandridge, who was about to become the first African-American actress nominated for the best actress Oscar for the 1954 movie "Carmen Jones," was booked to sing at the Last Frontier in her own lounge act. Following her instructions, her manager, Earl Mills, insisted that his client stay there, too, becoming the property's first Black guest.
The hotel agreed, surprisingly, but instructed Dandridge to steer clear of its pool. As depicted by the 1999 HBO biopic, "Introducing Dorothy Dandridge" starring Halle Berry as Dandridge in a Golden Globe-winning performance, Dandridge seethed over the restriction, dipping her toe in as a protest. The racist hotel execs, believing that a Black person's toe dirtied the water in some way, drained it.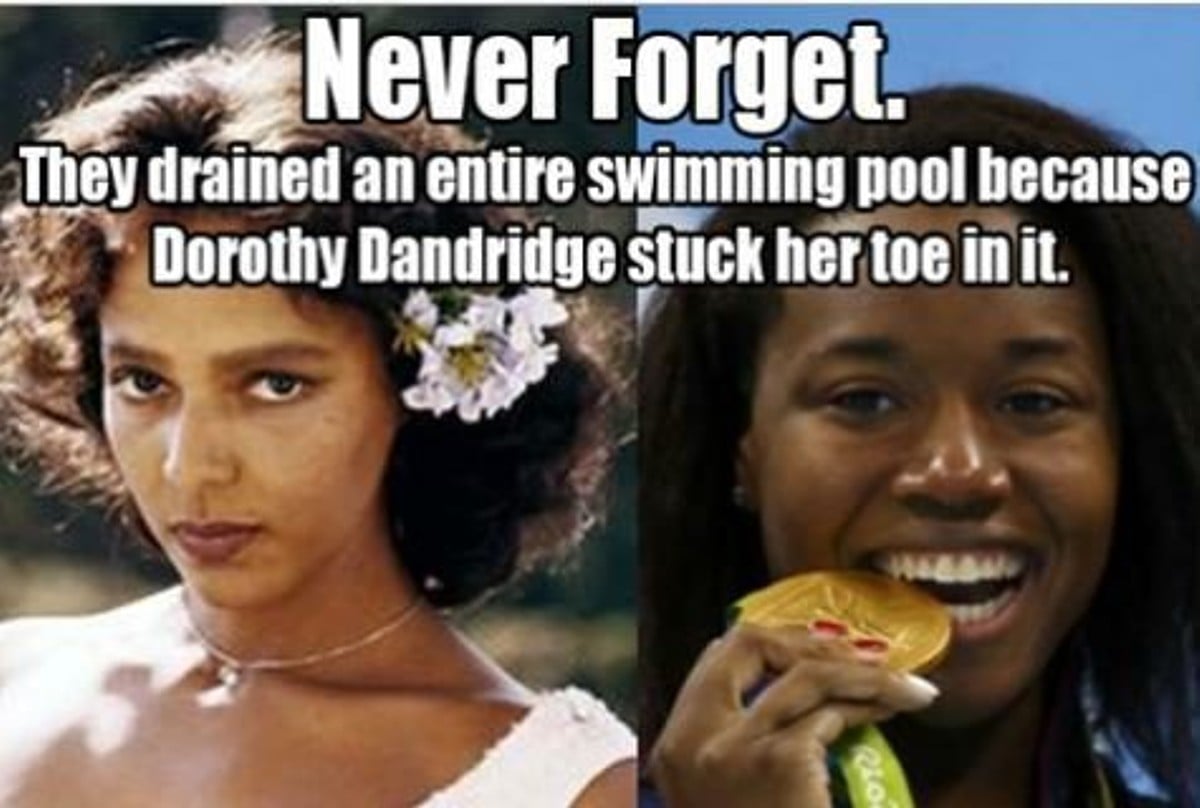 No First-Hand Account
Dandridge, who died of an antidepressant overdose in September 1965 at age 42, never once publicly mentioned the pool-draining incident while she was alive. Though her autobiography is frequently cited as a source for the story, "Everything and Nothing: The Dorothy Dandridge Tragedy," compiled from taped interviews by author Earl Conrad and published in 1970, doesn't mention it at all.
Casting even more doubt are several alternate versions of the story that have circulated over the decades, each naming a different Black Vegas entertainer of the day as the alleged pool user. In the second-most popular version, Sammy Davis, Jr. dared to swim at the Sands in 1952, prompting its pool's draining and cleaning. This version of the story appears in Charles Fleming's November 1999 Los Angeles Magazine article, "Viva Black Vegas," and A&E's 1999 documentary, "The Rat Pack."
Is it possible the same vile act was perpetrated against two African-American singers in Las Vegas? Yes, it's possible. Except that Davis, like Dandridge, never once publicly mentioned a pool-draining incident during his lifetime — though he did tell a story about being asked to leave a Las Vegas pool in the '50s — not because of his skin color, but because he was drawing a crowd out of the casino and into the pool area. The anecdote appeared in his 1966 autobiography, "Yes I Can."
Claytee White, director of the Oral History Research Center at UNLV Libraries, told Casino.org she recalls hearing two other versions of the pool-draining story, claiming it happened to both Lena Horne and Harry Belafonte. Though not ironclad proof, a story that spreads in different versions- much like in a game of telephone, suggests an urban myth.
What Draining a Pool Entailed in the 1950s
The Last Frontier pool held about 70K gallons of water, according to photos analyzed by Todd Olcott, owner of Las Vegas' Four Aces Pool and Spa. In 1953, according to Olcott, it would have taken 24 hours to drain, then another 50 hours to refill, using a 5/8-inch-diameter hose delivering 17 gallons per minute.
We know that inferior pool technology in the 1950s would make draining a pool a lengthy and intrusive job – one that would likely make other guests upset," wrote Elexus Jionde, author of the 2017 book "The A-Z Guide to Black Oppression," in a 2018 blog titled "How to Investigate History: The Dorothy Dandridge Pool Incident."
"Maybe hotel staff threatened to drain the pool if Dorothy tried to swim," Jionde wrote. "But it is highly unlikely (when weighing the complete lack of primary and secondary evidence) that the pool was drained because of a toe or even a swim. Instead, it is much more likely that the staff made a dramatic threat."
That's Exactly What Happened
The pool-draining story doesn't appear in a single book, newspaper, or magazine until 32 years after Dandridge's death in the 1997 biography "Dorothy Dandridge" by Donald Bogle.
According to the book, "it was said, perhaps to rattle management, that (Dandridge) sometimes 'indicated that she was going to take a swim.'" This was according to an interview with talent agent Harold Jovien, who reported that "management declared that if she went anywhere near the pool, they threatened to drain it."
When Dandridge kept making threats, according to Jovien's account, the hotel responded by closing the pool, claiming it was being repaired, for an unknown period of time.
While this was a horrible thing to do, it was not the horrible thing that the Last Frontier continues to be accused of doing, to this day.

Las Vegas Finally Integrates
It wasn't until the Moulin Rouge, Las Vegas' first fully integrated casino hotel, opened on the Westside on May 24, 1955, that the town's racist mindset began changing. The Moulin Rouge immediately entered Hollywood gossip columns as the hottest nightclub in town — a cultural Valhalla where one could rub elbows with Frank Sinatra, Cary Grant, and Rosemary Clooney and witness impromptu late-night jam sessions featuring singers Harry Belafonte, Judy Garland, and Billie Holiday.
A taste of how far we've come as a society is provided by this sentence about the Moulin Rouge, published by Variety in 1955: "This unusual spot continues to pull in the gambling sect, who are not alarmed in the least about rubbing elbows and dice in mixed racial company."
Casino integration wasn't officially achieved until March 1960, when casino bosses, during a meeting with the NAACP and city and state leaders at the shuttered Moulin Rouge, reluctantly agreed to allow African-Americans to patronize their establishments. Inspired by the wave of civil rights activism sweeping the country, the NAACP had threatened a march on the Strip that would have embarrassed Las Vegas.
Look for "Vegas Myths Busted" every Monday — its new day — on Casino.org. Click here to read previously busted Vegas myths. Got a suggestion for a Vegas myth that needs busting? Email corey@casino.org.