Vegas Golden Knights Raise Stanley Cup Banner Out of a Giant Slot Machine
Posted on: October 12, 2023, 11:38h.
Last updated on: October 12, 2023, 12:17h.
The Vegas Golden Knights hockey team raised their championship banner this week in a uniquely Vegas ceremony. Before opening the '23-'24 season at home in the T-Mobile Arena on Tuesday, captain Mark Stone yanked on the lever of a 12-foot-tall slot machine, turning up three Stanley Cups in a row.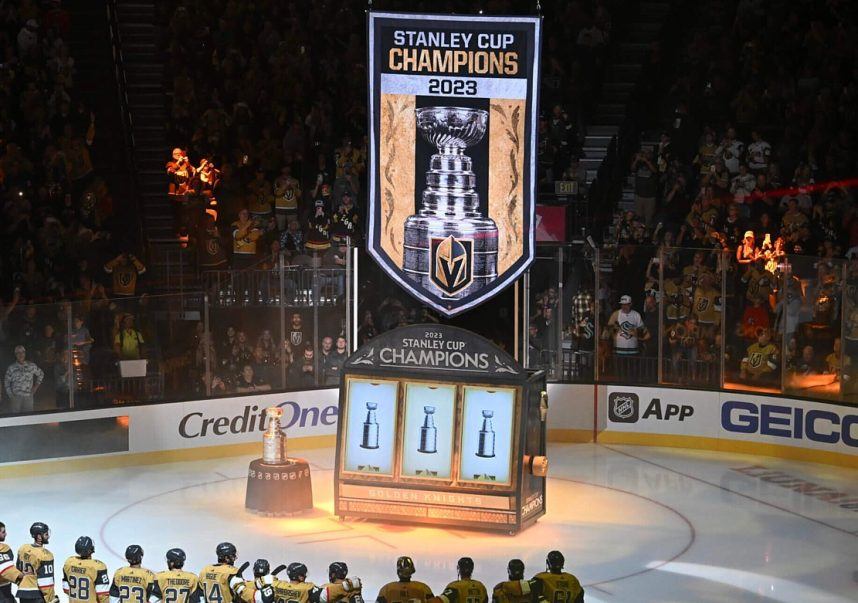 The banner was then spit out of the slot machine's top like a winning casino voucher.
Unlike real slots, there was no chance of this machine getting hacked. The prop was powered by an old-school tech: human beings.
According to The Athletic, the wheel animations, shown on three vertically situated 60-inch flat-screen TVs, were activated not by the lever, but by a button manned by Golden Knights VP Andrew Abrams, who stood in the Zamboni tunnel. The slot sounds were controlled by the arena DJ, and a rigging crew hoisted the banner based on cues called out by Tyler Ferraro, the team's senior manager of entertainment experience, who sat in the stands.
"That's what's really cool about that moment specifically," Ferraro told The Athletic. "It's a culmination of every department of the team working together to make this one very, very important moment happen, and everyone crushed it."
Check out the video: 
The slots banner was Abrams' idea. He thought of it while washing dishes at home earlier this year in the middle of the Golden Knights' playoff run.
"I'm like, 'If we win this thing, what if the banner box was a slot machine?'" Abrams told The Athletic. "That thought just popped into my head, but I filed it away. At that point, you can't go around saying 'Hey guys, if we win this thing, wouldn't it be cool?'"
Pregame On
The team's pregame shows have become Vegas shows in and of themselves. Since entering the NHL in the fall of 2017, every home contest is preceded by an elaborate theatrical performance. Lasting up to 10 minutes, it consists of clips detailing the "battle" ahead and an on-ice production, heavy on special effects, centered around an actor dressed as a sword-wielding golden knight.
According to The Athletic, the hockey team now employs a full-time entertainment team of 13, plus four people who work cameras and edit, three who handle motion graphics, and a team of about 100 controlling the lights, audio, and rigging on game days.
"We've gotten six years now of fan buy-in for these crazy hijinks that we do before the game," Ferraro told The Athletic. "Knowing that the fans have our back means a lot, and knowing that we're in the most entertaining city in the world."
How to Top a Pregame Show Like That
There's only one way, and the Golden Knights nailed it. They beat the Seattle Kraken, 4-1.
Though only in their seventh season, the Golden Knights have been insanely successful, winning three division championships, two conference championships, and a Stanley Cup title.