Trump Taj Mahal Strike Will Become Longest Casino Walkout in Atlantic City History Tomorrow
Posted on: August 3, 2016, 06:30h.
Last updated on: August 3, 2016, 05:44h.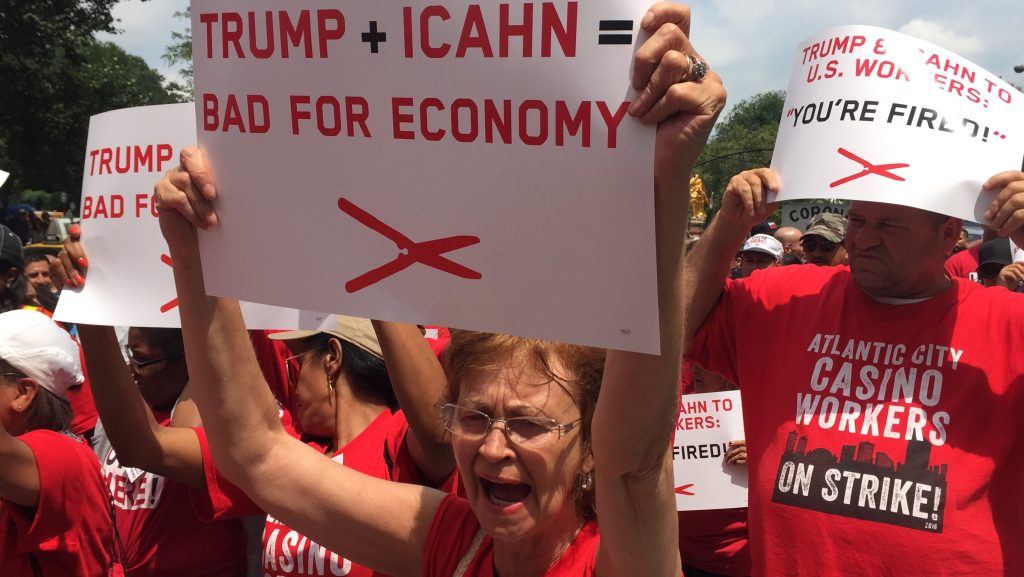 Trump Taj Mahal union workers in the Unite-HERE Local 54 coalition haven't been on the job since July 1 when they walked out in protest of what they feel to be inadequate benefits. Tomorrow will mark 35 days and make the strike the longest Atlantic City casino arbitration stalemate in the town's 38-year gambling history.
The previous 34-day record came in 2004 when the same Unite-HERE union walked off the job at seven casinos.
At the center of the debate between the roughly 1,000 striking workers and the Carl Icahn-owned casino is the restoration of health and pension benefits that were allowed to be stripped during the casino's bankruptcy proceedings in 2014. Cooks, bartenders, housekeepers, cocktail servers and other service workers are participating in the strike.
"This company took healthcare off the table 20 months ago. Can you imagine what it is like to work in this city, to spend your days doing the backbreaking work of cleaning hotel rooms or walking all over the casino floor serving drinks in high heels without health insurance?" Unite-HERE Local 54 President Bob McDevitt asked in a letter.
Icahn, Donald Trump's fellow billionaire friend who bought the bankrupt casino in February of 2016 and assumed a large portion of its $286 million debt, hasn't publicly commented on the ongoing strike.
The Trump Taj Mahal remains open during the strike.
Trump Economics
The Atlantic City economy has become a vital talking point in the 2016 presidential election. Democratic Party nominee Hillary Clinton is trying to persuade voters that Trump's business record in the New Jersey casino market is proof that Trump economics aren't good for the US.
Clinton made her case during the Democratic National Convention saying that "Donald Trump refused to pay his bills" in Atlantic City.
Trump severed most of his ties with Atlantic City in 2009. During a bankruptcy judge's review of the Trump Taj Mahal's Chapter 11 filings, a verdict was reached to allow Icahn to annul employee benefits during a reorganization period.
Unite-HERE is making the case that Icahn and Trump share the same values when it comes to business.
"Both Donald Trump and Carl Icahn have taken millions from the Trump Taj Mahal for themselves while workers have been left holding the bag," Unite-HERE said in a statement.
"We built this business, and we're tired of billionaires like Trump and Icahn feasting off of our hard work, and leaving us with nothing but the scraps," one Taj striker professed.
Icahn's team has said it needs time before restoring certain benefits, but according to an ABC News report did offer a reduced healthcare package that the union rejected.   
State Senate Intervenes
Disgruntled striking workers are surviving thanks to the New Jersey state government, aka the taxpayers. This week the state Senate approved a bill allowing striking workers to collect unemployment benefits, something traditionally afforded only to workers whose jobs are terminated.
The new statute mandates that a strike must last 30 days before unemployment benefits are available.
"They've been out of work for over a month," New Jersey Senate President Stephen Sweeney (D-District 3) told NJ.com. "They don't want to be on strike."