After Long Union Fight, Trump Taj Mahal Ironically Closing on Labor Day Weekend
Posted on: August 4, 2016, 04:00h.
Last updated on: August 4, 2016, 02:08h.
The Trump Taj Mahal is about to become the fifth Atlantic City casino to close its doors for good in 3 years. Its closure will signal an end to the Trump casino brand once and for all.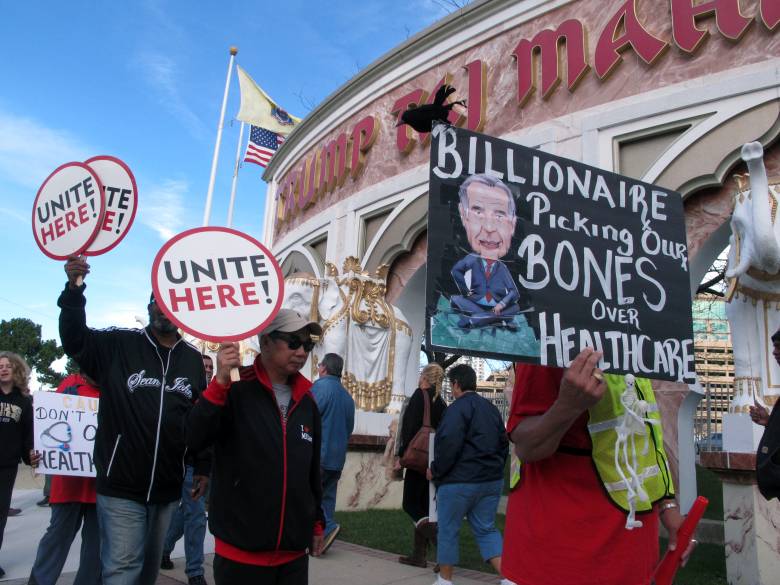 In the midst of industrial action by members of the Unite Here Local 54 Union, who have been picketing the Taj for weeks, investor Carl Icahn has given up on the stricken casino and will shutter it permanently on September 4.
That closure date hits right in the middle of Labor Day, which might be a wild coincidence, or it might be a deliberate and final insult to the union, which Icahn blames for derailing his last-ditch attempt to save the Taj.
Icahn stepped in to rescue the casino in 2014, when its previous owners, Trump Entertainment, declared bankruptcy. The billionaire corporate raider owned the majority of its $286 million debt, which he was prepared to convert into equity.
Icahn also said he was prepared to invest $100 million in the property, if, and only if, he were granted certain concessions by the city. These included the temporary cessation of worker pension and healthcare benefits, which have become the focus of the squabble between Icahn Enterprises and the casino workers' union.
Out $100 Million
According to Local 54 leader Bob McDevitt, Icahn has chosen to "burn the Trump Taj Mahal down" in order to "punish" strikers.
"For a few million bucks, he could have had labor peace and a content work force," McDevitt said in a statement. "But instead he'd rather slam the door shut on these long-term workers just to punish them and attempt to break their strike. In the end, he'll have to live with what he's done to working people in Atlantic City."
But according to Tony Rodio, chief executive of Icahn Enterprises' casino subsidiary Tropicana Entertainment, the workers' demands have made the continued operation of the casino impossible.
"Currently, the Taj is losing multimillions a month, and now with this strike, we see no path to profitability," Rodio said. He added that Icahn Enterprises had lost around $100 million since it took over the Taj.
Bankrupt Eighth Wonder
The casino was declared to be the "eighth wonder of the world" by the current Republican presidential nominee when he opened it in 1990, at a cost of $1 billion. In 1991, it became the first wonder of the world to go under since the Colossus of Rhodes was destroyed by an earthquake in 226 BC.
In 2009, Trump sold his Atlantic City casino interests to a group of venture capitalists, who formed Trump Entertainment. While he has had nothing to do with the management of the Taj since, he was able to negotiate a deal whereby he retained a ten percent stake in the casino in return for the use of his famous brand name.
However, in 2014, incensed by what he saw as Trump Entertainment's mismanagement of the Taj and its sister Atlantic City property the Plaza, he litigated to have his name removed from both casinos. He later relented following his old friend Icahn's intervention. He also relinquished the stake when Trump Entertainment declared for bankruptcy protection.
The Labor Day weekend closure of the Trump Taj Mahal will leave only seven casinos operating in the beachside resort, which has been fighting financial problems for years.