Triple Crown Winner Justify Now Worth Estimated $75 Million, Racing Career Not Over, Says Trainer
Posted on: June 11, 2018, 09:30h.
Last updated on: June 11, 2018, 09:36h.
Justify is now not only one of the most valuable race horses in the world, he's also probably not done competing, says his renowned trainer of the gifted equine.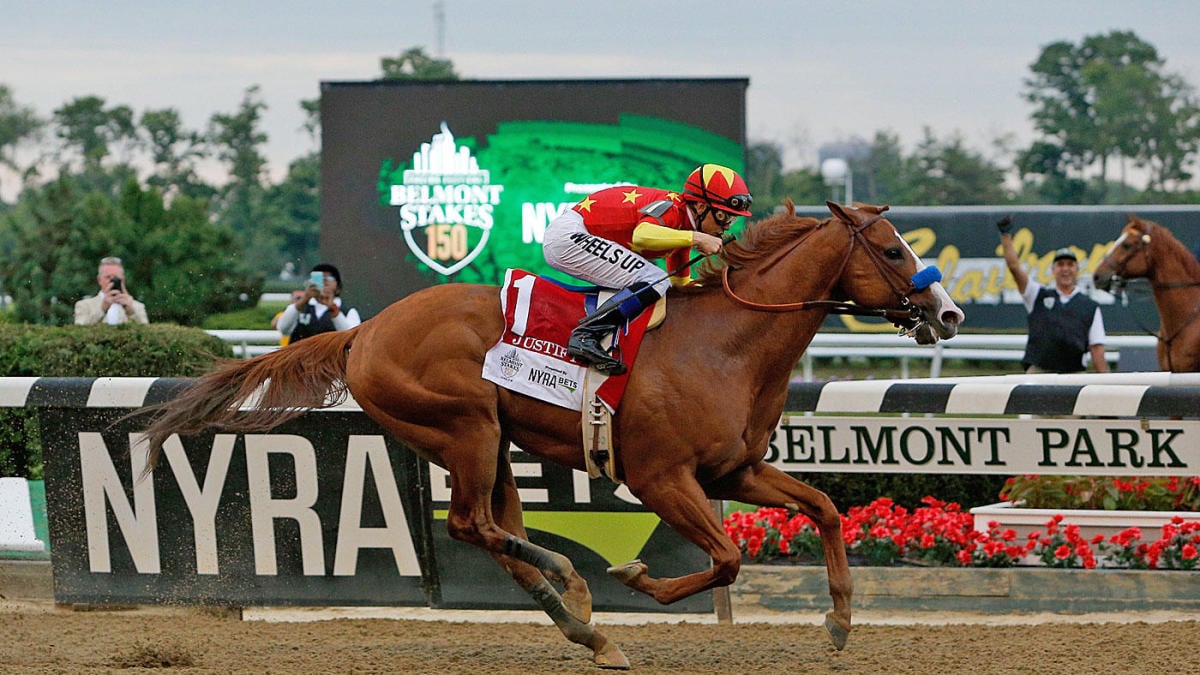 The 13th horse in American history to win the Triple Crown on Saturday at the Belmont Stakes, trainer Bob Baffert says the three-year-old's historic racing career might not be finished yet. Baffert said that while nothing has been solidified yet, his owners plan to continue racing him, should Justify recover fully from Saturday's race.
"Usually about a week later you can see how much of a toll it's taken," Baffert told reporters. "We'll sit down and figure out a game plan after that."
All eyes are on the Breeders' Cup Classic, which is now regarded as the fourth and final leg of the Grand Slam of thoroughbred racing. The only horse to win all four was American Pharoah, the horse who ended a 37-year Triple Crown drought in 2015.
And it could happen: online sportsbook Bovada has Justify as the Breeders' Cup favorite at +150, or 3/2.
"We're looking forward to sharing him with the public more," WinStar Farm CEO Elliott Walden revealed. WinStar owns a majority stake in Justify.
"He's now become a household name, and I'm looking forward to his next race just as much as you guys are," Walden said.
Baffert is facing some criticism for racing a so-called "bodyguard" on Saturday in New York. Other jockeys and Belmont horse owners contended that Restoring Hope — another Baffert-trained horse — might have been entered in the Belmont Stakes to block for his stablemate.
Playing Stud
But racing Justify again is a substantial gamble.
WinStar has yet to confirm the rumors that Justify's breeding rights were sold to Irish-based Coolmore, the world's largest thoroughbred racehorse farm, before the Belmont Stakes. The reported deal was for $60 million, with a $15 million bonus if Justify went on to win the Triple Crown.
Running at around 40 mph presents numerous dangers to Justify, and a serious injury could jeopardize his career as a sire.
Coolmore bought the breeding rights to American Pharoah from his owner Ahmed Zayat before any of his Triple Crown wins for $10 million. He's now commanding a $200,000 per foal stud fee and generated $30 million in fees last year alone, which would equal an astounding potential for 150 foals.
Presumably not every "session" results in a pregnancy, though. Bloomberg has previously reported that champion studs can typically reproduce 135 times in a year.
According to a 2016 New York Times article on Pharoah by reporter Joe Drape, the life of a champion stallion is one to be envied by many an aspiring human playboy:
"His day starts at sunup with a breakfast of high-end, organic grains — the equine equivalent of kale and quinoa — and then his work starts in earnest at 7:30 each day. That's when American Pharoah hooks a left out of the stallion barn and ambles down the path to the breeding shed. Waiting for him is a mare, but not any old nag," Drape wrote. Nice work if you can get it.
While Coolmore shells out big bucks for breeding rights, Zayat's contract with the farm allowed him to continue racing American Pharoah at his own discretion. It appears a similar arrangement has been reached for Justify.
Let's Do It Again
American Pharoah — who was also trained by Baffert — followed up his Belmont win by racing the Haskell Invitational at New Jersey's Monmouth Park last August, which he easily won.
But that same month, American Pharoah was defeated at the Travers Stakes in Saratoga, New York. Baffert was reluctant to run the horse at Saratoga, as it meant flying twice in three weeks across country from the trainer's farm in California.
If Justify is to try to do what even American Pharoah couldn't and run the Travers, sportsbook Bovada thinks he'd win that, too. The futures on the race have him the heavy favorite at -150, or an implied winning chance of 60 percent.
As for the possibility of another Triple Crown winner happening in 2019, Bovada has opened the odds at +450.