Justify Races Towards Triple Crown With Preakness Victory, Large Field Expected at Belmont
Posted on: May 21, 2018, 07:30h.
Last updated on: May 21, 2018, 07:02h.
Justify won the Preakness Stakes on Saturday in Baltimore and now goes to New York where he'll try and become just the 13th horse in history to win the US Triple Crown.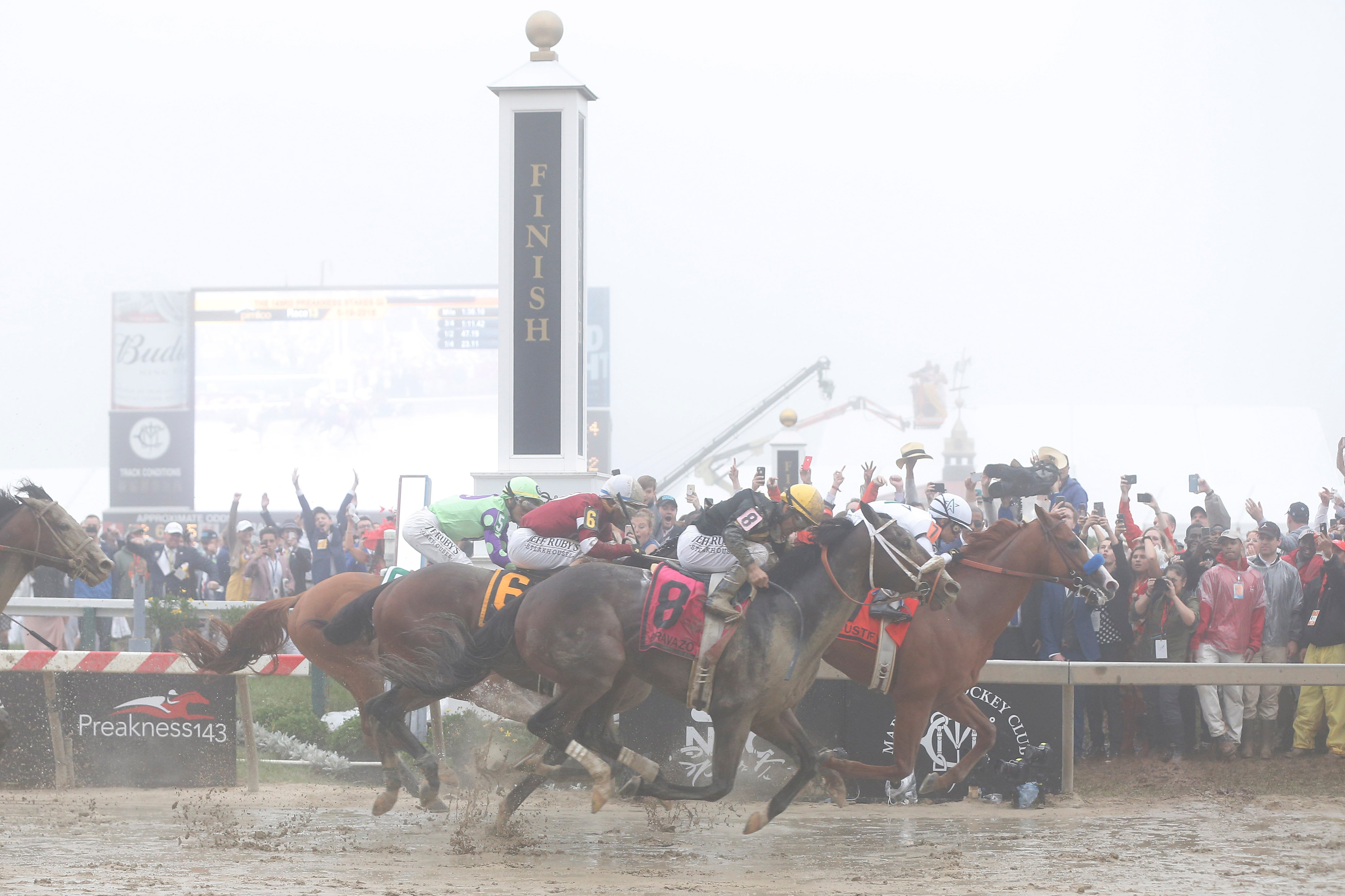 Like the Kentucky Derby's Churchill Downs, Pimlico was sloppy and muddy on Saturday, but the poor conditions didn't slow down the favorite.
Justify and Kentucky Derby runner-up Good Magic raced to the lead and went head-to-head through the first turn and down the backstretch. The two were out in front until the final stretch when Tenfold and Bravazo closed the gap on the two frontrunners.
As the pack crossed the finish line, it was Justify that nosed out Bravazo. A $2 bet on Justify paid $2.80. Bravazo paid $7.60 to place, and Tenfold $6.80 to show.
On to New York for the June 9 Belmont Stakes, online parimutuel site Bet US Racing opens Justify as the early favorite for the third leg at 4/5. Bettors can also take the field, as online sportsbook 5Dimes asks, "Will Justify win the Belmont Stakes? Yes -120, No -120."
Justified Rematch
If the Preakness Stakes were not a 1 3/16 miles race and perhaps just slightly longer, many believe Bravazo would have been the victor. The horse nearly closed on Justify to upset the Derby champ, and that has many concerned regarding his Triple Crown chances in three weeks.
Belmont is the longest of the three Triple Crown races at 1.5 miles. The trainers for Tenfold and Bravazo say their horses will be in New York for a rematch.
"Bravazo was awful sharp after the race," Bravazo trainer D. Wayne Lukas told reporters. "I don't know if he was mad he got beat or what. He's a tough horse, and if he'll come back in two weeks, he'll damn sure come back in three."
Justify trainer Bob Baffert admitted he was concerned during the Preakness. "They put it to us. They made us earn it. Somebody had to give and I'm glad it wasn't us," Baffert stated.
Field of Dreams
The Kentucky Derby featured 20 horses, but only eight ran at Pimlico. For the third and final leg, a larger field is expected to try and upset Justify's Triple Crown run.
More than a dozen horses are likely to post on June 9. The Belmont Stakes field is limited to a maximum of 16 horses.
Bet US Racing has Bravazo at 9/2 for the Belmont Stakes, and Tenfold at 6/1. Audible has the second-shortest odds at 4/1.
Good Magic, who finished fourth on Saturday, won't be making the trip to Long Island. "I entered my horse in the race because I thought there was a chance that Justify could be beaten and we could win the race," Good Magic trainer Chad Brown explained. "But it just wasn't a good fit."
Known as the "test of the champion" due to its length, Baffert said after the Preakness, "None of them really want to go that far, but if you're a superior horse, you can do it. I've seen horses go a mile and a half, and they never won again."
Justify only needs to win one more.