Travis Pastrana Brings Evel Knievel Back to Life With Three Iconic Las Vegas Jumps
Posted on: July 9, 2018, 10:00h.
Last updated on: July 9, 2018, 10:42h.
Nitro Circus founder Travis Pastrana entertained large crowds in Las Vegas Sunday night by completing three historic jumps that paid tribute to the most iconic stuntman of them all, Evel Knievel.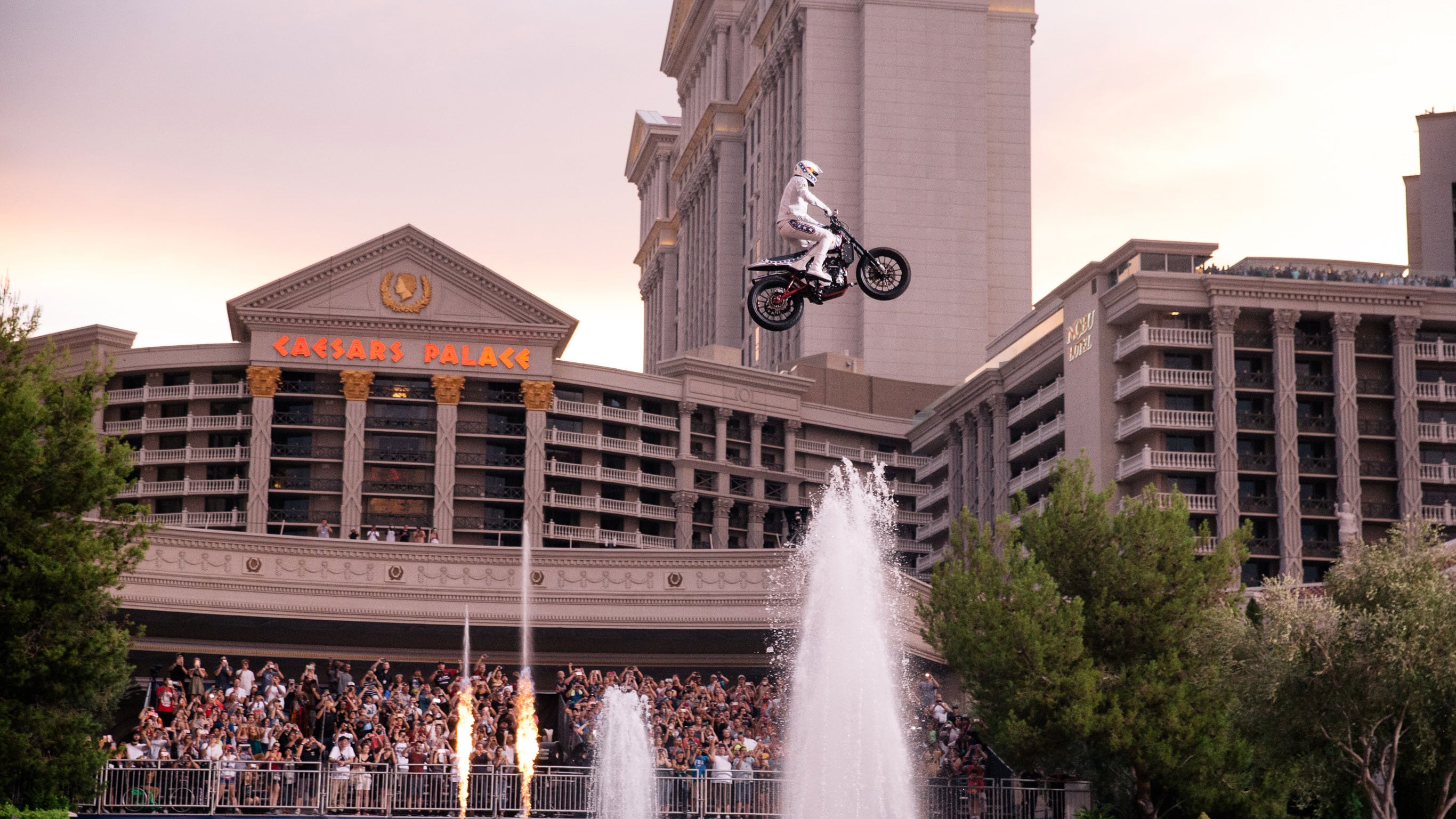 Televised live on History Channel, Pastrana's spectacle began by soaring over 52 flattened cars in a vacant lot behind Planet Hollywood. He then successfully vaulted over 16 buses. Similar stunts were completed by Knievel decades ago.
After executing the two stunts, Pastrana took a short drive north up the Strip to Caesars Palace. The third jump was the shortest, but most difficult.
On New Year's Eve in 1967, Evel almost died after trying to jump over the casino resort's fountains. He crashed short of the landing, and suffered a crushed pelvis and femur, hip, wrist, and ankle fractures, and a concussion.
On Sunday, Pastrana was more successful, as his lighter and higher-powered motorcycle easily cleared the 149-foot jump.
"These bikes are a little faster and a little lighter, but it's similar," Pastrana said afterwards. "This is modern-day Evel Knievel."
History Channel televised the performance in a three-hour program titled "Evel Live."
Often Imitated, Never Duplicated
Las Vegas remains the casino capital of the US despite the vast majority of states now having some sort of either tribal or commercial gambling. Casinos have expanded rapidly in recent decades, as state governments look for new forms of tax revenue.
Nevada additionally lost its monopoly on full-fledged sports betting when the Supreme Court of the United States (SCOTUS) overturned the longstanding federal ban in May.
Sin City executives aren't overly concerned. Regardless of casinos and sports betting now live in numerous states, they believe Las Vegas will remain #1 when it comes to all forms of gambling, and entertainment such as Pastrana's on Sunday night.
MGM Resorts CEO Jim Murren said following the SCOTUS repeal of the sports betting prohibition, "The parallel would be if you think back on casino expansion throughout the United States. That has actually benefited MGM and Las Vegas because people want to go to the market leader. Las Vegas is the undisputed leader."
The same can be said about Pastrana's stunts Sunday night. While fans can see his Nitro Circus stunt tour in various cities, only in Las Vegas can a proper tribute to Knievel be made.
Who is Travis Pastrana?
Pastrana is regarded as one of the world's best motorcycle stuntmen today.
The 34-year-old's career began in moto/supercross. In 1999, he won the X Games' first MotoX Freestyle competition with a 99-point run, which remains a record score to this day.
Pastrana is an 11-time X Games gold medalist. He has also raced in the NASCAR Nationwide Series, and Global RallyCross Championship for the Subaru Rally Team USA.
He's married to professional skateboarder Lyn-Z Adams Hawkins, a three-time X Games gold medalist herself.
Similar Guides On This Topic