Towns Saying No to New Connecticut Casinos
Posted on: April 14, 2015, 04:12h.
Last updated on: April 14, 2015, 04:12h.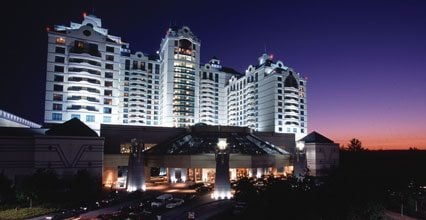 Connecticut is considering adding new casinos to combat coming resorts in Massachusetts and New York, and the owners of Mohegan Sun and Foxwoods are even willing to team up to operate them.
But while a proposal in the state legislature would allow for these new, smaller casinos, at least some of the proposed towns don't want anything to do with them.
Officials in both Enfield and Windsor, two of the proposed locations for a new casino, have already made it clear that they want no part of casinos in their towns.
Last week, the Windsor town council voted to adopt a resolution opposing gambling facilities there, while Enfield officials have said that it simply doesn't make sense to place a casino in their town.
Windsor, Enfield Make Strong Statements Against Casinos
The Windsor resolution was passed by a unanimous 9-0 vote. The council declared that town officials wouldn't provide any financial incentives to developers interested in building in the town, and made sure to communicate their strong objection to the state representatives and state senators that represent Windsor.
"We're trying to save everyone the trouble," said council member Al Simon. 
Enfield assistant town manager of Courtney Hendricson said that Enfield similarly isn't interested in hosting a casino, and added that it hardly made sense to build there.
"We're only eight miles south of the massive casino that's already a done deal," Hendricson said, referring to the MGM Springfield being built just over the state border in Massachusetts. "We're already a regional shopping destination…there would have to be some sort of entertainment, gaming and food option, not just slots."
Some Question How Casinos Would Be Financed
Other towns under consideration, such as Windsor Locks and East Windsor, have said that they are still considering the possibility of hosting a casino and that it is very early in the process. But regardless of whether any town would accept a new casino within their borders, there are questions over whether or not Connecticut's tribes can even afford to build new facilities right now.
Of the two groups, Mohegan Sun, which is operated by the Mohegan Tribal Gaming Authority, may be in better shape, though the Mashantucket Pequots, who own Foxwoods, recently reached a deal to defer payments on $1.7 billion in debt.
"You've got to wonder. Where are they going to get it?" asked Moody's Investors Service analyst Keith Foley. "The financial situation of both is not the strongest."
Casinos in Neighboring States Could Cost CT Tribes Hundreds of Millions Annually
Both tribes say they should be able to find financing if they need it, however, and area also saying that it is too early to consider costs at this stage.
There's also the fact that both groups may rather spend money they don't have now rather than watch their revenues slip away as facilities open in neighboring states.
According to a report released last week by consulting firm Pyramid Associates, Mohegan Sun and Foxwoods could lose around $700 million in revenues by 2019 because of the new casinos being built in Massachusetts and New York.
"These figures indicate that the opening of resort casinos in Massachusetts and New York is about to catalyze one of the largest interstate transfers of gaming revenue in recent US history…second only to the transfer from New Jersey's casinos to Pennsylvania's casinos that occurred from 2006 to 2014," the report stated.