Studio City Macau Opens with Hollywood A-Listers in Attendance
Posted on: October 27, 2015, 02:19h.
Last updated on: October 27, 2015, 02:51h.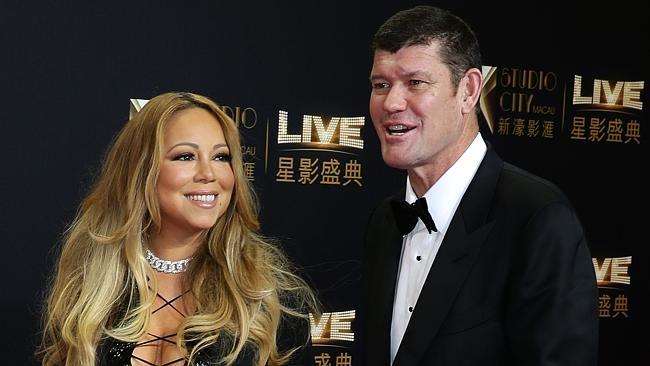 Studio City, Macau, James Packer's new $4.5 billion integrated casino resort on the Cotai Strip, finally flung open its doors on Tuesday night with a little help from the billionaire casino mogul's latest squeeze, Mariah Carey.
Carey is rumored to have been paid $1 million for belting out her back catalogue as the likes of Robert De Nero and Leonardo DiCaprio mingled among the crowd on the opening night.
Not only is the TV and movie-themed Studio City the only casino to mingle television and film production facilities with the traditional retail, gaming and hotel attractions, but it's also the only resort to come with its own Scorsese-directed short film, starring the aforementioned and Brad Pitt.
The evening marked the premier of the 15-minute movie, entitled The Audition, for which the stars were rumored to have pocketed around $10 million each.   
"It's the coolest 15 minutes ever made," Packer assured a press conference earlier in the day.
Burst Bubble
For all the glitz, Studio City was conceived in a very different economic climate from the one Macau knows today, a time of unprecedented growth when investors must have felt that the bubble would never burst.
Two years ago Forbes declared Macau to be one of the world's fastest-growing economies. Its casinos were taking every two months what Vegas was taking in a year.
But Chinese President Xi Jinping's anti-corruption drive has halted the success story and sent revenues tumbling for 16 straight months.
"I don't think any of the operators could have predicted what has happened now," Packer told CNBC recently. "As an Australian investor in China and Macau, it's very hard to be critical of a corruption crackdown… [but] when and how that ends is something that no one knows."
Studio City was conceived by US investment firms Silver Point Capital LP and Oaktree Capital Management LLC and Hong Kong's eSun Holdings Ltd, but bitter legal wrangles between the various investors delayed its construction.
Packer and Lawrence Ho's Melco Crown stepped in 2011, gaining a controlling 60 percent stake in the property and construction work resumed.
Packer Upbeat
Melco Crown had hoped to receive the blessing of the Macau government for 400 gaming tables on the casino floor, which is the amount it says it needs to make the venture profitable, but it was announced last week that the company would receive just 250.
Macau has been sparring with its table allocations in recent months, bowing to pressure from Beijing, which wants the gambling hub to concentrate on creating more non-gambling related amenities.
Despite the setback Packer remains upbeat about the long-term future of Macau: "The long-term macro picture for Macau is still incredibly exciting," he said. "I think we've all got to be mindful of the fact that it's been a terrific ride so far, and nothing is a straight line up."