Stratosphere Undergoing $140 Million Renovation, Analysts Bullish on Golden Entertainment
Posted on: March 16, 2018, 03:00h.
Last updated on: March 16, 2018, 11:20h.
Renovations at the Stratosphere will soon commence, as new owner Golden Entertainment announced this week during an earnings call that it's going to spend $140 million over three years to refresh the Las Vegas hotel and casino.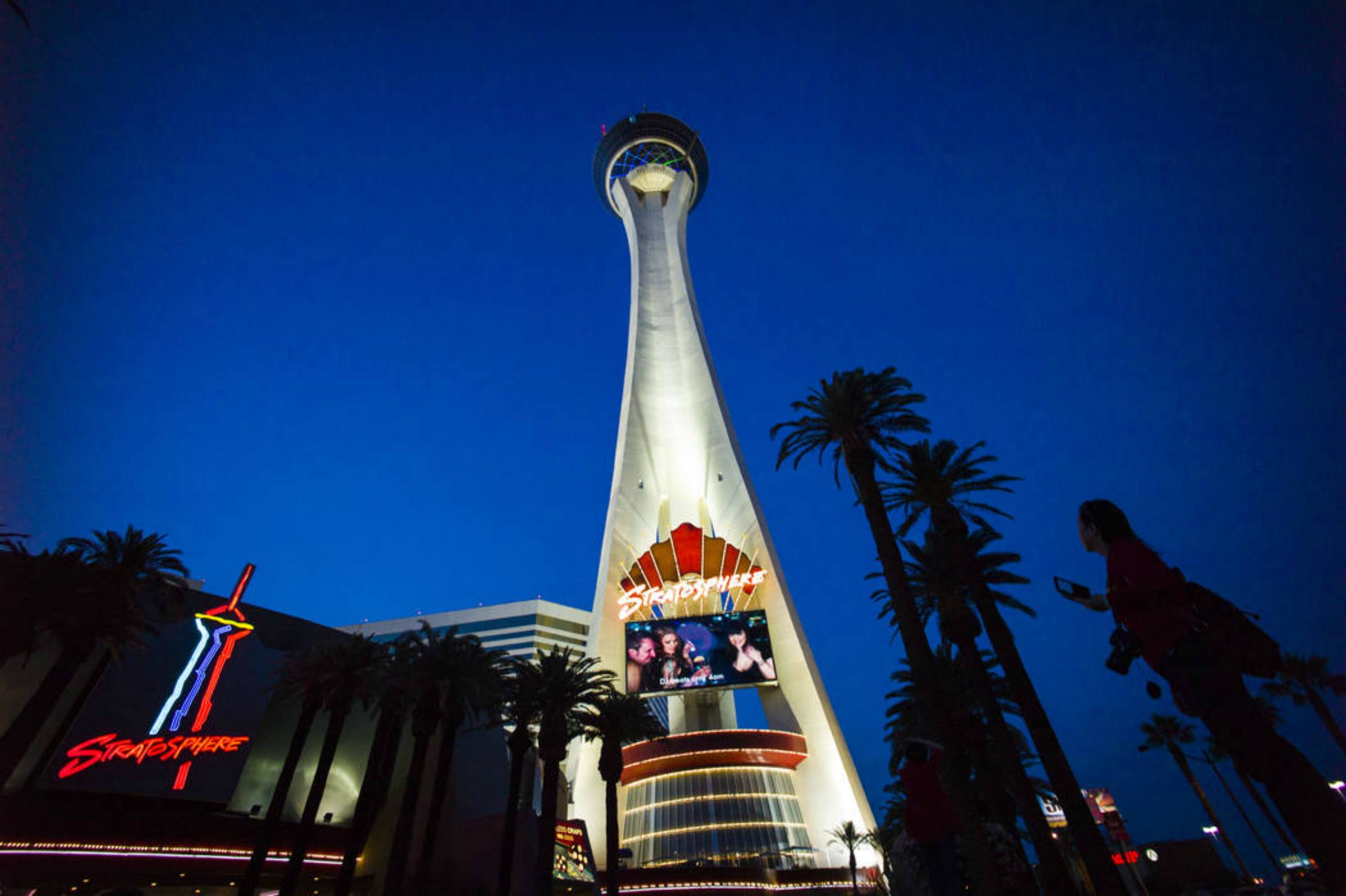 Golden Entertainment completed its acquisition of the Stratosphere in October from American Casino & Entertainment. The $850 million deal included the two Las Vegas Arizona Charlie's casinos, as well as the Aquarius Casino in Laughlin.
Golden Entertainment says the $140 million Stratosphere renovation will include a makeover of 1,100 rooms, or approximately half of the resort's inventory. The casino floor will be upgraded, though the company provided little details on what that entails aside from saying it will install a new slot management system and loyalty program.
Several new eateries will be incorporated, and its iconic Top of the World restaurant inside the Stratosphere Tower will be refreshed.
Golden Entertainment CEO Blake Sartini said 50,000 square feet of convention space will be added in the final phase. The executive also revealed that the adjacent 16 acres of vacant real estate acquired in the transaction is also being looked at for long-term expansion.
With its newly acquired properties, Golden Entertainment now owns eight casinos, with seven in Nevada and one in Maryland. The company is also the parent to roughly 60 Silver State tavern gaming restaurants, and is licensed to manage slot operations in Nevada, Montana, Illinois, and Pennsylvania.
Room for Improvement
The debate on whether the resort is part of the Strip or downtown area will always be ongoing. Last December, Sartini said "there's no question" that the Stratosphere is "clearly a Strip property."
While the CEO's answer could be challenged, there's little argument against the Stratosphere Tower being one of Las Vegas' most recognizable landmarks. But over the years, the resort property has seen its reputation crumble to the ground.
Many locals do not feel $140 million is sufficient. Las Vegas Review-Journal readers were quick to quip about the announcement.
"There isn't enough hand sanitizer in the world for me to ever set foot in the Stratosphere," one commentator declared. "They need to buy the surrounding 0.5 miles and demolish it," another opined.
But some are a bit more optimistic. "It needs more than $140 million, but it's a start," a local Harrah's employee concluded.
Revenue and Losses Up
During Thursday's call, Golden Entertainment announced that while revenues soared during the fourth quarter of 2017 to $184.3 million, the company lost money due to expenses incurred by the acquisition of American Casino.
Golden Entertainment CFO Charles Protell said the October 1 shooting also led to a reduction in visitation throughout Las Vegas, and subsequently reduced revenue in the company's first 73 days of owning the Stratosphere.
However, Sartini says the company is seeing "cross-play trends, with our tavern customers visiting the Stratosphere, Aquarius, and Arizona Charlies."
Union Gaming analyst John DeCree is sold that investors should rush to get their hands on Golden Entertainment shares. "We like both the value and growth opportunity," DeCree stated in his "buy" rating recommendation.
Traded on NASDAQ, Golden Entertainment closed down 1.68 percent on Thursday to $28.52. The stock has soared 137 percent over the last year from $13 in March 2017.