Steve Wynn Joins Sheldon Adelson in Anti-Online Gambling Stance
Posted on: February 4, 2014, 05:45h.
Last updated on: February 3, 2014, 08:44h.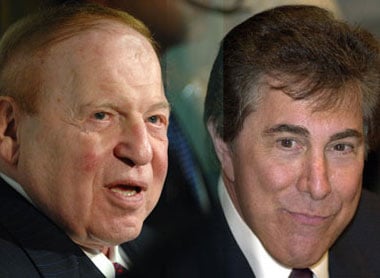 They say politics makes for strange bedfellows, and the same could also be said for the casino industry. Of course, the lines between politics and gambling industry regulatory policy can get pretty blurry, and sometimes it's hard to discern one from the other, and such would be the case with the new professional love affair between longtime anti-online gambling crusader Sheldon Adelson, and his new bestie and ally, Steve Wynn.
Macau Is Their Bond
Perhaps their mutual success in Macau has created a new bond for the two casino magnates; whatever it is, Adelson and Wynn – certainly two of the most established visionaries in the gambling industry – have now also become aligned in an area where Adelson has found few business compadres to join him: his vehement fight against what he claims are the inherent evils of online gambling in America.
Steve Wynn now says he concurs with the Las Vegas Sands CEO that Internet gaming could be the apocalypse for underage morality in the U.S. if it gets a unilateral federal pass.
"I end up agreeing with Sheldon," said Wynn recently.
This is quite a turnaround from the Steve Wynn who once predicted that Sheldon Adelson would eventually warm up to the concept of online gaming. Au contraire; it appears that it is Wynn who has now seen  "the light" when it comes to the Internet's potentially corrupting influence via online gambling.
Visions of Underage Online Gamblers
Wynn now refers to the federal government's  "insatiable appetite for revenue," and foresees – we're not sure why exactly – the possibility of underage gamblers by the truckload sneaking through the regulatory checkpoints and this creating some kind of American backlash towards gambling as a whole. Considering that there have certainly been incidents of underage gamblers getting into land casinos under the radar at various points in time – and the casinos usually get caught and fined for it without Joel Osteen creating a Sunday pulpit commentary on the topic or pickets going up on the Las Vegas Strip – this seems a bit dramatic to us; but that's Wynn's story and he's sticking to it.
"This is not a good entrepreneurial opportunity," maintains Wynn. "Where is the business opportunity? The big problem I see is I don't see the government letting us keep the money."
Again, we're not sure what proof he has that 13-year-olds by the boatloads will be crashing online gaming sites, but this seems to be Wynn's primary focus and concern. He says that after viewing the latest technological software at sites run by UltimateGaming et al to theoretically block underage players, he is simply not convinced they are sophisticated enough to keep kids a bay. Despite the IT teams telling him the sites will be inaccessible to kids, Wynn's  response was,  "I'm sure it was impressive if you were a cyber guy. But it was bullsh—."
Wynn now seems to be on board with Adelson's contention that young teens will figure out how to get online and gamble away all their own or their parents' savings.  We're not sure how sophisticated your combo of con and high-tech penetration skills would have to be to pull that off; and while it's no doubt a possible scenario, so is being hit by a car when we drive, but that doesn't keep us from getting behind the wheel every day. Setting policy based on worst-case scenarios seems like an odd tactic to us, but what do we know; we're not billionaires with successful land casinos in the U.S. and Macau, are we?
As for Wynn, it's a definite maybe in his viewpoints on this for now, anyway. And besides his concerns about underage issues, he's not sure he wants to try to transfer his upscale casino image to a computer screen, or even how that would be doable.
"I don't know how to do that on a 17-inch screen," he said.
"It's possible it could change," Wynn added, regarding his views on Internet gambling. But he doesn't think anyone's opinion will change Congress's deer-in-headlight stance on Internet gambling, regardless.
"[Legal gambling passage] can't get through the House of Representatives," he pointed out. "They can't agree on anything, especially something this esoteric."