Sports Bettor James Holzhauer Sets Another 'Jeopardy!' Record, Chasing All-Time Leader Ken Jennings
Posted on: April 18, 2019, 09:37h.
Last updated on: April 18, 2019, 09:37h.
Las Vegas sports bettor James Holzhauer might need to find a new home in Southern California, as the 34-year-old's historic run on Jeopardy! now stands at 10 games.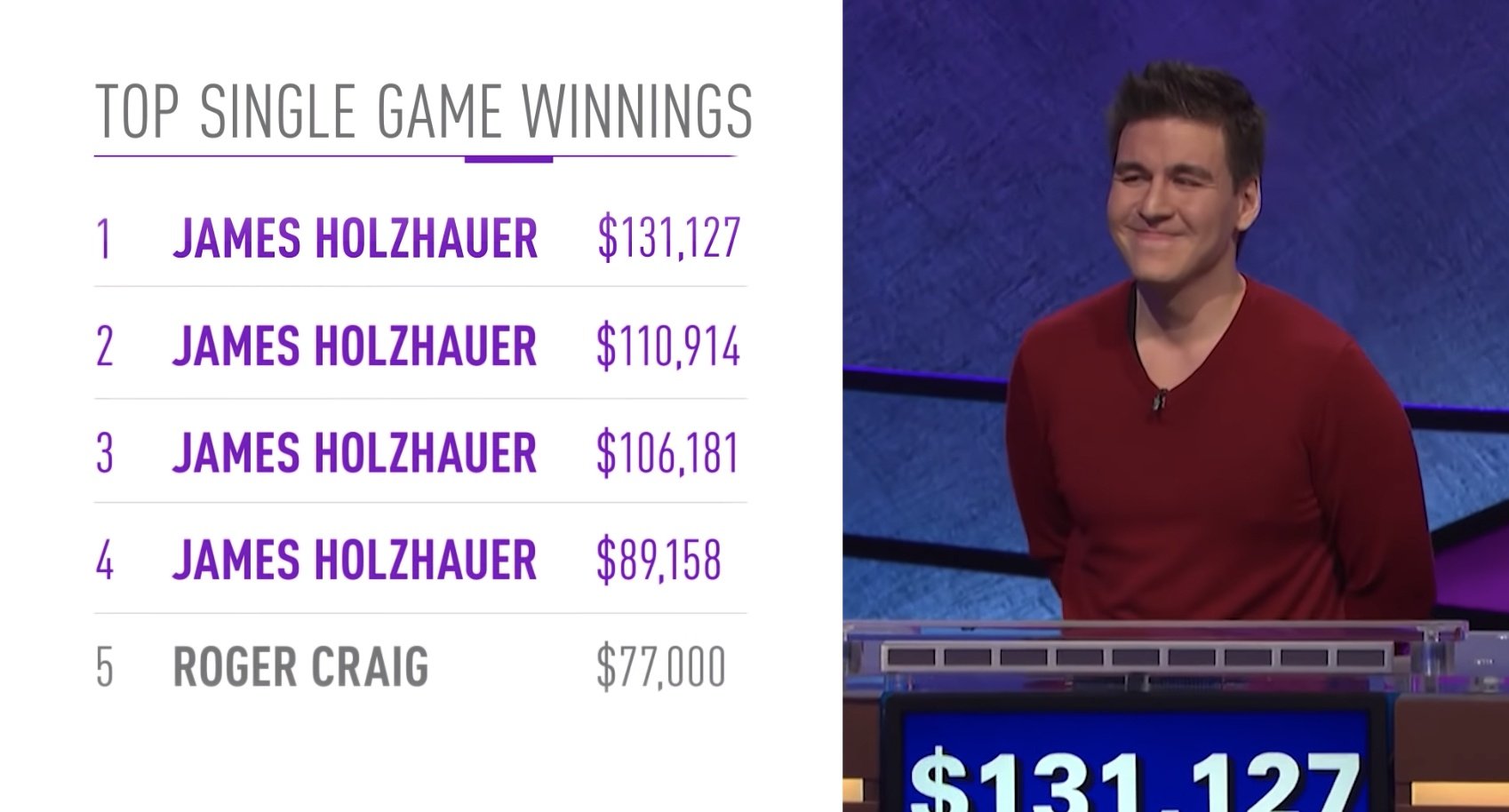 On Wednesday's episode, Holzhauer broke his own one-day record by winning $131,127. He went a perfect 40 for 40 during the competition. Jeopardy! is taped on the Sony Pictures lot in Culver City, California.
He entered Final Jeopardy! already having won the game. He had $71,114, and his nearest competitor was at $5,400. Holzhauer risked $60,001 on the final category "20th Century Literary Characters."
The answer shown read: "His first name refers to the ancient district in which you'd find the Greek capital; his surname is a bird." Holzhauer correctly responded with the question: "Who is Atticus Finch?"
Holzhauer now owns the top four single-game winnings on Jeopardy! He was the first contestant in the gameshow's history to win over $100K. He's now accomplished the feat three times.
Holzhauer top wins:
$131,127
$110,914
$106,181
$89,158
A 10-game champion, Holzhauer has won $697,787 during the streak.
Las Vegas Return
Holzhauer, a self-described professional sports bettor, says every sportsbook in Las Vegas knows him. If they didn't, they sure do now.
During Wednesday's show, he admitted to host Alex Trebek, "I don't think the bookies in Las Vegas are going to be as willing to accept my action after this."
Holzhauer might not be back in Southern Nevada anytime soon. If his gameplay continues in the manner in which he's dominated thus far, there is seemingly no one who can dethrone him from the champion's lectern.
Heading into Final Jeopardy!, the slimmest lead he had came on just his second appearance when he stood at $29,114, and the next closest competitor had $18,800 – a difference of $10,314.
Holzhauer's largest lead heading into the final clue came on the April 9 show when he had $72,600, and his nearest foe had $7,000 – a lead of $65,600.
Ken He Do It?
Only one person has won more money on Jeopardy! in show history than Holzhauer. His name is Ken Jennings.
Holzhauer still has many wins to claim should he catch up to Jennings' $2,520,700 haul that he amassed during his 75 appearances. However, with $100K+ wins, Holzhauer is quickly making ground on the longtime Jeopardy! record holder, which was set back in 2004.
During his 10-game win streak, Holzhauer has averaged $69,778.70 per game. With $1,822,913 still to go to catch Jennings, the sports bettor (at his current win rate) will need to win around 26 more games.
Jennings said this week, "This is absolutely insane. I've always wanted to see someone try Jeopardy! wagering this way who had the skills to back it up."
That "way" Jennings refers to is Holzhauer's incessant ability to wager all of his money during Daily Doubles, and risk substantial sums on Final Jeopardy! The show continues tonight.
Similar Guides On This Topic