Southland Casino Donates $150K to West Memphis Police Department
Posted on: September 5, 2023, 09:59h.
Last updated on: September 5, 2023, 07:03h.
The parent company of Southland Casino Hotel in West Memphis has made its largest donation in the gaming property's 67-year history.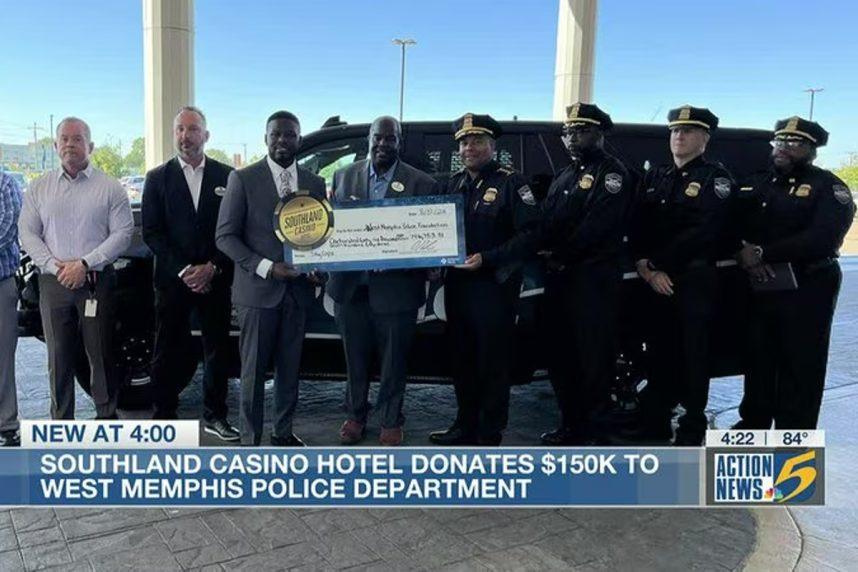 New York-headquartered hospitality and gaming firm Delaware North acquired Southland in the early 1970s. Then, a parimutuel greyhound racetrack, the facility fell on hard times in the early 1990s after commercial riverboat casinos were legalized in nearby Tunica, Mississippi.
Southland's fortunes turned, however, in 2005 after the Arkansas General Assembly passed legislation authorizing the state's two greyhound racetracks — Oaklawn the other — to incorporate "electronic games of skill." The slot-like machines helped keep the lights on, but the racinos still underperformed compared with the Tunica riverboats.
Arkansans in 2018 passed a ballot referendum that legalized commercial casino gambling with Las Vegas-style slot machines, table games, and sports betting. The constitutional amendment provided casino licenses for Southland and Oaklawn and created two additional gaming licenses for new casinos in Pope and Jefferson counties.
The amendment resulted in a substantial overhaul and expansion of Southland. Delaware North plowed more than $320 million into the property, greatly expanding the casino space and bringing a 300-room hotel to the destination.
Eyes in the Sky
The new Southland Casino Hotel, which offers more than 2,400 slot machines, 50 live dealer table games, and a Betly Sportsbook, has been a winning bet for Delaware North.
Gross gaming revenue in Arkansas last year topped $614 million, a record high. Southland led the way with about $264 million won from gamblers — an 11% year-over-year improvement.
Most of the gaming gains came before the new casino opened in December. Property officials say the new resort is performing well, and Southland continues to build visitation through regional marketing efforts.
The new resort is bringing more visitors, and with that, some more concerns about crime. In part of the casino's commitment to being a community steward, Southland recently announced a nearly $150,000 donation to the West Memphis Police Department.
The safety and security of the residents and visitors to West Memphis is vital," said Osi Imomoh, president and general manager of Southland Casino Hotel. "This donation of cameras to our police department will provide them with the latest in technology to help policing efforts in our community and act as a deterrent to bad actors."
The funds will be used to enhance the law enforcement agency's citywide camera system. Six cameras with license plate recognition capabilities will be installed on key roads and corridors throughout West Memphis.
"Southland has always supported first responders and often contributes to the safety of our citizens," added Brent Bradley, West Memphis assistant police chief. "I also want to personally thank Southland's Director of Security Joe Baker for all the assistance he provides to the West Memphis Police Department. More eyes in the sky are a deterrent to criminals who choose to plague our community."
West Memphis Crime
Southland and the West Memphis Police Department hope the additional surveillance cameras will reduce criminal activity rates. According to Neighborhood Scout, an online database of neighborhood analytics, West Memphis' crime rate is substantially higher than the state average.
"With a crime rate of 66 per one thousand residents, West Memphis has one of the highest crime rates in America," the website reports. "One's chance of becoming a victim of either violent or property crime here is one in 15. Within Arkansas, more than 98% of the communities have a lower crime rate than West Memphis."