Shuttered Nevada Casinos Miss Out on $933M in April, GGR Down 99.6 Percent
Posted on: May 29, 2020, 09:08h.
Last updated on: May 29, 2020, 10:28h.
Nevada casinos were closed throughout the month of April, and that resulted in the state's gaming operators missing out on nearly $933 million in revenue compared to the same month in 2019.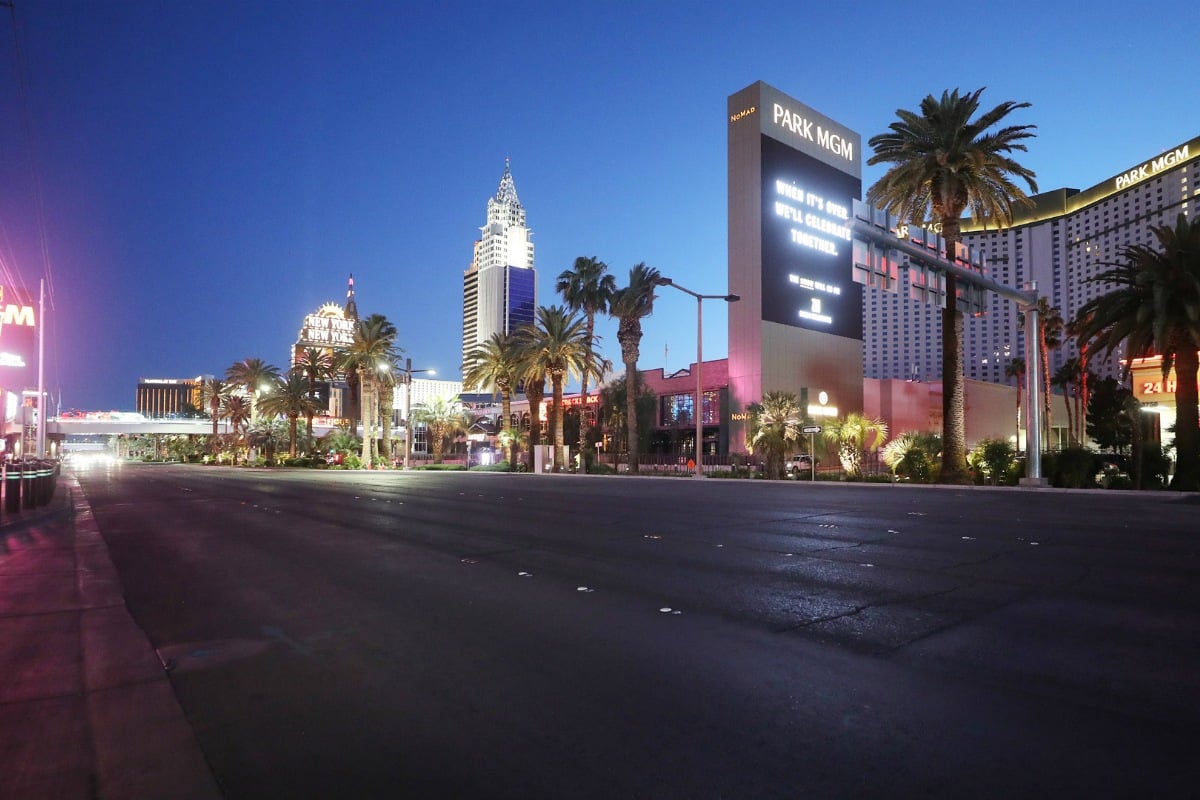 The Nevada Gaming Control Board (NGCG) reveals in its April 2020 monthly revenue report that the state's 317 licensed gaming locations collectively won just $3,647,000. That's a 99.6 percent year-over-year decline, as casinos won $936.5 million in April 2019.
The difference is a staggering $932.9 million.
All casinos have been closed since March 17 on Nevada Gov. Steve Sisolak's (D) orders. After more than two-and-a-half months, the state will allow gaming floors to reopen on June 4 under strict regulations.
Casinos reopening must limit their capacity to 50 percent of their fire and building code. Casinos must provide face masks or cloth coverings to visitors, and if the gaming space is part of a hotel, COVID-19 testing must be provided to overnight guests. Each guest must also complete a self-assessment upon check-in.
All casinos must additionally have a medical professional on site.
Through four months in 2020, Nevada gross gaming revenue (GGR) totals $2.7 billion.
January: $1.038B
February: $1.042B
April: $3.64M
The small win last month mainly derived from sports betting operations. Due to "statutory limitations regarding confidentiality of financial records," the NGCB redacted specifics on the financial breakdown of the oddsmakers' win.
Travel Crashes
With the US on a near-lockdown during most of April, travel was almost entirely halted to Southern Nevada.
Statistics from McCarran International Airport released today shows that arriving and departing passenger traffic at Las Vegas' main air hub totaled just 152,716 people last month. That's down 96.4 percent from April 2019, when more than 4.27 million came and went through the terminal.
International passengers totaled 0, as foreign flights were grounded. Southwest, Las Vegas' largest airline provider, served 95.5 percent fewer passengers via McCarran in April.
The Las Vegas Convention and Visitors Authority (LVCVA) will release its April visitor volume report later today that includes drive-in traffic.
Slow Times Ahead
Nevada and Las Vegas might be reopening, but things won't be the same for the foreseeable future.
MGM Resorts, the largest Strip operator, is reopening only three of its Sin City resorts next week – Bellagio, New York-New York, and MGM Grand. Though nearly 50 casinos in Las Vegas say they'll open June 4, several marquee properties are not, including Aria, The Palazzo, Mandalay Bay, Paris, and Tropicana.
The Palms has no made no reopening announcement, nor has Rio. The Westgate and its SuperBook won't open until June 18.
The LVCVA is rethinking its marketing in the interim. The agency released its post-COVID-19 ad earlier this month that promotes Las Vegas changing with the times.
"The world has changed, and Vegas is changing with it," the spot begins. "So yes, things will be a little different." The advertisement hypes a more intimate, calm, and private Sin City experience – something seemingly unimaginable before the coronavirus pandemic.
Similar Guides On This Topic