Sheldon Adelson Investigation Over Alleged Triad Links Called for By Political Watchdog Group
Posted on: November 4, 2015, 01:07h.
Last updated on: November 4, 2015, 03:20h.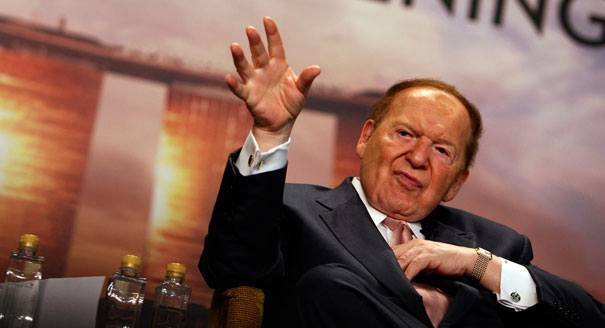 Did Sheldon Adelson's Las Vegas Sands Corp. (LVS) have dealings with some Hong Kong Triads as part of its Macau operations? This is exactly what a political watchdog wants Congress to investigate.
The Washington DC-based Campaign for Accountability (CFA) is demanding Congress launch an official inquiry into alleged ties between LVS and Hong Kong's notorious organized crime gangs.
The move comes following a judge's refusal to publish the contents of a report compiled as part of the wrongful termination lawsuit brought against the LVS by the former president and CEO of Sands China, Mark Jacobs.
Jacobs claims he was fired for "whistleblowing on improprieties" within the company, while Adelson says Jacobs made up allegations in order to blackmail LVS.
Triad Junket Connection
Until the recent crackdown by Beijing, Macau's casinos relied heavily on junket operators to bring VIP's from China into the gambling hub, with Chinese high rollers accounting for some 60 percent of revenues.
Since many of the biggest junkets are known to have been infiltrated by Triad gangs, and because LVS is one of the biggest operators in Macau, CFA alleges it's possible that LVS may have enjoyed a symbiotic relationship with one or more of these groups.
The court report, which was authored by a former head of the Royal Hong Kong Police's Criminal Intelligence Bureau, Steve Vickers, may or may not hold the answer.
In June, the CFA and the UK's Guardian newspaper filed separate motions requesting that the trial judge divulge the contents of the report on the grounds that it was in the public interest.
Now, the CFA is demanding that the chairman of the Senate Committee on Homeland Security and Governmental Affairs and the Federal Election Commission investigate LVS' business dealings in Macau.
"Federal authorities have long been concerned about the reach of the tentacles of Chinese organized crime," said CFA Executive Director Anne Weismann in an official statement. "If triad money is winding up in the campaign coffers of US politicians through Mr. Adelson's contributions, the American people deserve to know it."
He Said They Said
LVS spokesman Ron Reese denied the allegations, calling them "a political stunt to try and discredit Mr Adelson's name. The unsubstantiated allegations are nothing new," he said. "This stuff has been dragged out before and was repudiated by the DCCC."
The Democratic Congressional Campaign Committee made similar claims in 2012, which it was ultimately forced to retract before apologizing to Adelson.
In 2013, Adelson told a Las Vegas courtroom that he backed out of a venture to jointly run a casino in Macau with Galaxy Entertainment because its people had "expressed their judgement they were going to do business with either reputed or triad people and we couldn't do that."