Santa Anita Suffers Two Deaths in First Week of Meet; Opening Day Handle, Attendance Drop
Posted on: January 2, 2020, 11:28h.
Last updated on: January 3, 2020, 09:40h.
Santa Anita will resume horse racing on Friday, but it entered 2020 under the same shadow that fell over the Southern California track all last year.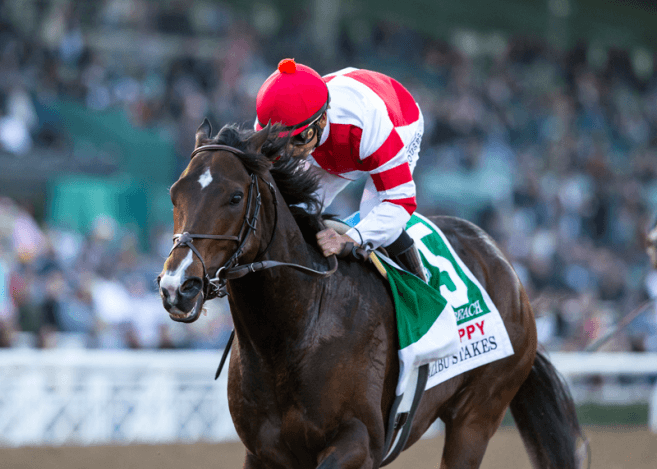 On the last race of its New Year's Day card, the track suffered its first racing fatality of the year when Golden Birthday pulled up with an injury. Track officials took the horse off the turf track in a can and euthanized it.
According to the Equibase racing chart, the 4-year-old gelding led the 1-1/8-mile allowance optional claiming race through the first three-quarters of a mile. In trying to maintain the lead, Golden Birthday "inched away again on the second turn, took a bad step, then drifted out while being pulled up into the stretch."
It was the second death at Santa Anita since racing resumed last week. On Dec. 26, Truest Reward, a 3-year-old gelding, broke his left front leg on the training track.
Racing was supposed to resume on that day, the traditional opening day for Santa Anita's winter and spring meets. However, officials announced on Dec. 21 that forecasts for rain in the Los Angeles area prompted them to push the first day of racing to Dec. 28.
From December 2018 to November's Breeders' Cup, 37 horses died at Santa Anita. The deaths spurred a three-week closure of the track in March and fueled a year-long national debate about the future of the sport.
Opening Day Attendance, Handle Down from Last Year
Numbers from the opening day of Santa Anita's 2019-20 meet fell compared to the prior year's record-breaking opener.
The postponements allowed Santa Anita to set up an 11-race card last Saturday with seven stakes races. The card included Omaha Beach, a top 3-year-old colt who cruised to victory in the Grade I Runhappy Malibu Stakes.
Despite the stacked card, on-track attendance fell more than 15 percent, from 41,373 on Dec. 26, 2018 to the 35,085 who came out on Saturday. The on-track handle dropped 20 percent, from $3.5 million to $2.8 million.
Attendance at the California off-track betting parlors rose more than six percent from the previous year, to 7,048. That helped spur an eight percent increase in handle to $2.5 million.
Despite the jump from the OTBs, the total in-state handle still fell more than eight percent to $5.5 million.
Out-of-state handle also fell nearly seven percent from $14.5 million last year to Saturday's $13.5 million.
Deaths Again Spark Calls for Changes
The latest deaths at Santa Anita spurred more calls from animal welfare organizations pushing for additional changes to the sport.
Marty Irby, executive director for Animal Wellness Action, said in a statement that deaths like the one that Truest Reward suffered would continue until Congress passes the Horseracing Integrity Act. He credited The Stronach Group, which owns Santa Anita, for its support of the bill that would nationalize drug standards for racing and establish a private regulatory body to oversee drug testing in the sport.
But the public outcry to end American horse racing is rapidly growing, and obstructionists in the industry who've failed to support the Horseracing Integrity Act should take a serious look in the mirror, and ask themselves if they want to be remembered for the cruel mistreatment of horses and bringing an end to horse racing; or for saving lives, and bringing integrity back to the sport," Irby said.
PETA, though, reiterated in its statement that racing at Santa Anita should stop until officials can prevent deaths like Golden Birthday's.
Kathy Guillermo, the group's senior vice president, assailed what she called a "weak investigation" by the Los Angeles County District Attorney's office that failed to issue any animal cruelty charges. She said it's now up to Gov. Gavin Newsom and the California Horse Racing Board to act.
"2020 should be the year that either the deaths stop, or horse racing does. Right now, racing must be suspended," she said. "California officials have made substantial improvements to protect horses, but they're not done yet."