Las Vegas Sands, MGM Resorts Honored as 'Food Loss and Waste Champions' by EPA
Posted on: February 12, 2020, 12:21h.
Last updated on: February 12, 2020, 02:05h.
Las Vegas Sands and MGM Resorts have been named to the US Environmental Protection Agency's (EPA) list of "Food Loss and Waste 2030 Champions." The honor recognizes companies committed to reducing their food loss and waste by 50 percent over the next decade.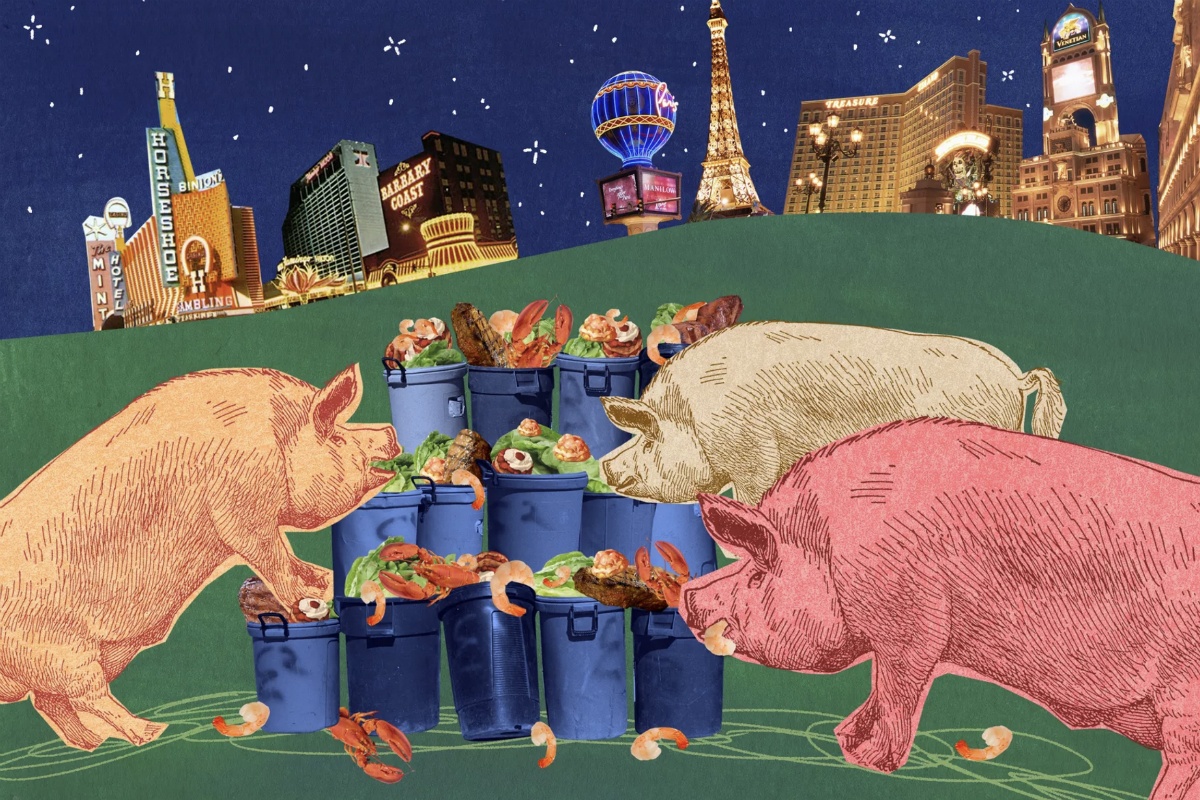 MGM, Nevada's largest employer and owner of the most casino resorts on the Las Vegas Strip, and Sands, the world's richest gaming operator in terms of revenue, have both implemented policies aimed at minimizing food leftovers.
"The elimination of food waste has been a critical component of our Sands ECO360 sustainability plan," said Las Vegas Sands Senior Vice President of Global Sustainability Katarina Tesarova.
While this is definitely an environmental issue, it is also a social and economic issue. Not only does wasted food end up in the landfill, but there are other implications. For instance, we continue to focus on new ways to get excess unserved food to those in the community who are food insecure," Tesarova added.
Hilton is the only hotel operator on the "Food Loss and Waste 2030 Champions" list. A total of 29 companies were included.
Waste Recycled
MGM Resorts and Las Vegas Sands have numerous programs tailored towards reducing their food waste.
At a pig farm outside of Las Vegas, pigs feast on a smorgasbord of lobster, sausage links, beef, and even truffle mac and cheese. The food is a mix of scraps from leftover food from conventions held at the two casino operators' facilities.
Banquet meals that were never served are donated to food banks, and expired minibar snacks are donated to community centers. Oyster shells are shipped thousands of miles back to the Chesapeake Bay.
The casino giants have plenty of motivation to reduce their food waste. Not only does it help their bottom line, but it also helps make a small dent on a global problem. The EPA explains, "The staggering amount of wasted food in the United States has far-reaching impacts on resource conservation and food security, while costing businesses and consumers money."
"Most people, when they think about recycling, they think about the standard metal, plastic, paper – and the reality is, for an organization like MGM, food, food waste, and food scraps are a significant part of our waste footprint," said Yalmaz Siddiqui, vice president of corporate sustainability at MGM Resorts. "Our main approach is to think about the type of food that's coming out of our operations and directing that type of food to the best destination it could go to."
By the Numbers: Vegas Food
Per the National Restaurant Association, Nevada is home to roughly 6,000 eating and drinking locations. Sales hit $9.9 billion in 2018, and the restaurant industry employed 291,200 food service workers.
A massive amount of food is shipped into Southern Nevada each day. While precise data on just how much food is consumed each day isn't available, PBS NewsHour in 2017 said 30 tons of shrimp arrive in Las Vegas each day. That's 60,000 pounds.
A shrimp cocktail at Wynn Las Vegas' Lakeside restaurant goes for $25.