Road to the Kentucky Derby: Forte Remains Solid Favorite as Field Solidifies
Posted on: April 8, 2023, 07:33h.
Last updated on: May 25, 2023, 06:07h.
We're now four weeks away from the Kentucky Derby, and with the final three major prep races occurring Saturday, we now have a fairly clear picture of who will be running for the roses on May 6.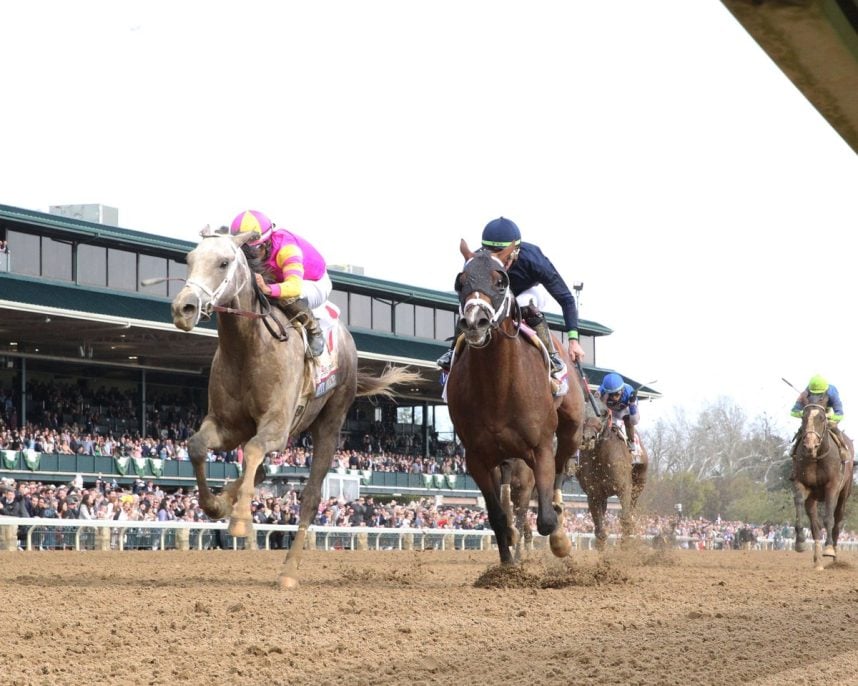 Despite exciting wins by a pair of favorites, Tapit Trice in the Blue Grass Stakes and Practical Move in the Santa Anita Derby, neither of them looked impressive enough to bump Forte from the mantle of presumptive Kentucky Derby favorite.
The other Derby prep, the Wood Memorial, featured 59-1 shot Lord Miles edging favorite Hit King for the upset win.
Assuming he stays healthy, Forte will likely be a strong betting choice as the horses head to the starting gate at Churchill Downs. All the Todd Pletcher-trained colt has done to earn that is win five straight races.
Not only have they been graded stakes wins, but that streak includes four Grade 1 wins. The last came last weekend in the Florida Derby in stirring fashion as Forte rallied from fifth place and from well outside in stretch to score the victory.
Pletcher will actually come into Louisville with three contenders. Besides Forte, he also trains Tapit Trice and Kingsbarns, an undefeated colt who won the Louisiana Derby two weeks ago.
"We're blessed," Pletcher told reporters at Keeneland Saturday after Tapit Trice's victory. "We've had a good spring, and now we got to hopefully have another good four weeks."
The Case for Forte
Favorites have recently suffered a bit of a dry spell in the Derby. The last to win was Triple Crown winner Justify in 2018, but the bettors' choices have come close in recent years, with last year's favorite, Epicenter, finishing second.
What I think helps Forte's case this year is how he won the Florida Derby. He had an outside post – 11th out of 12 – and found himself stuck in traffic for most of the race. He looked to be out of contention when he finally made his move. Those conditions are about as close as you can get to a Kentucky Derby environment, where Forte could find himself battling 19 other competitors.
Pletcher has said the major prep race at Gulfstream Park would serve as a good test for his prized colt. The trainer came away pleased that Forte's best part of the 1-1/8 mile Florida Derby was the final sixteenth, which would indicate he'd do well in the 1-1/4 mile Kentucky Derby.
What was impressive … was when he did make the lead, he kind of pricked his ears again which we've seen him do a number of times," Pletcher said. "It kind of makes you believe there's a little more in the tank there."
After Saturday's races, Circa Sports in Las Vegas kept Forte as the favorite with odds of +315, meaning a $100 wager would net $315. Tapit Trice and Practice Move are next at +550 each, and Verifying, who lost by a neck to Tapit Trice on Saturday, and Kingsbarns are +950.
NEW: @CircaSports just posted its latest Kentucky Derby futures after today's prep races.

Forte remains the convincing favorite at +315 (Bet $100 to net $315), with Tapit Trice and Practical Move the co-second choice at +550.

Verifying and Louisiana Derby winner Kingsbarns +950 pic.twitter.com/UYjif1nFIW

— Steve Bittenbender (@BittGDCG) April 8, 2023
If Not Forte, Then…
With up to 20 horses in the field, the Kentucky Derby is definitely not a conventional horse race, and with that large a field, it does present bettors with opportunities for value.
If you're looking for an intriguing long-shot possibility, one horse to consider is Two Phil's, who won the Jeff Ruby Steaks two weeks ago at Turfway Park. Turfway, a Churchill Downs track in Florence, Ky., has a synthetic tapeta track, which is different from the dirt track at Churchill.
But Two Phil's won at Churchill last year on a sloppy track.
If there's one thing that's consistent about Louisville in May, it's that the weather is anything but consistent. It can be 80 and sunny or gloomy and 50, or anywhere in between, sometimes even in the same week. Over the last seven Derby days, it's rained five times. Only two of those occasions led to sloppy track ratings, the last coming in 2019.
"I'm hoping it rains," trainer Larry Rivelli told reporters after the Jeff Ruby.
So, that's something to keep in mind should the clouds turn dark on May 7. Two Phil's could be your silver lining.
At Circa, Two Phil's Derby futures odds are +3000.
Who Will Run in the Kentucky Derby
The field for the Derby is based on points horses accumulate in prep races. Saturday's races each awarded 100 points to the winner, with the runners-up getting 40, the horses in third getting 30, and the horses finishing fourth receiving 20.
Those with the 18 highest point totals are guaranteed a spot in the race, with slots also available for horses in Japan and Europe. If an owner withdraws a qualifying horse from contention, the horse with the next highest total of points becomes eligible.
Churchill Downs Senior Director of Communications Darren Rogers tweeted the updated point totals Saturday evening.
An early look at the updated Road to the @KentuckyDerby Leaderboard following the Blue Grass, Santa Anita Derby and Wood Memorial. Final PDF update to come after Santa Anita Oaks (8:24 pm ET). pic.twitter.com/K3aHr9jwsW

— Churchill Downs PR (@DerbyMedia) April 8, 2023