Rivers Casino Schenectady Lives Up to Name as Freak Flood Video Goes Viral
Posted on: July 30, 2019, 10:24h.
Last updated on: July 30, 2019, 10:24h.
A video of floodwater racing through the Rivers Casino in Schenectady, upstate New York went viral on Sunday after it was uploaded to Facebook and viewed by more than 265,000 people.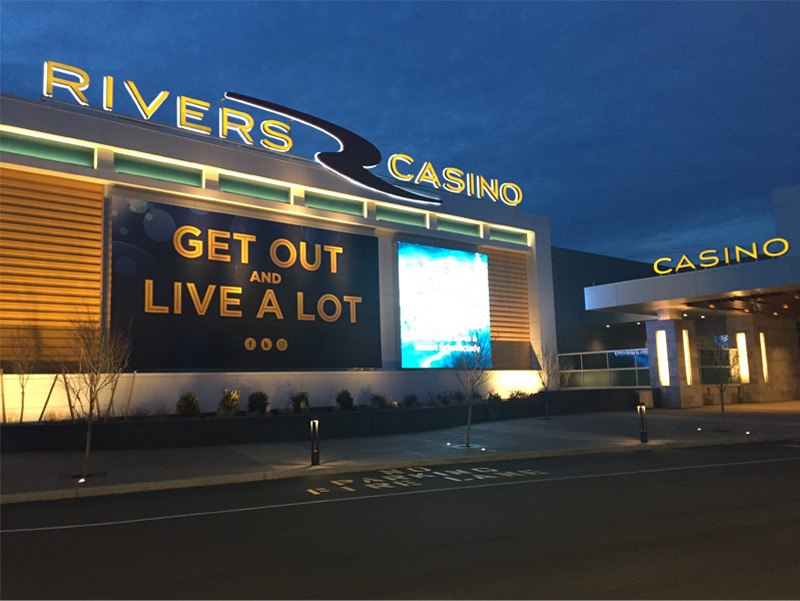 Rivers may have been hoping for the floodgates to open when it launched New York's first ever legal sports book earlier this month — but only in the figurative sense. Casino patron Louis Carciobolo's 48-second video shows a very literal deluge rushing past slot machines in the casino's outdoor smoking area, as members of the public run for cover.
"All of a sudden, it was like someone opened up a tap," Carciobolo told The Times Union. "It was gushing out so fast. We didn't know if the area was going to fill up. It just caught everybody off guard."
Freak Storm
Schenectady, just north of Albany, was battered by a freak thunderstorm for about half an hour late Sunday afternoon, as 50-mph winds knocked down trees and caused power outages for around 10,000 people.
The incident that turned part of the Rivers Casino into a river was caused by a blocked storm drain that was overwhelmed by the heavy rain, the casino's General Manager Justin Moore told TU. No one was injured and none of the slot machines were damaged, he added.
"The storm was very strong, a lot of rain in a very short amount of time," Moore said.
The storm also blew a 200-man tent through the air, causing a metal post to fall through the window of the casino lobby, shattering the glass. Again, no one was injured, and the inside of the casino sustained little damage while power remained on throughout.
But within hours of Carciobolo posting his video on his public Facebook account, it had been shared thousands of times, viewed hundreds of thousands of times more, and had even made the local TV news.
Carciobolo, a jeweller in nearby Queensbury, described the experience as "insane."
"This is not what I expected," he said. "It just exploded. My phone went nuts.
Sports Betting Boost
Rivers is one of four upstate casinos that was built in the wake of a 2013 public referendum to authorize commercial gambling. It was hoped the casino would bring economic revitalization to four upstate regions, but all four properties have underperformed.
Rivers' owner, Rush Street Gaming, has pleaded with the state to reduce the tax on slot machines, which is making it difficult to compete with lower-taxed casinos in other states.
It is hoped sports betting will help boost revenues, but currently only in-person wagering is permissible in New York despite lawmakers' efforts to include full-scale mobile betting this year.