Rivers Casino Portsmouth Guests Express Grievances Over Indoor Smoking
Posted on: January 27, 2023, 02:15h.
Last updated on: January 27, 2023, 03:41h.
Rivers Casino Portsmouth made history this week in Virginia by becoming the first standalone, permanent casino to open in the state's history. But the celebration was quickly hampered by early guests who expressed concerns with the permittance of indoor smoking in certain parts of the gaming floor.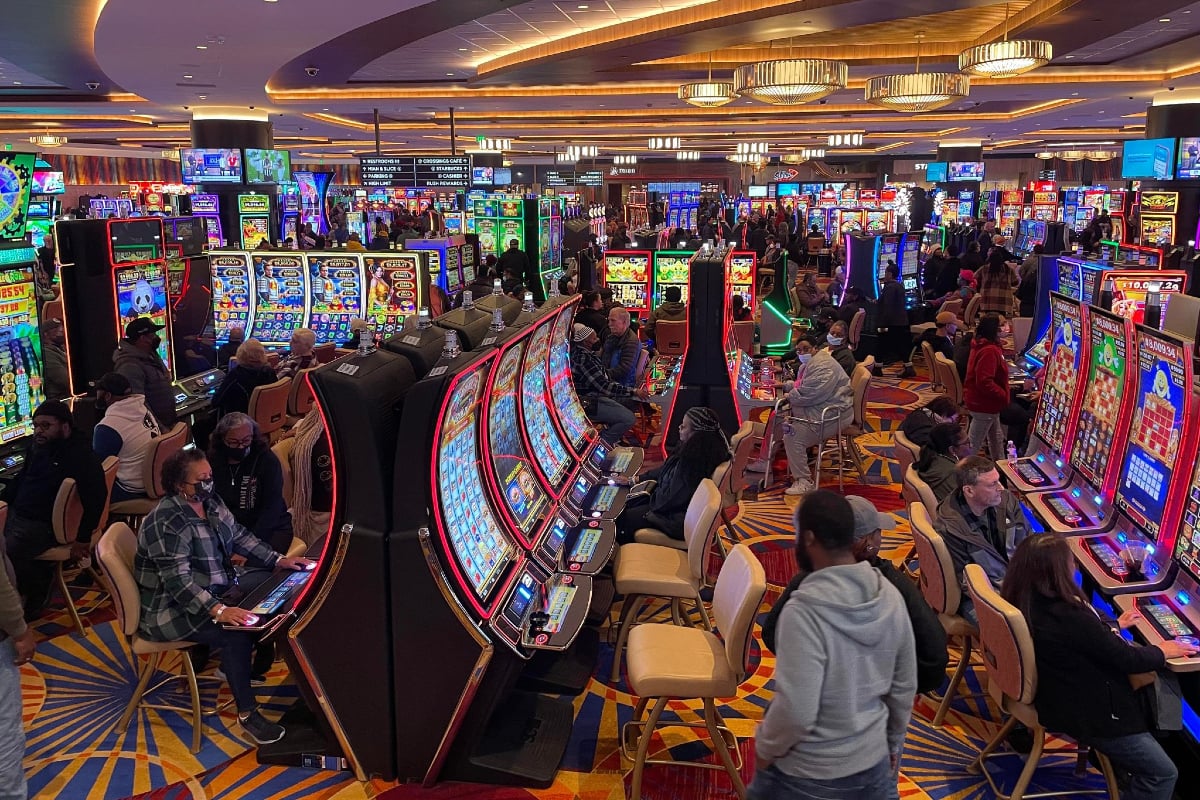 Chicago-based Rush Street Gaming opened its Portsmouth casino adjacent to the Tidewater Community College campus at a cost of $340 million. The casino welcomed its first guests on Monday, Jan. 23.
Long lines formed ahead of the casino's debut. And while many guests were in awe of the new facility, others took issue with the tobacco smoke proliferating across sections of the casino floor.
The smoking issue is going to turn this casino into a wasteland in no time," opined  a Virginia Beach resident who visited the casino during its first week in operation.
"I'm so disappointed that there's smoking. There should be a small area, if any, for smokers. Come on, it's 2023!" added a local on Twitter.
Much of the feedback has more to do with the casino's allowance of smoking than the casino's actual attractions and entertainment. The casino's social media channels have been flooded with anti-smoking comments.
After this morning's ribbon-cutting ceremony, we are officially OPEN TO THE PUBLIC! The Grand Opening celebration continues throughout the day, and the fun never ends – Rivers Casino Portsmouth is now open 24/7/365!

Gambling Problem? Call 1-800-GAMBLER. pic.twitter.com/1h6ck8Q3HL

— Rivers Casino Portsmouth (@RiversCasinoVA) January 23, 2023
Casino Smoking Loophole
When Virginia passed its clean indoor air law in 2009, the legislation provided exemptions for businesses primarily dependent on gaming.
At the time, Virginia only permitted pari-mutuel wagering at horse racetracks and off-track betting (OTB) facilities. Horse racetracks and OTBs have allowed smoking ever since. Virginia's smoking law allows gaming venues and casinos to designate "any part" of their facility for indoor smoking.
But with casinos appealing to a wider demographic, some believe it's time for Virginia to limit the smoking law and prohibit indoor tobacco use inside casinos.
Along with Rivers Casino Portsmouth, casinos are in development in Norfolk, Bristol, and Danville. A fifth casino could someday come to Richmond, and efforts are also underway to allow casinos in Petersburg and Fairfax.
Rivers Portsmouth General Manager Roy Corby says the casino took considerable measures to limit the spread of smoke from the designated smoking sections. He pointed out that smoking is not allowed anywhere other than certain parts of the gaming floor. Smoking is not allowed in any of the restaurants, nor in the BetRivers Sportsbook, Sound Bar concert venue, TopGolf Swing Suite, or poker room.
"These are the things casinos really focus on getting right, the casinos that want to be successful," Corby told 13News Now. "We realize a good portion of the population doesn't smoke, and there are smokers who don't necessarily want to smell like smoke all the time or be around it."
"The ventilation systems … are state of the art. We spent a lot of time on that," Corby said.
Charity Days Pay Off
Before its opening to the general public, Rivers Casino Portsmouth conducted two test days where invited guests gambled with real money and won real cash. But instead of keeping its winnings, Rivers donated its proceeds to three local nonprofits.
Rivers said the two test days resulted in a charitable contribution of $510,000. The Children's Hospital of The King's Daughters, Wesley Community Service Center, USO Hampton Roads, and Central Virginia each received $170,000.