Rivers Casino Portsmouth Changes Smoking Policy, Nonsmokers Still Unhappy
Posted on: January 31, 2023, 09:24h.
Last updated on: January 31, 2023, 02:30h.
Rivers Casino Portsmouth's opening certainly hasn't gone as parent company Rush Street Gaming had planned. After receiving a heap of backlash for allowing indoor smoking across the 90,000-square-foot gaming floor, Rivers Portsmouth has announced new indoor smoking policies.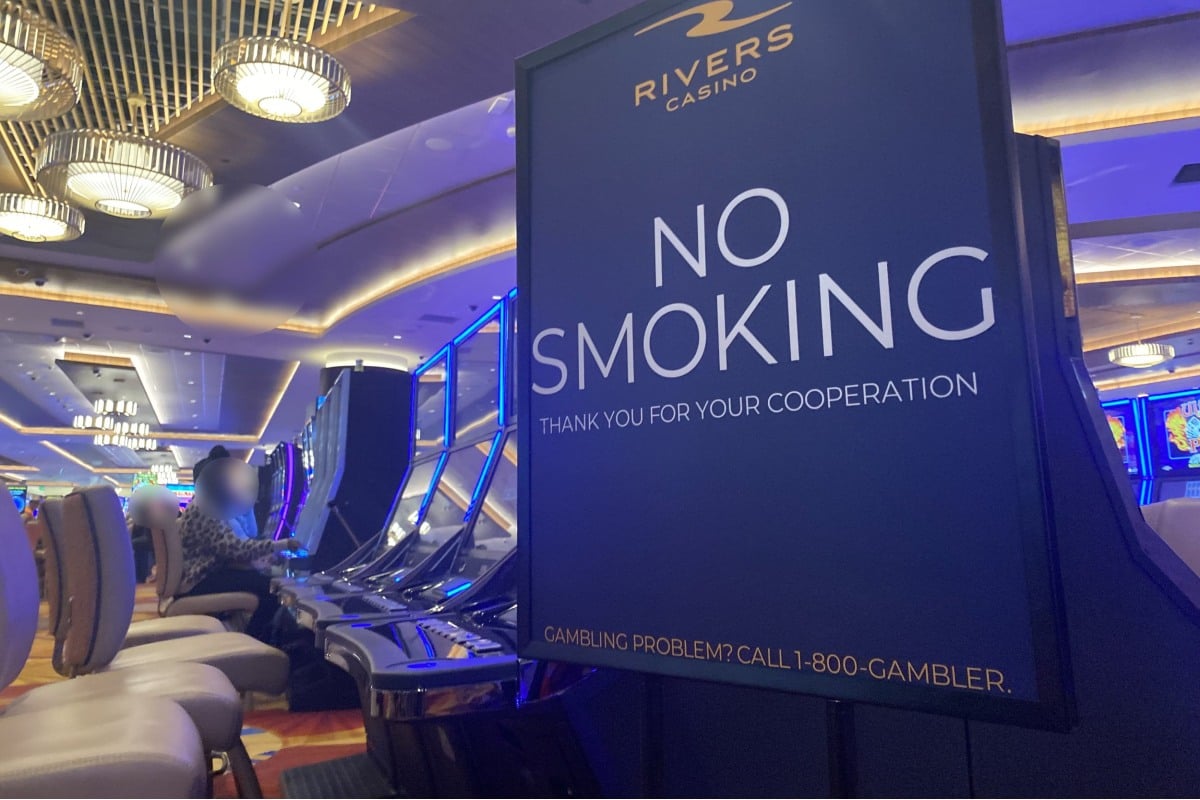 Rivers Casino Portsmouth opened on January 23. The grand opening festivities for Virginia's first permanent casino were quickly tarred by an abundance of negative feedback from patrons who found the smell of cigarettes a turn-off.
In response, Rivers announced it will no longer allow smoking anywhere on the casino floor. The casino now has designated smoking and nonsmoking sections.
In response to feedback from guests and the community, effective immediately, Rivers Casino Portsmouth has modified our smoking policy," a statement from the casino explained. "Approximately half of the gaming floor will now be designated as nonsmoking, including both slots and table games."
Rivers Casino went on to explain that smoking is, and has always been, prohibited indoors everywhere off of the gaming floor. As such, the casino says 80% of the complex is smoke-free.
— Rivers Casino Portsmouth (@RiversCasinoVA) January 30, 2023
Nonsmokers Still Not Pleased
Rivers' new smoking policy takes a page out of the regulatory arrangement in New Jersey and Pennsylvania, where indoor casino smoking is also allowed. In those two states, casinos are permitted to designate certain areas of their gaming floors for smoking.
Virginia's clean indoor air law exemption afforded to casinos, pari-mutuel racinos, and off-track betting (OTB) parlors. That allows those businesses to permit smoking anywhere inside. But Rivers Portsmouth now requires that smokers only light up in certain gaming zones.
But anti-smoking advocates say it's not enough.
"Smoke is stubborn — it doesn't abide by a sign and stay in one area. This is a weak effort to address the public outcry that has defined the opening week of Rivers Casino Portsmouth," opined the advocacy Americans for Nonsmokers' Rights (ANR). ANR is leading an effort in Atlantic City to extinguish indoor smoking sections from the nine casinos there.
The only solution is to get rid of indoor smoking — move it outside. Otherwise, casino workers and guests will continue to breathe dangerous secondhand smoke. Rivers has the power to make this decision immediately and attract guests who want to enjoy everything their casino has to offer," ANR concluded.
"Having a smoking section is like having a peeing section in a pool," Smokefree Casinos, a project of the ANR Foundation, added on Twitter.
Others Praise Rivers
Though ANR might not think the smoking change is adequate, other Rivers Casino Portsmouth guests said it's at least a start.
People spoke and Rivers Portsmouth listened. Great job," commented one user on Twitter in response to the Rivers share.
"This should help a lot," added another. "Way to go Portsmouth!" read another response.
Several others questioned why vapes and cigars are prohibited, but cigarettes are allowed.
"Cigarettes are allowed, but not cigars or vapes. Makes no sense," said a Rivers Portsmouth Twitter follower. "Stupid."