Rivers Casino Portsmouth Hears Smoking Criticism, Takes Action
Posted on: January 29, 2023, 01:20h.
Last updated on: January 29, 2023, 02:05h.
Rivers Casino Portsmouth is heeding early feedback about Virginia's first permanent casino.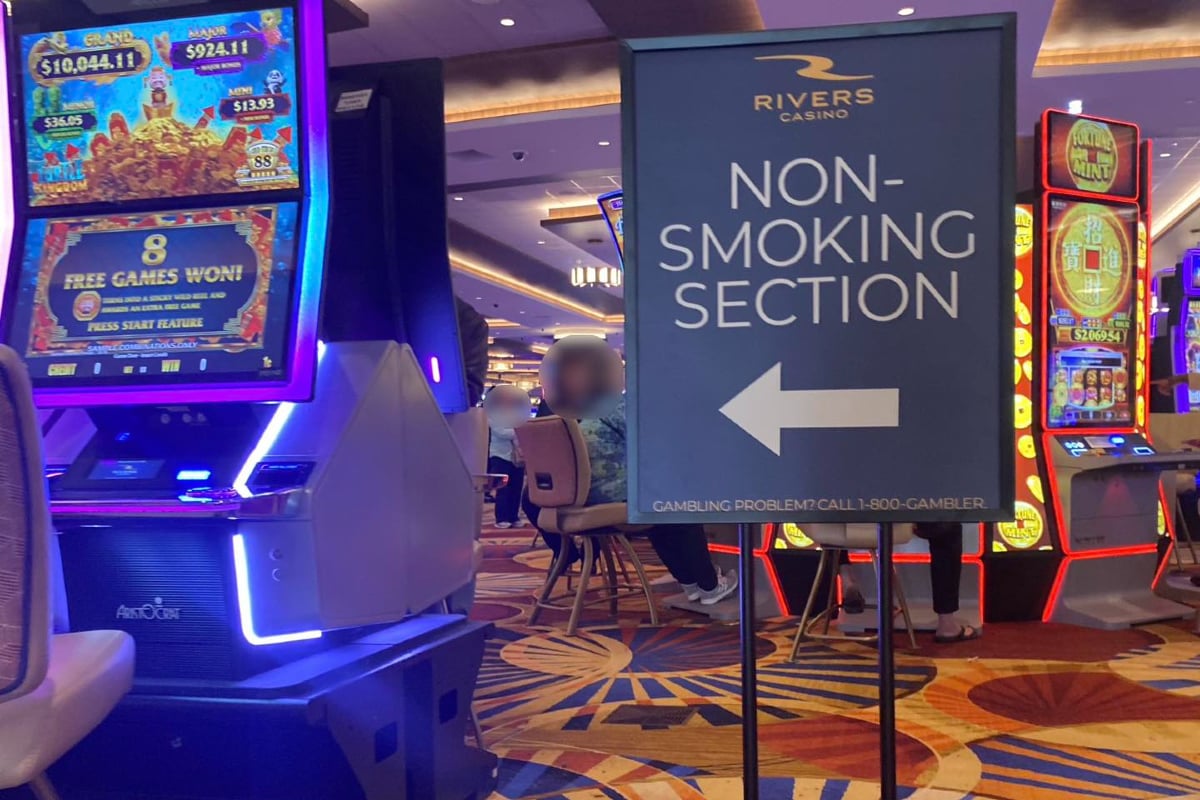 Rivers Portsmouth opened last week as the first standalone casino to open in the state's history. But the grand opening fanfare was short-lived for some nonsmokers, who voiced their disapproval of the casino's smoking allowance.
Rivers offers smoking and nonsmoking sections on the casino floor, as permitted by the Virginia Indoor Clean Air Act. The law, passed in 2009, allows for smoking inside businesses that are primarily engaged in gaming operations. Lawmakers at the time provided the smoking carveout for pari-mutuel racetracks and off-track betting (OTBs) parlors.
The state's Indoor Clean Air Act mandates that indoor tobacco use "may be permitted in any portion of a facility" licensed to conduct casino gaming. While some commercial casino states like Pennsylvania and New Jersey limit indoor casino smoking to a certain percentage of the total gaming floor — respectively, 50% in Pennsylvania and 25% in Atlantic City — Rivers Portsmouth can designate as much or as little of the casino space as it wishes for smoking.
But Rivers officials have acknowledged that many gamblers no longer wish to be in a smoke-filled environment. The casino opened with smoking and no-smoking areas. But patrons who prefer the latter say more work is needed to keep the toxic smoke from their slot machines.
Rivers Takes Action
Facing a myriad of backlash online, the casino's social media accounts being inundated with smoking complaints, and the property's Google reviews taking a beating with negative feedback, Rivers acted. 13News Now reports that the casino has placed signs throughout the casino informing guests where smoking is and isn't permitted.
Signs direct gamblers to their respective sections should they care if smoking is allowed. But that won't remedy the problem, some say.
Last time I checked, the smoke doesn't abide by signs," said Chris Moyer of Americans for Nonsmokers' Rights (ANR). "Therefore, the entire place is a smoking gaming floor."
Rivers said previously that the casino is equipped with high-tech ventilation systems that routinely filter out toxic air and usher in fresh air. The casino is the only place inside Rivers Portsmouth where smoking is allowed. Smoking is prohibited in restaurants, its sportsbook, and entertainment spaces.
But on the casino floor itself, which measures about 90,000 square feet, guests say the smell of smoke is as common as the ringing slots.
Damage Control
Of the first 160 reviews made on Google about Rivers Casino Portsmouth, the property has averaged a rating of just 3.2/5 stars — "fair" by Google's standards. And smoking is a common buzzword among the reviews.
"I won't be back because my post-COVID asthma and congenital heart condition cannot be around smoking," commented local Jacob Huggins on Google.
"I'm a nonsmoker with COPD. Most other real casinos we've visited don't allow open smoking throughout the main areas," added Edward Riggle.
Yikes! The smoking issues are enough for us to continue heading north to gamble. Letting customers smoke is an irresponsible decision," said Terry Gooding.
Others, however, said the smoke isn't as bad as some are making it out to be.
"I hate that it is a smoking environment. But I get it. It's a casino!" said Joel Price.