President Donald Trump Visits Las Vegas to Urge Nevada GOP Vote, While Political Bettors Put Money on Dems to Take House
Posted on: September 21, 2018, 09:30h.
Last updated on: September 21, 2018, 09:34h.
President Donald Trump was in Las Vegas on Thursday, urging Nevadans to get out and vote for Republicans in November. In what's proving to be a crucial election-to-come, online political bettors are putting their money on Democrats to win the House, a projection that Trump is doing his all to forestall.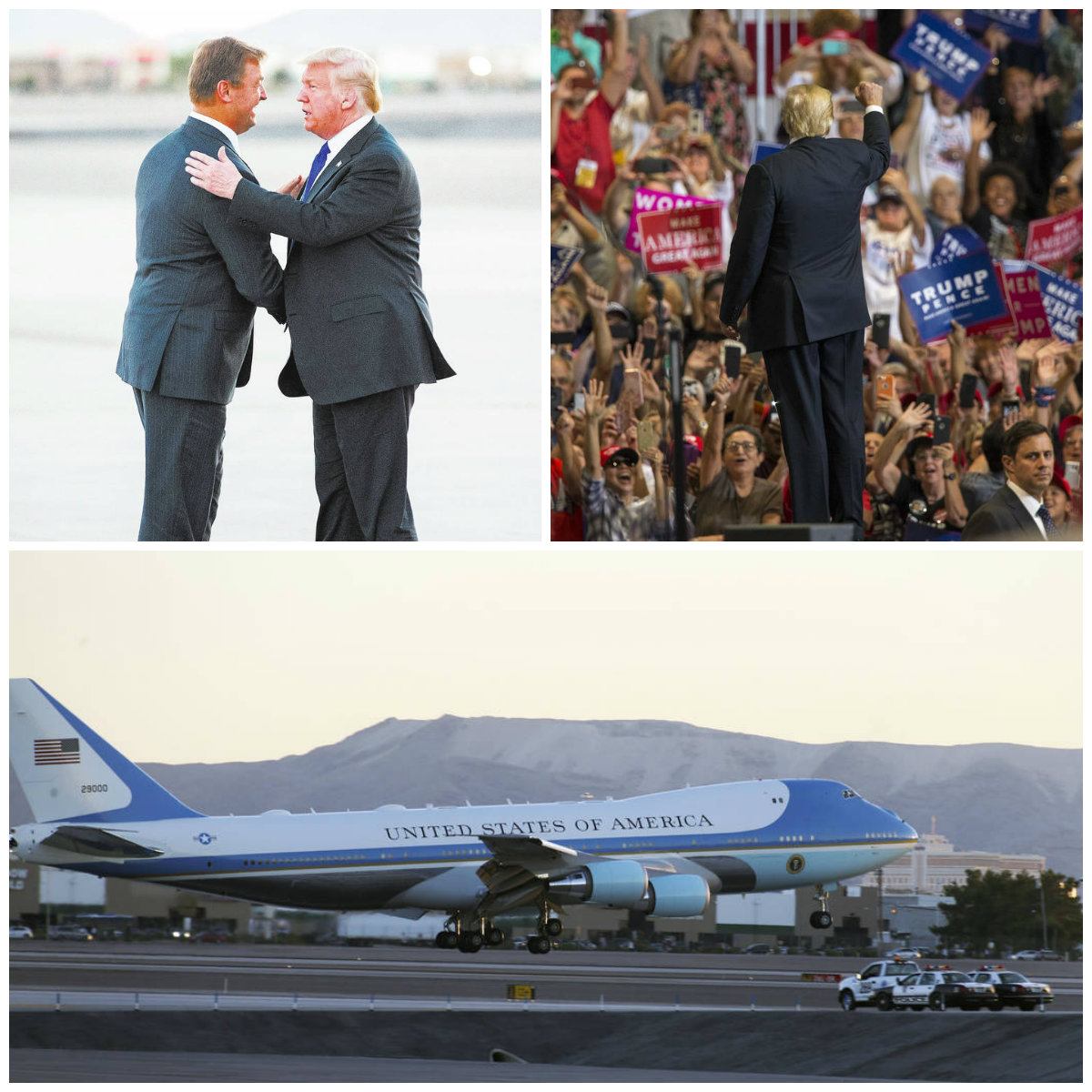 After landing at McCarran International Airport around 6:30 pm PT, the president was shuttled to the Las Vegas Convention Center to ignite the GOP base with his Make America Great Again (MAGA) speech. "I'm thrilled to be back in Nevada. We love Nevada," Trump told the crowd.
Ahead of Trump's visit — the president's third trip to Las Vegas in a year — state registered Republicans received a text message that read, "This is Pres. Trump. I'm hosting a rally in Las Vegas … I expect a HUGE crowd & hope to see you there."
Bettors Unconvinced
Trump touted America's low unemployment rate and record-setting Wall Street markets as reasons for Nevadans to vote Republican in November.
You better go out and vote," the president told the crowd. "You've got to vote. We need more Republicans. We're going to be changing that logo to 'Keep America Great.'"
However, the PredictIt market asking "Who will control the House after 2018?" has Democrats the favorite at 71 cents to Republicans at 35 cents. PredictIt bettors buy and sell shares of outcomes, with correct answers paid $1 upon outcome.
All 435 seats in the US House of Representatives are up for election in November. The Democrats need to flip 24 seats to take control of the lower congressional chamber.
PredictIt bettors feel confident that the Republican Party will retain control of the US Senate. Thirty-three of the 100 seats are up for election, and political gamblers say the GOP (72 cents) will keep its majority of the upper chamber, with Democrat shares trading at 34 cents.
PredictIt Predictions
The president endorsed four Nevada Republicans while in Las Vegas: US Senator Dean Heller, gubernatorial candidate and current Nevada Attorney General Adam Laxalt, US Rep. Cresent Hardy, and House candidate Danny Tarkanian.
But PredictIt shows bettors feel November will be a victorious time for GOP opponents.
"Will Dean Heller be reelected?" is trading at "yes" 36 cents, "no" 64 cents.
"Which party will win Nevada governor's race?" has Democrats the favorite at 69 cents, and Republicans the underdog at 34 cents.
"Which party will win Nevada District 3?" which is Tarkanian's race, has Democrat candidate Susie Lee the heavy favorite at 79 cents.
"Which party will win Nevada District 4?" which is Hardy's election, has Democrat Steven Horsford at 79 cents.
All of the PredictIt lines are basically the same as prior to the president's stumping in Las Vegas.
Gambling on the outcomes of political events is illegal at US sportsbooks, but online site PredictIt has carved out an exception by providing data to academic researchers. The site limits players to wager $850 per market (i.e., political bet).