Poker Blogger Jay Newnum Gets Probation After Foxwoods Tip Box Theft
Posted on: January 20, 2014, 05:30h.
Last updated on: January 20, 2014, 02:45h.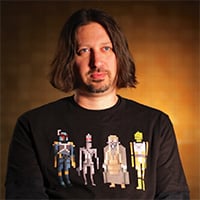 When you're a poker blogger/reporter hired to cover a good-sized tournament at  a major land casino, probably making a move on the dealer's tip box is not your best decision ever. Apparently, not everyone grasps that reality, and now from the "what were you thinking" files comes news that 41-year-old probably-not-anymore poker blogger Jay Newnum has received probation for stealing almost $700 while covering a Foxwoods casino poker tourney on December 16 of last year.
One from Column A
The Fishers, Indiana blogger apparently returned the stolen funds taken from the tip box – reportedly snatched up using chopsticks, a visual we find pretty amusing – during a Mega Stack Challenge $600 No-Limit Texas Hold'em tournament held at the popular Mashantucket, Connecticut casino.
Newnum will be allowed to participate in something called "accelerated rehabilitation," a state court program that will wipe his record clean if he makes it through the probation period without using chopsticks on anything but chow mein and moo goo gai pan. Newnum dodged a bullet with this sentencing, as this Class B misdemeanor could have brought a maximum of six months in jail as well as up to $1,000 in punitive fines.
Despite the incident occurring back in mid-December, there was nothing official released about the  case from Connecticut authorities until late last week.
Keeping Quiet
Newnum himself has been pretty mum about the whole situation; not that that should surprise anyone. A somewhat cryptic blog post on his whojedi page makes reference to dealer's union president Billy Shea, who reportedly was the object of personal attacks after discussing the theft in his own website posts. The culprit appears to be under some kind of gag order – whether self-inflicted or on advice of counsel, who knows – but posted on his blog that he will  "step away from the poker world indefinitely."
Probably a wise move, since we doubt he's going to land much work from now on; he's already been banned indefinitely from setting foot in Foxwoods again.
Newnum's vague comments about the incident shed no light on how someone who obviously has spent plenty of time in casinos wouldn't realize that the petty theft would be caught on eye-in-the-sky  cameras, making it pretty hard to deny his wrongdoing.
In his final blog comments on the matter, he expressed ongoing support for the poker community he will no longer be a part of:
"Yesterday, I called Billy [Shea, dealer's union president] personally. We spoke at length, not about what he had posted, but instead about the reactions from the community. I hold no ill will against him, as he simply did what he felt he needed to do as union president. It was a great conversation with Billy and I do appreciate him taking the time to speak with me. I have spent a decade as part of the poker community, and have truly come to appreciate this game and the family of people in it.
"That being said, it seems for the best that I step away from the poker world indefinitely. I do want to say thank you to my family and my friends, both inside and outside of poker, who have been incredibly supportive during this time. Finally, even though I won't be a part of the poker world for now, I'll still be rooting for the industry to continue to grow, expand, and improve, in all the ways that we know it can."
Newnum was one of about 21 poker professionals featured as an interviewee in the film Bet Raise Fold, a poker documentary billed as "the story of online poker" that debuted in mid-2013. It follows the rise and fall of online poker pros, from the industry's inception  to  the crash of Black Friday. Besides Newnum, many industry heavy hitters – luminaries such as Daniel Negreanu, Greg Raymer, Tom Dwan and Tony Dunst – are featured, with additional commentary from poker insiders, researchers and writers like Newnum.
Newnum's Twitter account @whojedi – showing some 10,700 followers – was on apparently self-directed lockdown as of this writing.