Phil Mickelson Upsets Tiger Woods in 'The Match,' Some Fans Upset With PPV Event, Side Bets
Posted on: November 26, 2018, 06:28h.
Last updated on: November 26, 2018, 06:28h.
Phil Mickelson is $9 million richer after upsetting Tiger Woods in Las Vegas at "The Match."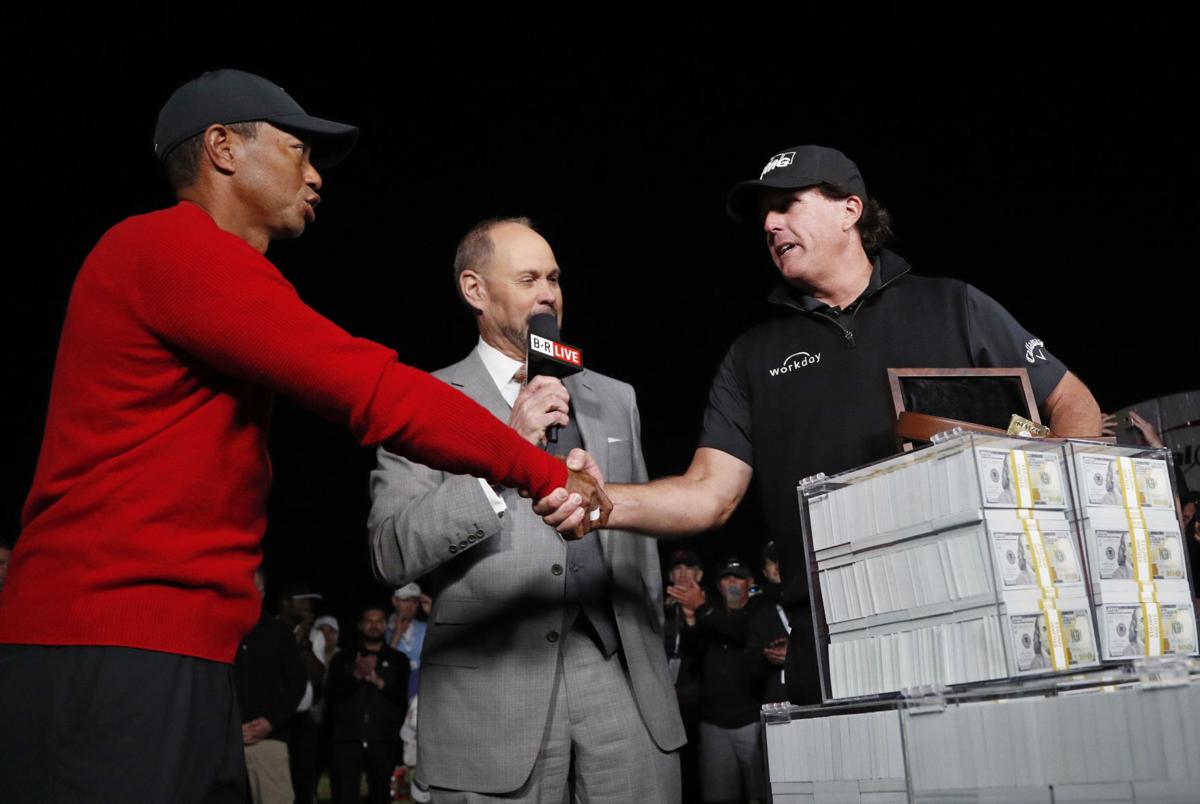 The winner-take-all spectacle played at MGM Resorts' Shadow Creek Golf Course was a sports betting bonanza that put legal wagering on a national stage. Along with the $9 million prize, Mickelson and Woods made numerous side gambles on specific shots that totaled $800,000.
As the two golf superstars teed off on Black Friday, Mickelson was the underdog at +170. Woods was the favorite at -200. Lefty's upset, which came on the fourth extra hole with a birdie, netted $170 for every $100 bet.
I know big picture, your career is the greatest of all time," Mickelson told Woods after the win. "I've seen you do things that are just remarkable. But just know I will never let you live this one down. I will bring it up every time I see you."
Woods and Mickelson made a makeshift, 93-yard par-3 for the final three holes. They teed off on the putting green to a newly cut hole on the 18th green.
Side Bets Bust
Golf fans expressed some letdown with the additional wagers made between Woods and Mickelson. The $9 million pot wasn't paid by the two athletes, but bequeathed from sponsors.
The side bets, however, was money coming straight out of Tiger and Lefty's deep pockets. It was also agreed that the cash would ultimately be donated to charity.
In total, they only made five side bets that totaled $800,000. Mickelson bet $200,000 he would birdie the first hole, but he did not and Woods wins the gamble. The two made three other closest-to-the-pin challenges on par 3s. They also bet $1 million if either holed out for eagle on the par-4 9th hole, but neither did so the bet pushed.
Golf Channel's Rex Hoggard reports that sources told him the PGA Tour limited the number of side bets. Prior to the match, Mickelson promised viewers that the side bets would be "in the six to seven figures" range, an amount that would "make us uncomfortable."
"I think both the nine million that we're playing for along with the hundreds of thousands and ultimately a million or two that we're playing for in side challenges throughout the match, I think it's enough for us both to feel uncomfortable and to feel the pressure," Mickelson explained.
PPV Goes Free
Fans who paid the $19.99 pay-per-view fee also weren't too happy to learn that the golf event was being streamed for free on Bleacher Report Live. Executives at Turner decided at the last minute to stream "The Match" for free after technical issues prevented fans from purchasing the event.
Comcast said Sunday it would credit any customer who paid $19.99 for the PPV match. "We hope Turner and Bleacher Report will do the same given that the event was made available by them for free on The Bleacher Report website," a Comcast statement said.
Latest Casino Stocks:
Retrieving stocks data...
Retrieving stocks data...
Retrieving stocks data...
Retrieving stocks data...
Retrieving stocks data...