Phil Mickelson Could Testify in Sports Bettor Billy Walters' Insider-Trading Trial
Posted on: March 14, 2017, 10:00h.
Last updated on: March 14, 2017, 10:55h.
Phil Mickelson is known as a risk-taker on the golf course, but his penchant for hazardous opportunity extends beyond the game that's made him a millionaire 300 times over.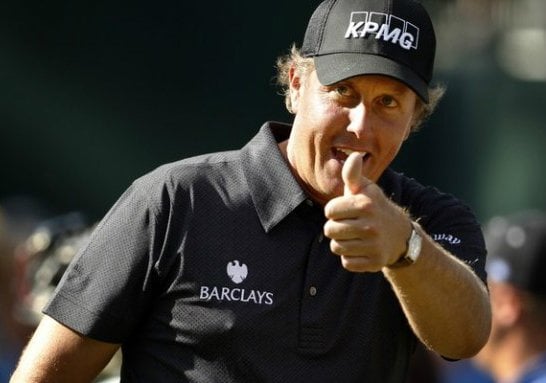 Few golfers are more loved in America than "Lefty," but outside the ropes, Mickelson runs with a crowd that doesn't necessarily adhere to the same well-mannered ways. Case in point: William "Billy" Walters, a famed Las Vegas sports bettor who nearly got Mickelson named in a federal investigation.
Walters is often labeled the most successful sports bettor in America, but federal authorities allege that he's funded his gambling with ill-gotten means. Next week, Walters will stand trial on charges that he made or saved $43 million through an insider trading tip supplied from a friend who owed him money.
Much Unknown
The case revolves around Dean Foods and its former chairman Tom Davis.
Recently ousted US attorney Preet Bharara argues that Davis provided inside information in 2010 on the publicly traded company, and Walters shared it with Mickelson.
The two made substantial investments in Dean Foods. Mickelson netted almost $1 million in just nine days, and Watters altered his position in the company that reportedly saved him $43 million.
Bharara, the architect of online poker's "Black Friday," was fired by the Trump administration last week along with 46 other attorneys appointed by former President Barack Obama. But despite Bharara's termination, the case will proceed under Acting US Attorney for the Southern District of New York Joon Kim.
Information regarding the DOJ's investigation into Walters, and his relationship to Mickelson, was leaked to the media as early as 2014. A Justice Department agent has since admitted to providing The Wall Street Journal with confidential information, in what's certainly a bit of irony considering Walters is being prosecuted for insider trading.
Unwanted Publicity
Walters asked for the charges to be dropped due to the leaking of investigative information on the part of the DOJ, but District Judge Kevin Castel dismissed the plea. Jury selection is scheduled to commence next week.
Mickelson could be called to testify to provide his account of his investment in Dean Foods. The golfer says he's done nothing wrong other than make poor choices when it comes to friends.
"I have to be responsible for the people I associate with," the five-time major winner said last summer.
Masters Odds
The world's best golfers head to Augusta National in the first week of April for the Masters, the first major of the 2017 season. Mickelson might have to work around court appearances as he pursues his fourth green jacket.
Dustin Johnson is the favorite at the Westgate SuperBook. The world's top-ranked golfer is at 6-1 to win his first green jacket, followed by 2015 champ Jordan Spieth (13-2). Rory McIlroy (10-1), Jason Day (12-1), Hideki Matsuyama (15-1), and Justin Rose (20-1).
Mickelson, the 2004, 2006, and 2010 Masters champ, is at 25-1. Tiger Woods is questionable to play, and the 14-time major winner posts at 100-1.
Similar Guides On This Topic
Most Read

Latest Casino Stocks:
Retrieving stocks data...
Retrieving stocks data...
Retrieving stocks data...
Retrieving stocks data...
Retrieving stocks data...