Pennsylvania Gambling Expansion Still on Table, Governor Allows Underfunded Budget to Pass
Posted on: July 11, 2017, 12:00h.
Last updated on: July 11, 2017, 12:17h.
Expanding Pennsylvania gambling might still be in the cards for the country's sixth-most populated state, after Governor Tom Wolf (D) allowed an underfunded budget to become law without his signature.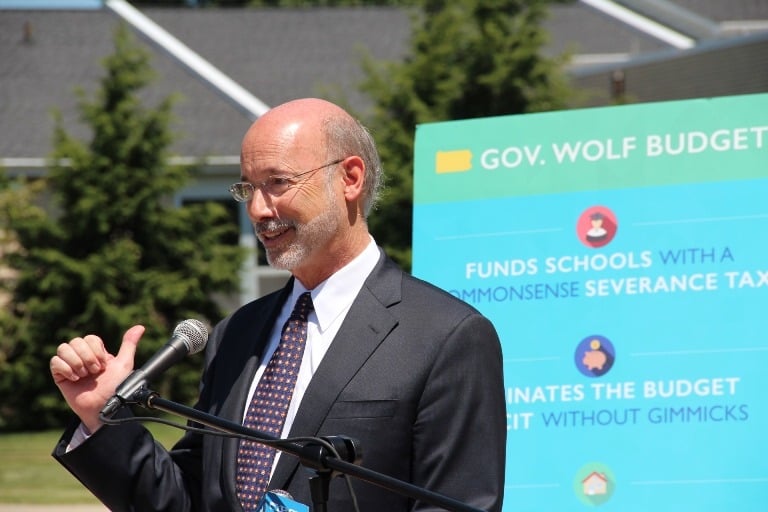 The state needs to quickly find $2.2 billion to balance the $32 billion financial plan. With Wolf looking to raise taxes on corporations and the production of Marcellus Shale natural gas (but the Republican-controlled legislature refusing to approve such measures), gambling expansion is viewed as one potential solution.
The House has passed a bill to put as many as 40,000 slot machines into bars and restaurants, truck stops, and airport terminals. The measure would also legalize internet gambling and online daily fantasy sports, as well as create regulations for sports betting should a change to the federal law come from Congress or the US Supreme Court.
However, the Senate seems to oppose such widespread gaming expansion for the Keystone State. Wolf doesn't appear too enthused either, having stated he wants "real revenue," and not money that "cannibalizes and takes from one bucket called gambling to another."
$2,200,000,000 Problem
Passing an unbalanced budget actually violates the state's constitution. Wolf and the General Assembly also put an underfunded spending plan into law in 2016.
But downgrading threats to Pennsylvania's credit rating were cited by Wolf in allowing the appropriations bill to become law.
"Just last week, we received a warning that if we did not do the hard work to balance our budget, Pennsylvania's credit would be downgraded," the governor said in a statement. "In the coming days, it is my hope that the General Assembly will come together to pass a responsible solution to balance our books."
The legislature and Wolf are expected to work through the week until they find a way to pull in the $2.2 billion shortfall.
"There are many options available to balance the budget in the long-term like those I presented earlier this year," Wolf said of his tax increase proposals.
Gambling Odds Lengthen
Pennsylvania once seemed likely to join Nevada, New Jersey, and Delaware in offering online gambling. But now the odds of expanding casino-style games to the internet appear to be growing long.
A report last week from the Pennsylvania Gaming Control Board came at the worst time for House Republicans fighting for expansion. The gaming regulator said slot revenue decreased over the last fiscal year at the state's 12 land-based casinos.
That dealt a devastating blow to the idea of putting gaming terminals into an array of businesses. Wolf has been adamant that the legislature shouldn't recommend anything that interferes with gambling revenues that are already in place.
The retraction in slot revenue has prompted some House lawmakers to consider shelving the gaming bill.
Budget Up in Smoke
Instead of focusing on potential new forms of gambling revenue, lawmakers are looking at borrowing money. According to Reuters, the General Assembly is also considering using annual settlement money it receives from the tobacco industry to help bridge the gap.
Under the Master Settlement Agreement, Pennsylvania will be paid about $11 billion in total between 2000 and 2025 from the tobacco industry. The money was supposed to be used for smoking (and tobacco chewing) prevention and cessation programs, but in recent years, it has gone to fund other state expenditures instead.