Paris Las Vegas Power Outage Forces Evacuation at City of Light-Themed Resort
Posted on: November 4, 2016, 09:51h.
Last updated on: November 4, 2016, 11:44h.
Paris Las Vegas is back open for business again this morning after the City of Light-themed Strip resort was forced to evacuate its employees and guests following a power outage at 9:45 am on November 3.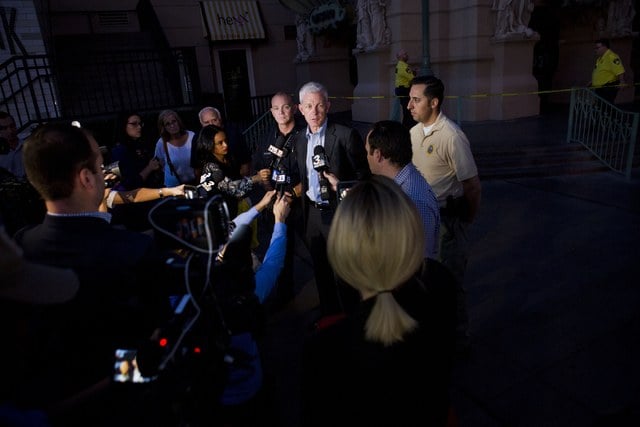 A construction crew working deep below the casino floor in the building's boiler room accidentally drilled through the property's main power line. And in an unlikely scenario reminscent of the iconic Vegas film Ocean's Eleven, the error also compromised the generator's back-up power, causing all lights, including emergency navigation lights, to go dark.
Thousands of guests were forced to evacuate the resort due to the fire alarm system also going offline. Power was restored and the casino hotel reopened at 1 am PT on Friday morning, a little more than 15 hours after the power went off.
"We want to again apologize to our guests who were inconvenienced during this unforeseen event, and let them know that we greatly appreciated their patience as we worked to resolve this problem," the Caesars-owned resort said in a statement posted to its social media accounts.
In a Bad Light
When the electricity disappears at your house, it's more of a temporary inconvenience than anything else. Unless it's out for a considerable length of time, financial loss is typically minimal.
But for casinos, which rely on their tables and slots taking in money around the clock, that isn't the case. Thankfully for Paris, the outage occurred during a weekday and not a weekend, but losing an entire Thursday of gambling will certainly impact the resort's bottom line in November.
Paris moved guests to nearby Caesars properties for the night and compensated them for the inconvenience.
The casino floor going dark also took a toll on at least one gambler. Jay Sarno told the Las Vegas Review-Journal he had just won $1,000 on a Keno machine when the lights went out.
Sarno had a 5 pm flight out of Vegas to go back home to Santa Fe Springs, California. He told the RJ that Paris Las Vegas said it would mail his winnings to him once power was restored and the casino could confirm his win.
Dam Support
Paris might be nicknamed the City of Light, but Vegas is the true zenith of illumination. It's estimated that there are more than 15,000 miles of neon tubing in Sin City alone, and untold millions of individual light bulbs shine on the Strip.
It takes a massive power supply to keep them on, which is why the nearby Hoover Dam is so vital to not only Las Vegas, but much of the southwest.
Though Vegas resorts are heavily armed with sophisticated backup power supplies, outages still occur.
In May, the lights went out at Mandalay Bay for about 40 minutes. The casino at the time couldn't identify the cause for the power loss, leading some visitors at the resort to suspect Danny Ocean was in the building.
And in even more "life imitates art" incident, five years ago, Bellagio lost power on New Year's Eve. Luckily for the resort, power was restored about 7:30 pm, hours before guests would be counting down the seconds until 2012.
Most Read