How (Palmer) Luckey Can You Get? Paypal Founder Peter Thiel Backing Mexico Virtual Reality Wall Project with Oculus VR Creator
Posted on: June 6, 2017, 10:00h.
Last updated on: June 6, 2017, 12:10h.
Virtual reality (VR) Oculus founder Palmer Luckey, who sold his business to Facebook the same year he turned legal for $2 billion, now has his eyes focused on an even more challenging project: changing how the United States defends its southern border.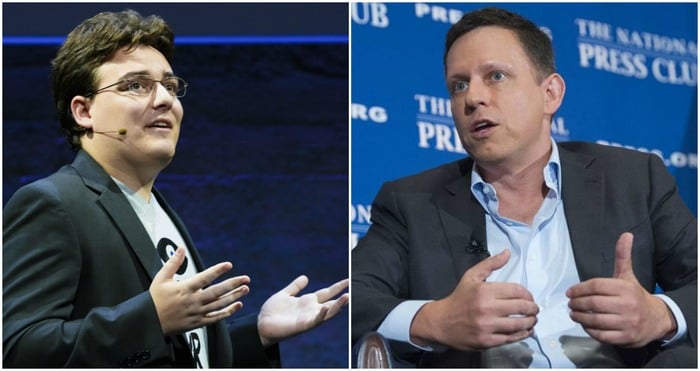 But he won't be facing this daunting task alone, because PayPal founder and American online gaming payment processor Peter Thiel has agreed to help finance the project.
Draws Conservative Investor In
While Luckey is said to be financing most of the defense startup, Peter Thiel, one of the co-founders of PayPal and a staunch supporter of Trump, is reportedly investing as well.
Thiel, an openly gay billionaire who spoke at the Republican National Convention, shares with Luckey the odd distinction of being ousted from Silicon Valley's social enclaves, due to their mutual politically conservative views in a sea of uber liberals.
While this collaboration will be on defense and surveillance security, Thiel is also no stranger to online and mobile gaming. PayPal ceased services related to internet gambling networks in the US long before the Unlawful Internet Gambling Enforcement Act (UIGEA) was passed by Congress in 2006, but was at the center of the controversy leading up to the federal bill's passing.
In 2015, the digital payment network returned to online gambling in the US, and is today accepted at most authorized real money interactive casinos in the American states that have legalized it.
Thiel is also a technology advisor to President Trump, which could open some doors for Luckey where it counts. The VR pioneer previously met with US Secretary of the Interior Ryan Zinke, though the agency showed "no action" as resulting from that meeting.
How It All Began
At only 24 years old, Luckey is reported to have a personal net worth of close to $730 million today. Oculus helped ignite the mobile headset craze, with companies like Google, Samsung, Sony, and HTC quickly following suit.
While the entertainment devices allow users of all ages to experience virtual reality (VR) on their smartphones, the gaming industry also saw the potential to create simulated casinos with real money wagering.
Though the space is still largely in its infancy, VR gambling is expected to grow 800 percent between 2016 and 2021, according to Juniper Research, an online and digital gaming research agency based in the UK.
In 2017, users with head-mounted displays can put their gear on and virtually walk into a fully immersive, "real world" casino. SlotsMillion was one of the first VR gambling floors to launch back in 2015, and today Oculus has its own play money computer-generated poker room.
Intangible Wall
Luckey believes virtual reality is the future of national security. And the millionaire is betting a considerable amount of his fortune on it.
One of President Donald Trump's most oft-repeated campaign promises was that the US would build a wall, should he be elected, to protect its southern border, while insisting that Mexico was going to pay for it.
Fast forward to today, and that pledge doesn't seem as likely. Mexico hasn't agreed to pay for any part of the wall, and the US Congress hasn't appropriated any funding to construct the border barrier that would cost between $8 billion and $12 billion, per the president's calculations.
Luckey believes a virtual wall is the answer. Ousted from Facebook after it was revealed he contributed $100,000 to Trump's inauguration, the young entrepreneur is now reportedly developing surveillance technology that could be used to protect not only the southern border, but military bases around the world.
In an email to the New York Times, Luckey explained, "We are spending more than ever on defense technology, yet the pace of innovation has been slowing for decades. We need a new kind of defense company, one that will save taxpayer dollars while creating superior technology to keep our troops and citizens safer."
According to sources, Luckey is looking to use LIDAR, infrared sensors, and cameras to monitor and protect the border. It's unclear what exactly separates this, as the US government already utilizes all of those technologies along the Mexico line.
Similar Guides On This Topic