Manny Pacquiao Enters Welterweight Title Fight as Slight Favorite Over Keith Thurman
Posted on: July 20, 2019, 06:00h.
Last updated on: July 20, 2019, 08:24h.
Manny Pacquiao will step into the ring at the MGM Grand in Las Vegas as a slight favorite on Saturday night when he takes on the undefeated Keith Thurman for the WBA welterweight title.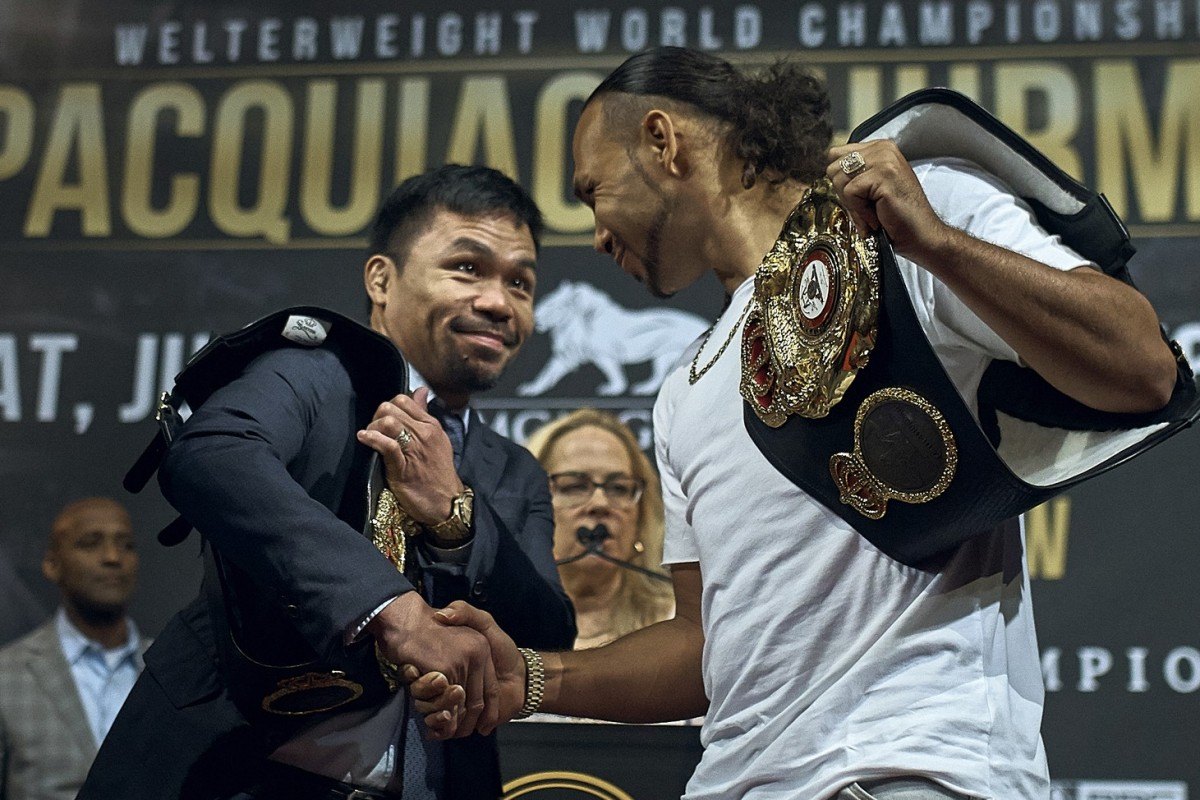 Pacquiao comes into the bout as a -148 favorite over Thurman (+122), according to FanDuel Sportsbook.
Thurman Looks for Legendary Win
Technically, both Thurman and Pacquiao hold WBA titles, as the organization has a penchant for giving them out like candy. But Thurman has the top honor in the organization – the "super championship" – and the winner of Saturday's fight will clearly be the WBA champ at welterweight.
But there's more on the line than that for both men. Thurman (29-0, 22 KOs) is looking to give himself a win over a true legend of the sport, while at the same time putting him on the radars of Terence Crawford and Errol Spence – the other two undefeated holders of major title belts in the welterweight division, both of whom are considered a cut above Thurman at the moment.
Thurman's stock has dipped a bit after he missed two years because of a series of injuries: first a right elbow issue that required surgery, then a serious bruise on his left hand that cancelled a potential fight in early 2018.
He has only fought once since returning, a majority decision victory over Josesito Lopez in January in which Thurman looked very rusty. But the undefeated 30-year-old says that he'll be back at his full fighting potential on Saturday.
"Inactivity wasn't a blessing. It wasn't a downfall, either," Thurman told the media at a Wednesday press conference. "But it kept me out of the limelight, too. Right now, I'm living one of the most positive moments of my career. All athletes get injured and battle to come back."
Pacquiao Still Welcoming Challenges Late in Career
Meanwhile, Pacquiao (61-7-2, 39 KOs) continues to impress even at a time when many thought his fighting career would be over. At 40 years old, the sitting Filipino senator is far from the man who was the consensus fighter of the decade in the 2000s. But he's still winning against fairly high-level competition, with his only loss in his last five fights being a controversial decision against Jeff Horn that cost him the WBO welterweight championship.
Thurman will be a step up from his recent fights, and there is definite risk of Pacquiao losing. He could even get knocked out, which can be a queasy sight for fans when watching a fighter in their 40s. But that's an outcome that the eight-division champion is willing to accept if it happens.
One thing I've learned about Manny Pacquiao along the way is that he knows that being knocked out is part of life and part of the sport," trainer Freddie Roach told the Los Angeles Daily News. "He understands it, and he accepts it. He accepts losing better than any fighter I've ever seen."
That said, Pacquiao is still the favorite, with a flood of money on the legend changing an opening line that saw Thurman as the narrow pick to win.
But Thurman definitely thinks a knockout is a possibility: at Wednesday press conference, he said that he would be placing bets on himself to win by KO in either the first, second, or the "lucky seventh" rounds, in an effort to earn himself the kind of knockout bonus usually reserved for UFC fighters.
FanDuel is offering big payouts on all three of those outcomes. Thurman is 42/1 to win the first round, 40/1 to win in the second, and 31/1 to finish the fight in the seventh.