Oddsmakers Make Pacquiao an Underdog Against Thurman in July Title Bout
Posted on: May 22, 2019, 04:23h.
Last updated on: May 22, 2019, 04:23h.
Welterweight champion Manny Pacquiao will step into the ring this summer almost assuredly as an underdog in his fight against fellow champion Keith Thurman, but the 40-year-old Filipino boxing legend said he's looking forward to the fight.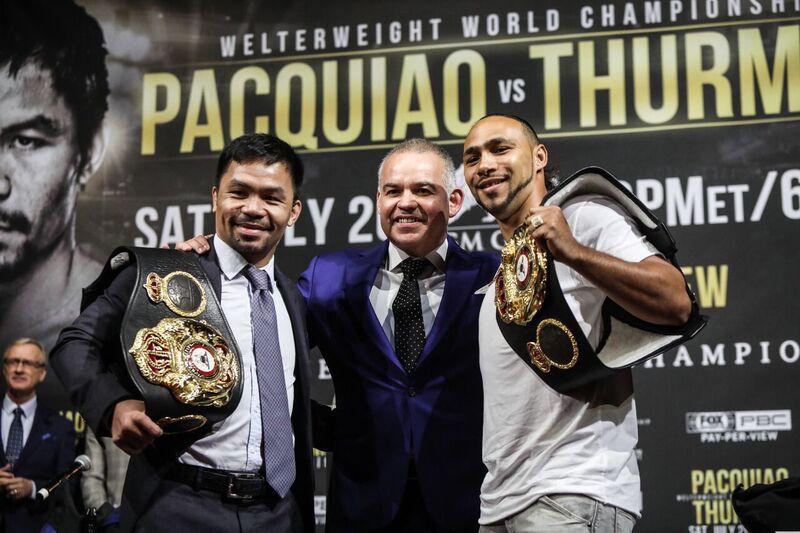 Pacquiao, who holds the World Boxing Association's World Welterweight belt, is 61-7-2 in his career. However, he's going up against the WBA's Super World Welterweight champ in Thurman, who not only is 10 years younger but also undefeated in 29 career fights.
The two are scheduled to fight on July 20 at the MGM Grand Garden Arena in Las Vegas. The WBA officially made the announcement at a press conference earlier this week.
WBA President Gilberto Jesus Mendoza said pitting a legend like Pacquiao with a "future Hall of Famer" in Thurman creates a match fans would want to see.
Pacquiao won his most belt last July when he scored a technical knockout of Lucas Martin Matthysse. That made him a 12-time title winner across eight weight divisions. No other boxer has won titles in that many divisions.
And Pacquiao said he wants to build on that legacy.
I chose Keith Thurman because he's undefeated, and I want to prove that at age 40 I can still beat a great fighter like Keith," Pacquiao said.
Oddsmakers, though, currently have some doubts.
FanDuel currently lists Thurman as the -145 favorite in the bout, meaning a $145 bet would win $100. Pacquiao, meanwhile, drew even money odds. On the moneyline that includes a draw, Thurman is the -130 favorite, Pacquiao has odds of +110, and FanDuel offers odds of +1600 judges will score the match a draw.
William Hill currently offers Thurman as a -137 favorite, with Pacquiao drawing +110. PointsBet lists Thurman at -141 and Pacquiao at +115.
Thurman Sees Pacquiao's End
In January, Thurman won a majority decision against Josesito Lopez and retain his WBA belt in his first fight in nearly 23 months.
Thurman said the Lopez bout helped shake out the cobwebs from being out of the ring for almost two years in order to rehab hand and elbow injuries.
He added that he appreciates Pacquiao and his legacy to the sport. However, Thurman believes it's time for a change in the sport.
"He'll always be remembered in the sport, but I'm doing to Manny Pacquiao, what he did to Oscar De La Hoya," Thurman said.
Thurman referenced Pacquiao's notable victory over the Mexican-American fighter in De La Hoya's final match in December 2008. Many analysts saw it as a passing of the torch
Pacquiao Won't Back Down
After the press conference, Pacquiao downplayed Thurman's talk of turning the July bout into a retirement party.
"I've been in this sport more than two decades, and no one can intimidate me," he told reporters.
In fact, in Pacquiao's last fight, he won decisively against a younger boxer.
That bout took place in January when he scored a unanimous decision over Adrien Broner at the MGM Grand Garden.
In defending his WBA belt against Broner, Pacquiao came out aggressive and stayed that way. He landed 14 punches in the third round, 12 in the sixth, and 19 in the seventh against the 29-year-old. In addition, he kept Broner from being able to attack.
Broner was only able to outpunch Pacquiao in just two of the 12 rounds.