Outcry for Fixed Odds Betting Terminal Reform Hits UK
Posted on: November 26, 2013, 05:30h.
Last updated on: November 25, 2013, 10:58h.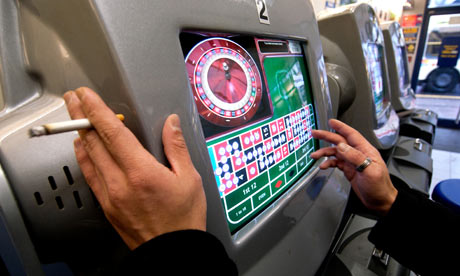 Head into a betting shop in the UK, and you can (of course) bet on any sporting event of any importance around the world. But there's also a second form a gambling found in many of these shops: fixed odds betting terminals (FOBTs), which allow gamblers to sit down and play simulated casino games with instant results. But some in the UK want these machines to be reformed, saying they're extremely addictive and tend to be played the most by those who can least afford to lose.
Campaign for Change
But now, a new campaign has been launched to crack down on the 33,345 terminals currently in operation in Britain, mostly in betting shops. According to reports, these machines cost players £8.5 billion ($13.7 billion) each year, with the majority of that money coming from areas where unemployment is high and people can ill afford to lose their generally paltry incomes.
Using the machines is simple. A player can sit down and put a credit card, debit card or cash into the machine. From there, they can usually choose from a small selection of games like roulette. Players then choose how much they'd like to wager, with a typical minimum bet being £1 ($1.62). However, gamblers have the option of betting much more than that – up to £100 ($162) in most machines, as long as the maximum payout for a given bet doesn't rise above £500 ($810).
The ease of use of these machines, their proliferation, and the "ask no questions" mentality of betting shop owners has even created a huge underground market for drug dealers and other criminals to easily launder their ill-gotten earnings, as we have previously reported.
But the aspect of the games that worries reform advocates the most is the speed of play. An entire game could be finished in just 20 seconds, allowing players to blow through significant sums of money in just minutes.
"There is a huge difference between someone having a couple of quid on a horse or a football coupon and these machines," said Adrian Parkinson of Fairer Gambling, a gambling reform group. "People assume all gambling is the same, but it's not. These machines are proven to have more addictive characteristics than traditional gambling. It's a lot riskier because of the speed of play and size of the stakes."
Too Easy to Lose Money Quickly
According to Parkinson, these machines can be devastating to those with gambling problems. He says that he has seen individuals go through an entire weekly paycheck in one short session on the machines.
His idea is to have a £2 ($3.24) cap on bets on FOBTs.
"Every other gaming machine – a pub fruit machine, bingo machine and all the others – are capped at £2 a spin," Parkinson says. "Yet we've allowed these FOBTs on British High Streets at £100 a spin…it really is a simple solution. It will provide protection for players and bring them into line with all the other machines."
A Sunday People Britishnewspaper campaign to cap FOBT gambling also supports the £2 limit, but only as one part of a five-point plan to reform these machines. Their proposals also include allowing only one machine per shop, down from the four that are currently allowed. They would also require machines to carry warnings about their risks, require machines to play games at a slower pace, and give local authorities more control over whether bookmakers could open a betting shop in their neighborhoods.
According to some players, reforms such as these could go a long way towards easing their concerns about FOBTs and gambling in general.
"Betting shops are nearly as bad as the payday loan shops, because they give people false hope," said gambler Dave Owsnett.
Most Read