One of Iowa's Last Three Riverboat Casinos Moving Ashore
Posted on: January 30, 2023, 08:20h.
Last updated on: January 31, 2023, 05:10h.
The number of Iowa casinos that float will soon sink by 33.3%. The Casino Queen Marquette was granted permission last week by the Iowa Racing and Gaming Commission (IRGC) to move its 17K square-foot gambling floor – including more than 400 slot machines and numerous table games – ashore in Marquette, Ia.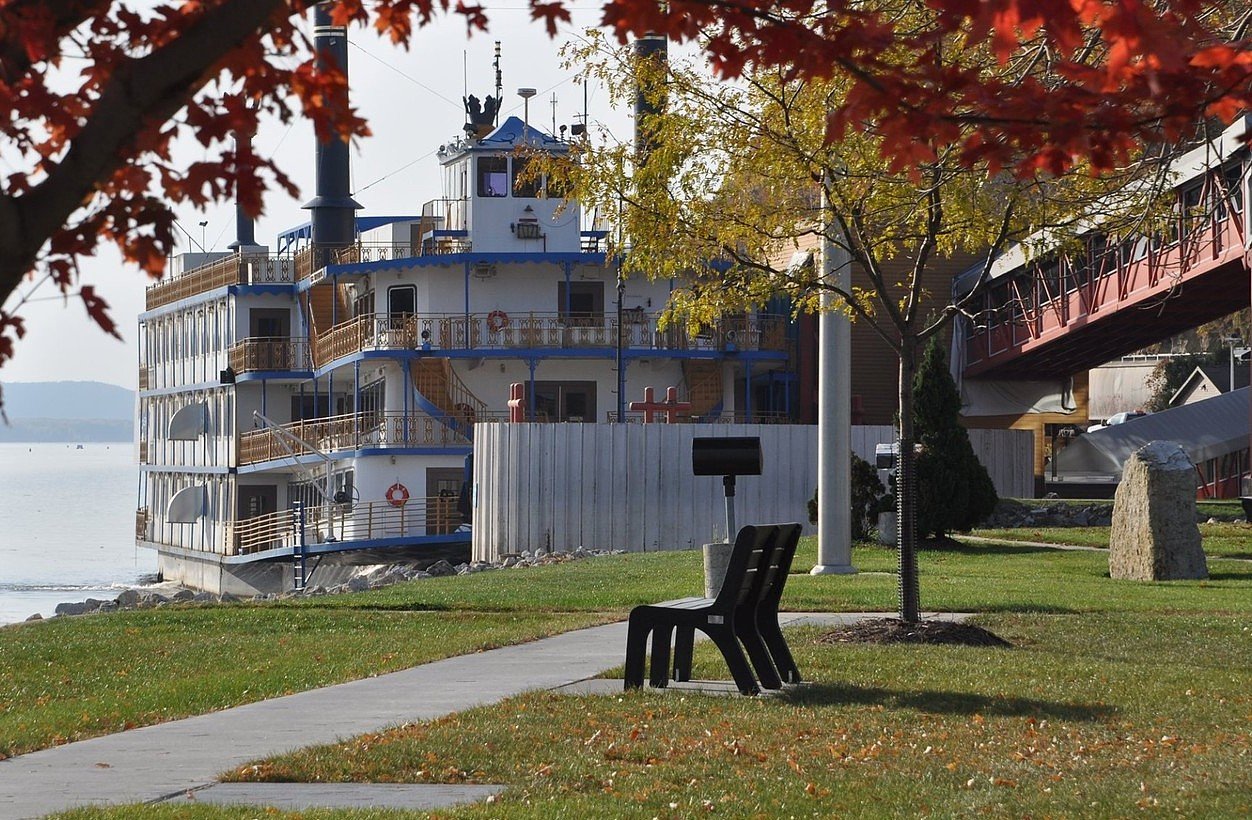 This will leave only two Iowa riverboat casinos – the Lakeside Hotel & Casino on West Lake in Osceola, and the casino at Ameristar Hotel in Council Bluffs – where more than a dozen once flourished.
As part of its move, The Queen Casino & Entertainment – the St. Louis-based company that acquired the riverboat casino in 2017 – has pledged to spend $12M to add 12K square feet to its current dockside building. When it reopens, the land-based Casino Queen Marquette will include a new sportsbook, a new entrance, and a new restaurant that will connect with its current barge area.
"Iowa was the first state to recognize riverboat casino gambling, and we plan to honor that history by continuing to provide best-in-class gaming and entertainment at Casino Queen Marquette," Terry Downey, president and CEO of The Queen Casino & Entertainment, told local reporters at a Jan. 26 IRGC hearing.
Iowa's Ebbing Riverboat Tide
The first legal gambling in Iowa was the pari-mutuel wagers allowed at dog and horse dog tracks in 1983. In 1989, the Iowa Legislature approved riverboat gambling. The Diamond Lady in Bettendorf, Ia., the President in Davenport, Ia., and the Casino Belle in Dubuque, Ia., all launched on the same day – April 1, 1991. But the Diamond Lady made history because it was first off the dock.
Three thousand people lined the dock in Bettendorf, Ia., to watch game-show hostess Vanna White christen the Diamond Lady. They jockeyed for space on four excursions she took that day. Over half a million boarded the riverboat during its first year of operation. (The Diamond Lady was recently discovered broken and submerged in mud in a backwater Memphis marina, a sad skeleton of her former self.)
Originally, riverboat bets could only be a maximum of $5, and losses were limited to $200 a session. The boats also were required to go on excursions periodically. Those requirements were scuttled by 1993. And by the next year, the state's first three land-based casinos opened their doors.
The Casino Queen Marquette launched in February 2000, joining 68 other casino riverboats floating on rivers feeding the Atlantic Ocean. In 2004, the Iowa State Legislature voted to allow casinos to operate on moored barges in man-made basins, eliminating the requirement that casinos be on boats. That development led operators to open hotels and retail spaces adjacent to the casinos.
Slow Exodus
But a slow but mass exodus of floating casinos to land in the Hawkeye State – including casinos in Sioux City and Davenport – began about 15 years ago. The reason Iowa casinos prefer land is simple, according to IRGC administrator Brian Ohorilko.
Typically, on a land-based facility, there is more space to offer not only additional gaming but most importantly, additional non-gaming amenities," he told reporters at the Jan. 26 hearing.
The fate of the Casino Queen Marquette riverboat was not announced.