How the 'Diamond Lady' Gambling Boat Ended Up in the Rough — Part III
Posted on: January 26, 2023, 03:36h.
Last updated on: January 30, 2023, 08:00h.
Though her decks are still somewhat intact and her name still visible on the hull, the Diamond Lady is a sad skeleton of what she was when she launched in 1991.
In our second follow-up story about one the first legal gambling boat in the US since the 19th century, Casino.org can finally reveal exactly how the once-mighty riverboat casino ended up partially sunk and stuck in mud in a marina off the Mississippi River in Memphis.
All too predictably, it's a story mired in greed and legal muck.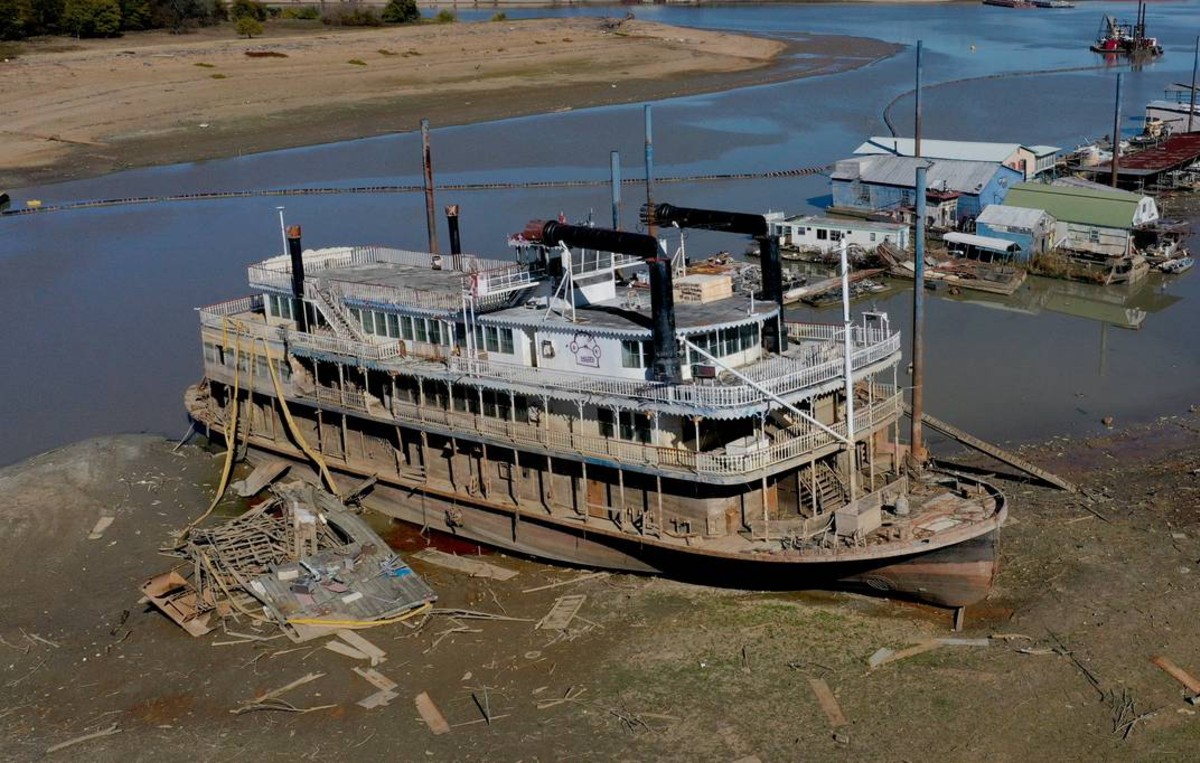 Bernie Goldstein, the scrap-metal magnate who became known as the "father of riverboat gambling," built the Diamond Lady and her sister boat, the Emerald Lady, in 1990. They were replicas of the 1880s paddlewheelers that once ran the Mississippi River, and their interiors brimmed with all the slot machines and table games allowed under Mississippi regulations.
The Diamond Lady launched on the same day as the President in Davenport, Ia. and the Casino Belle in Dubuque, Ia – April 1, 1991. But the Diamond Lady made history because it was first off the dock. Three thousand people lined the dock in Bettendorf, Ia., to watch game-show hostess Vanna White christen the boat. They jockeyed for space on four excursions she took that day. Over half a million boarded the riverboat during its first year of operation.
But Goldstein claimed that strict gaming regulations cost him millions in his first year of operation. So, on July 5, 1992, he moved the Diamond Lady and Emerald Lady – which had been docked in Burlington, Ia. – south on the river to Biloxi, Miss. Here, they were tied together and to a dock, becoming Mississippi's first dockside casino. The Isle of Capri – the first gaming establishment to trade on the NASDAQ – began Biloxi's transformation from a sleepy former seafood capital to a major southern gaming destination.
Only a year later, Goldstein relocated the Diamond Lady and her landing barge (the Lucky Seven) to Vicksburg, docking them 200 miles northwest of Biloxi on the Mississippi to form a second Isle of Capri in Vicksburg, Miss. Finally, a year after that, in 1994, the Diamond Lady and her barge were replaced by a two-level, $18 million barge.
Last Boat Leaving
To save on costly docking fees, Goldstein placed both the Diamond Lady and Emerald Lady in storage at the Harvey Industrial Canal in New Orleans. From here, he attempted to sell both vessels. He had more luck with the Emerald Lady, which sold in 1998 to Alan Bernstein, owner of BB Riverboats. As the Belle of Cincinnati, the former Emerald Lady still provides sightseeing cruises and dinner tours along the Ohio River.
In either 2002 or 2003, the Diamond Lady and her landing barge were moved to McKellar Lake's Cummings Marine facility, owned by George Cummings. They were tied up there with Goldstein's President Riverboat Casino, which he moved to Woodriver, Ill. a few years later.
In October 2005, Mustafa Kilic, owner of the New Jersey-based Cornucopia Cruise Line, learned that the Diamond Lady was for sale and came by to kick the tires. Kilic claimed that her exterior was dirty and her interior needed refurbishing, but that her two Caterpillar 3412 diesel engines were in excellent shape.
Kilic purchased the Diamond Lady from Goldstein for $300K, assuming title and risk of loss on Jan. 13, 2006, and signing a lease with Cummings that began four days later.
Goldstein died three years later at age 80.
We know all this because of a lawsuit filed by Cornucopia on Aug. 12, 2011, in the US District Court for the Western District of Tennessee. Cornucopia sued Cummings for damage the Diamond Lady sustained because of what it claimed was the marina's negligence.
Legal Waves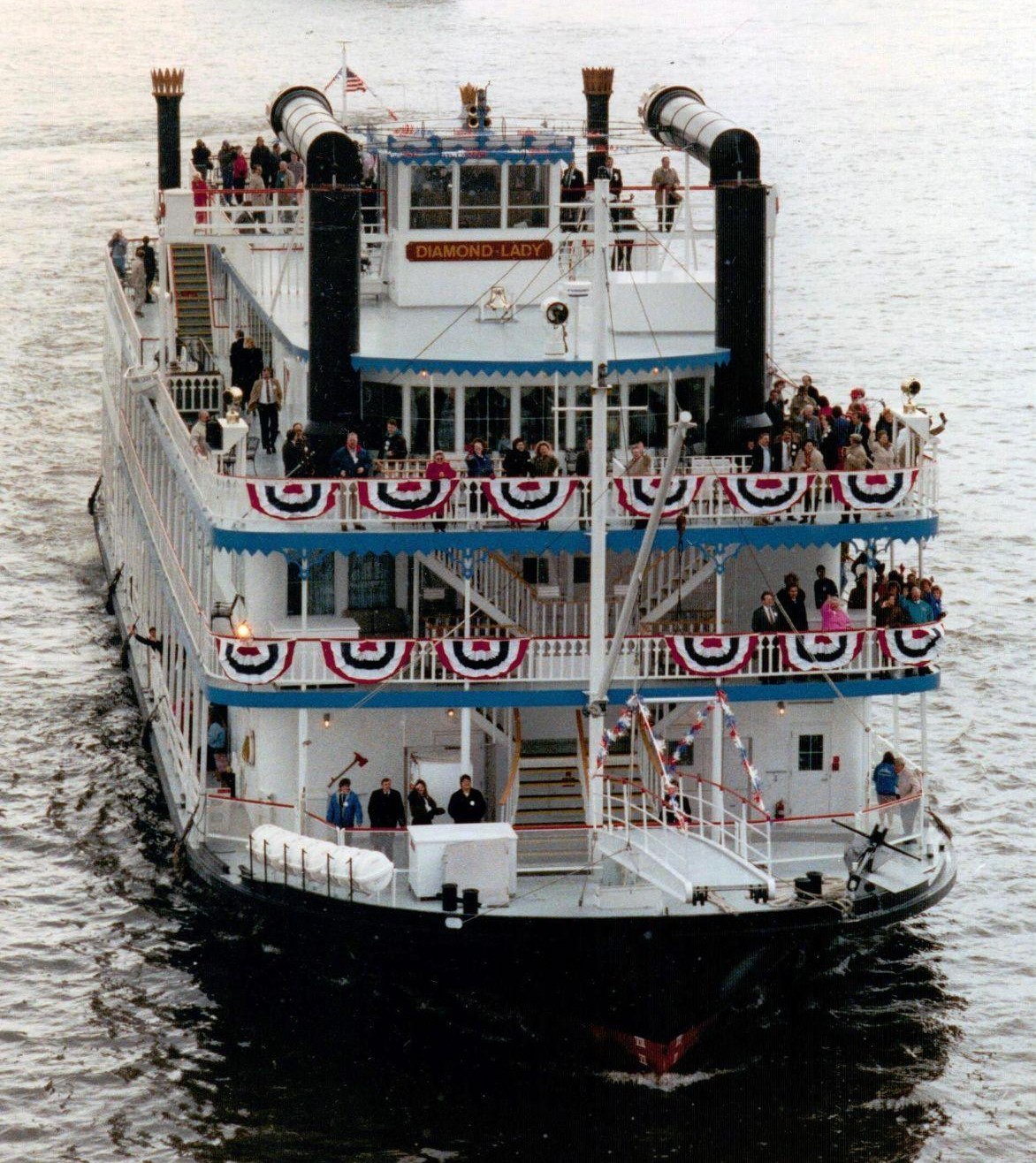 Because the Mississippi River feeds McKellar Lake, its water level rises and falls with the river. Wires, connected to anchors 200 feet offshore, were used to move boats closer to or further from shore, depending on the water level. These wires required tightening when it was low and slackening when it was high.
Two shore wires were attached to the Diamond Lady's port and starboard bows, a third to her center bow.
If the wires were too loose when the water level fell, the vessels could become grounded on the bank of the lake. If a grounded vessel was not moved before the water level rose again, it could become submerged.
This is exactly what happened to the Diamond Lady in January 2006, flooding and ruining her engines. So claimed Cornucopia's lawsuit, which maintained that Cummings was obligated to monitor the rise and fall of the river and to adjust the shore wires accordingly.
Cummings contended that the flooding occurred before Cornucopia's lease went into effect, so it bore no responsibility for the damage. Cummings also claimed that the Diamond Lady wasn't properly winterized and, by the time Cornucopia purchased her, couldn't even move under her own power anymore.
Regardless of how the lawsuit was resolved – and we don't know because neither Kilic nor Cummings returned multiple voicemails and e-mails left by Casino.org – the Diamond Lady was in dire straits by the time it was towed to a nearby McKellar Lake marina called Riverside Park, owned by Larry Stanley, in 2008.
The Diamond Lady sank at Riverside Park Marina during a freeze in the winter of 2021. Historically low Mississippi River water levels exposed her ravaged hull last fall, prompting several stories – including ours.
Former Crew Members React
"I'm pissed off that the Lady was neglected and betrayed and wasn't looked over and kept afloat,"  Don Sanders – the former chief mate who helped sail the Diamond Lady from Bettendorf to Biloxi – told Casino.org. "I'm pissed that the selfish, greedy —holes who owned her allowed her to sink and fill with muddy river water. I'm pissed because neither I, nor anyone else, can or will do anything to bring the Diamond Lady back – just to get her afloat, cleaned up, and find a new venture for her."
Captain John Vize, a deckhand on the Diamond Lady during its first year, told Casino.org he went down to see her in person recently.
It made me sick," he told Casino.org. "I loved that boat. I held Vanna White's hand when she got off the boat. Somebody's got to be responsible for this. There's still fuel on the boat. They can't just leave it there. Somebody has to clean that up."
Riverside Park Marina also did not return multiple e-mails and voicemails left by Casino.org.