Oklahoma Casinos Shutter Dallas Market From A-List Entertainment Through Non-Compete Clauses
Posted on: August 3, 2016, 07:30h.
Last updated on: August 3, 2016, 06:35h.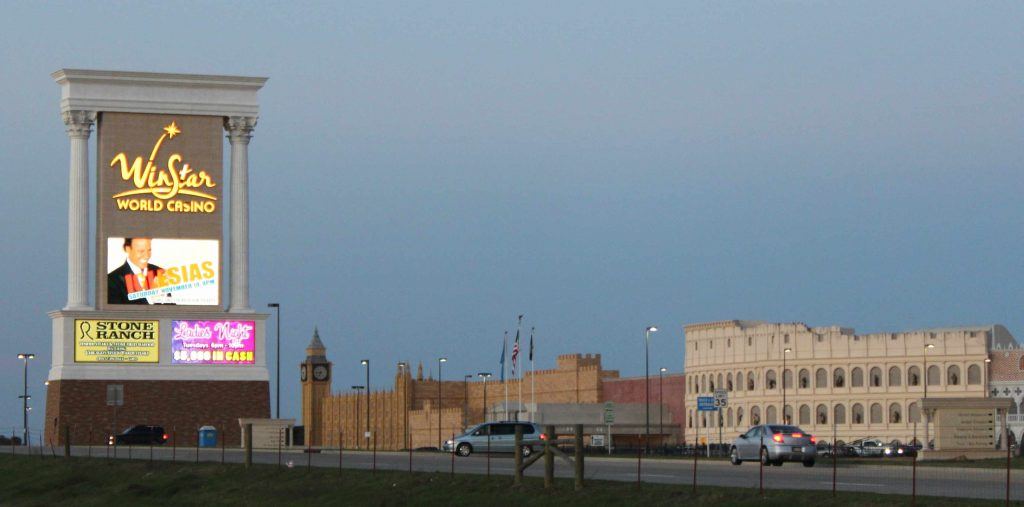 Oklahoma casinos located near the Texas border are forcing certain A-list entertainment acts to sign non-compete agreements barring them from performing in the nearby Dallas metro area leading up to and following their scheduled dates.
The Sooner State is home to dozens of Native American tribal gaming casinos and facilities. On the other hand is Texas, a state that largely bans gambling and has just one Indian casino.
In Dallas, the state's third largest metropolis, a growing concern is non-compete clauses Oklahoma casinos are utilizing with high-profile acts. According to a recent story in the Dallas Observer, the Choctaw Casino Resort in Durant and the WinStar World Casino in Thackerville are making sure acts at their venues attract the largest crowds possible.
"Everybody has radius clauses in their offers," Robin Phillips, a talent buyer for Anschutz Entertainment Group (AEG), told the Dallas Observer. "There's are just kind of different… It affects all of us because we're losing artists to the casinos."
Casinos Gamble
Radius clauses prevent an artist like Willie Nelson or Justin Bieber from playing in a certain geographic radius, typically 100 miles, before and after a scheduled concert that can extend to as much as six months in duration.
They come at a cost, and casinos are willing to sit down at the negotiating table.
The first step to running a successful casino is to get as many people as possible inside the door. It's why venues on the Las Vegas Strip have no qualms paying top dollar for prestigious touring acts and even residency headliners.
For regional casinos, entertainment is even more coveted. That's because unlike Vegas resorts that are neighbored by dozens of other casino floors, regional gambling venues are typically not within walking distance of a competing casino.
Caesars Palace has no guarantee that a Mariah Carey ticket-holder is going to gamble in its casino before or after the show. But fans of an artist playing at the Choctaw Casino do not have the option of walking to a nearby casino.
Casinos factor in added revenues to paying premium prices for musicians, comedians, and other entertainment acts. More traditional facilities like arenas and stadiums typically only rely on actual ticket sales, and therefore have the weaker hand against the casinos.
New Demographic
Hospitality companies engaged in gambling are rushing to find ways to attract the millennial demographic who seem weary of many traditional gaming formats including slots. The first step in that revelation is to get them inside the casino and become familiar with their habits.
The 20 and 30-somethings are taking a liking to skill-based slots, social gaming, video games, and interactive and digital offerings. Resorts World in Atlantic City opened the first-of-its-kind Internet gaming lounge in 2015.
But casinos aren't only after the gambling dollar.
Restaurant Marketing Labs, an interactive media company that specializes in the restaurant industry, found that millennials spend more money dining out each month than non-millennials. The average millennial spends $174 per month at restaurants.
WinStar World has something for all tastes with three specialty dining options, eight casual restaurants, and six cafes and quick serve establishments.
It's yet another side dish to how casinos are using music and entertainment to fuel revenues, and ideally, the next generation of casino patrons.