NFL Commissioner Roger Goodell Not Yet Sold on Las Vegas Move for Raiders
Posted on: September 19, 2016, 07:06h.
Last updated on: September 19, 2016, 07:38h.
NFL Commissioner Roger Goodell said during the second Sunday of the professional football season that a lot still has to happen before the Oakland Raiders could move south to Las Vegas.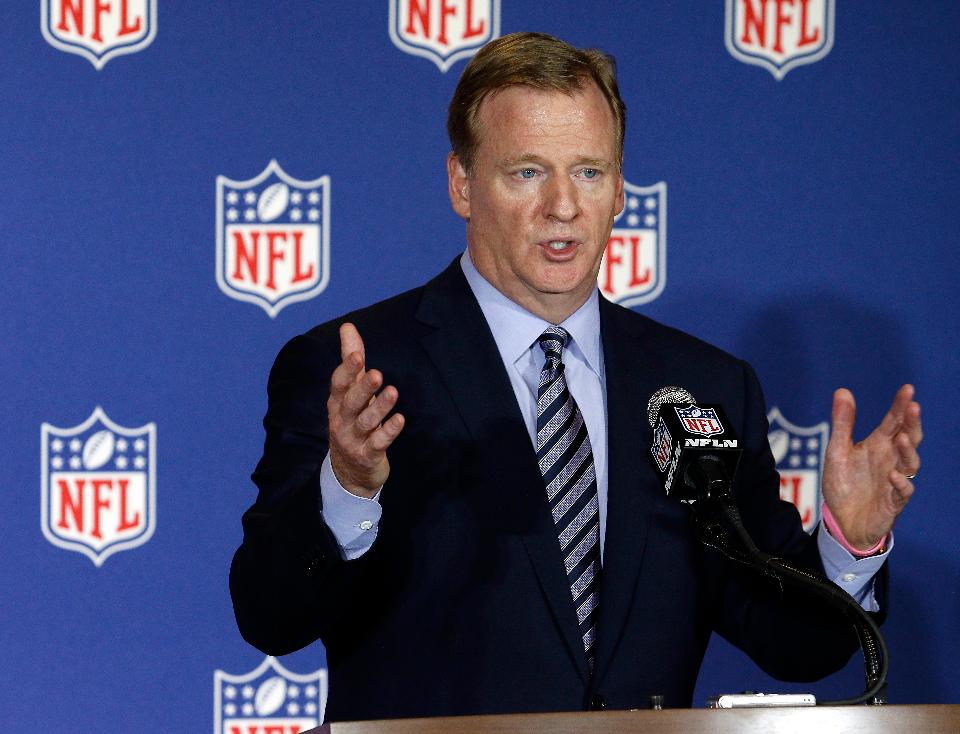 In Minnesota for the opening of the Vikings' new facility, Goodell fielded questions from reporters about whether another stadium grand opening should be expected in Las Vegas in the coming years. Last week, the Southern Nevada Tourism Infrastructure Committee (SNTIC) voted unanimously to provide $750 million in public funding for the potential $1.9 billion stadium.
Calling the talks of the Oakland Raiders being named the Las Vegas Raiders "premature" and "pure speculation," Goodell added his own position to the debate, and revealed he hopes the Raiders stay in Oakland.
"You never want to see a community lose their franchise once, much less twice," Goodell said. "The Minnesota community did that in a great way. I think we can do it in Oakland. I think there's a solution there, but it takes the community to help identify it."
Not Yet a Safe Bet
Billionaire casino behemoth Sheldon Adelson and Raiders owner Mark Davis are looking to build the 65,000-seat domed stadium just steps from the iconic Las Vegas Strip. That would also place professional NFL games within very close proximity to legalized Nevada sportsbooks.
The NFL (and specifically Goodell) has long opposed sports gambling, due to supposed concerns over jeopardizing football's integrity. But some of the league's most powerful owners have recently spoken out against barring Vegas from hosting an NFL franchise.
A recent Neilsen study found that legalizing sports betting would greatly increase television viewership. The research shows that an American adult who places a bet on an NFL game watches 19 more games per season than just the casual football fan.
Jerry Jones, Robert Kraft, and Stan Kroenke, owners of the Cowboys, Patriots, and the now-Los Angeles Rams, have all publicly declared their support for Davis' wishes to move to Sin City.
"I think it would be good for the NFL," Kraft told USA TODAY Sports. "I know Mark Davis has tried so hard in Oakland . . . I want to support him."
Las Vegas landed its first-ever professional franchise from the Big Four (NFL, MLB, NBA, NHL) in June, when the National Hockey League approved an expansion team for the 2017-18 season. Soccer legend David Beckham is also interested in locating a Major League Soccer team in the Mojave Desert.
Third Time's the Charm?
The Oakland Raiders have been in their Northern California location since 1960, minus a dozen years spent as the Los Angeles Raiders between 1982 and 1994. Goodell wants to avoid the franchise moving for a third time, in preference of continuity.
But a change might be for the better. Even though the team hasn't been to the playoffs since 2002, the Raiders fan base remains loyal. The City of Oakland hasn't.
The Raiders' current stadium is the smallest in the NFL, as well as the fourth-oldest in the league. City officials seem reluctant to help fund a new venue. Moving to Las Vegas could theoretically renew the storied franchise. It would also help bring a new influx of visitors to Las Vegas.
For at least eight Sundays a year, upwards of 65,000 people would descend on Vegas to take in a professional football game. Ideally, many of those fans would migrate to the casino floors and Strip dining establishments before or after the game.
At least, that's what Adelson is betting on. That same influx would pose potential traffic problems and some security concerns that have yet to be addressed as well.