New Cosmo Penthouse Suites: Technically Free, But Possibly Very Expensive 
Posted on: June 27, 2017, 05:00h.
Last updated on: June 27, 2017, 05:03h.
The 21 new Boulevard Penthouse suites at the Cosmopolitan in Las Vegas boast balconies overlooking the Bellagio Fountains, $56,000 bottles of Louis XIII Black Pearl cognac in the drinks cabinet and all come with a fleet of chauffeured luxury SUV's at your beck and call.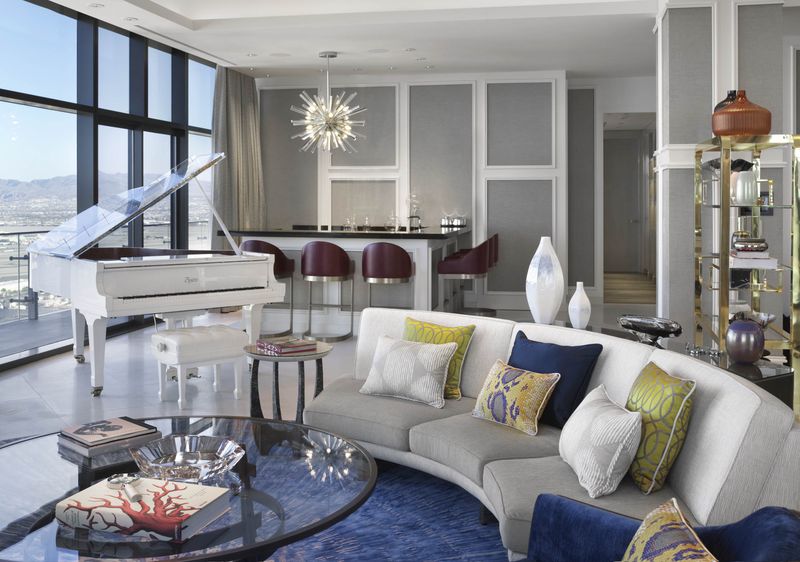 Each interior is unique, created with luxury in mind by world famous interior designer Adam Tihany, and come complete with resin panels trimmed in 24-karat gold and a grand piano (white, of course). You'll even get a personal butler and your own private gaming room.
But the best bit is, staying here is free. Yep, these rooms don't cost a cent to rent, not a bean. All you have to do is guarantee you'll buy-in for a million bucks at the gaming tables at the Reserve, the Cosmopolitan's high-roller lounge.
This is part of the casino's plan to attract more high-rolling whales to the property, as reported by Bloomberg this week. The rooms have been vacant since it opened in 2010.
But the big news is, Mr Tihany has now finished painting the skirting boards and the suites are open for business: the VIP business.    
Shifting Dynamics
The renovation was financed by the Blackstone Group, which bought the property in 2014, as part of a five-year plan to establish the Cosmopolitan as a bona fide high-roller destination.
With a smaller casino operation than many of its counterparts on the Strip, "the Cosmo" has relied on its reputation as a culinary and clubbing hotspot to bring in the crowds.
That makes a lot of sense in a climate where gaming revenues are falling and younger people are heading to Vegas in droves, but for the food and non-gaming amenities rather than the table games and slots.
But the Strip properties still need their casinos and its precisely because of the Cosmopolitan's casino limitations that it needs more VIPs to bump up that bottom line.
Players Not Stayers
Brian Benowitz, senior vice president of casino operations, told Bloomberg he believed the new suites will add 10 to 20 percent to the casino's net earnings.
Previously, he said high-rollers would go elsewhere to play high stakes because of the lack of VIP suites at the hotel.
"They were players and not stayers," he said. "People play more where they sleep. We're not overly concerned if a room goes vacant because there's an opportunity cost of getting someone in there," he added. "They're not at the same occupancy as the rest of the hotel, but on weekends? The demand is astronomical."
But first, prospective guests have to clear some security checks, including submitting  financial details to casino officials and the Gaming Commission and, of course, proffering your million-dollar buy-in.    
OK, in one sense that makes them not at all free, and possibly the most expensive hotel rooms in the world, but not if you get lucky at the tables.
Latest Casino Stocks:
Retrieving stocks data...
Retrieving stocks data...
Retrieving stocks data...
Retrieving stocks data...
Retrieving stocks data...