NBA Needs Victor Wembanyama Draft to Lift Faltering Image
Posted on: June 20, 2023, 05:05h.
Last updated on: June 21, 2023, 11:04h.
Victor Wembanyama will officially enter the NBA Thursday at the NBA Draft in Brooklyn's Barclays Center. The NBA needs this night.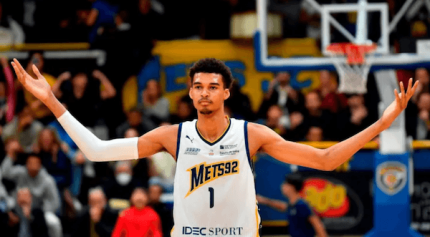 It would have been more enticing if he was headed to a larger market. But the league is desperate for a new young superstar, and for a No. 1 pick to finally reach his full potential.
Since 2016, it's been something of a curse to be the first selection.
The top two picks in the 2019 draft, Zion Williamson and Ja Morant, were each headed toward superstardom, but have been derailed. The uber-talented duo have become embarrassments to the league instead of lifting Adam Silver's entity upon their shoulders.
Williamson's spate of injuries and reported tawdry womanizing, and Morant's spate of gun-waving incidents damaged the NBA's image.
NBA Looking for a New Franchise Icon
With LeBron James perhaps on the verge of retirement after next season, and the recent Hall-of-Fame trio of Kevin Durant, Kyrie Irving, and James Harden souring fans with their prima donna acts, the NBA needs hope.
That is when the French unicorn, the 7-foot-4 center Wembanyama, will be selected by the San Antonio Spurs as the No. 1 pick. The NBA's top newsbreaker, ESPN's Adrian Wojnarowski, called him, "The greatest prospect in the history of team sports."
Nobody stateside has really seen his game, as he's been playing for Metropolitans 92 of the French League.
But some impartial executives are also expecting greatness if Wembanyama stays healthy. That's no easy feat at his skyscraper height and with his thin frame (230 pounds).
Why the Frenchman is Special
Wembanyama can do everything on the court – owning a point guard's dribbling/passing skills, a shooting guard's touch, and a small forward's defensive nimbleness. Oh, and he carries an 8-foot wingspan, serving as a monster shot blocker.
The kid is a generational player,'' an NBA personnel director told Casino.org. "It's premature to compare him with anybody but himself. But he has the potential to be great. I've never seen a player his size and [with his] skill set, so the world better be ready for The Wemby Show. The hype is real.''
Already, there is a debate on Wembanyama initially deciding not to play in any of the Spurs summer league games in Las Vegas, which has become a significant showcase for the NBA with all 30 franchises and ESPN's coverage.
In France this week, Wembanyama said to a player in French he may play "a little bit,'' but that could mean one contest.
It makes sense. The French League season ended Thursday and this is the summer of the World Championships. Training camp for France begins in early August for a tournament that extends into September for the top squads. France nearly won an Olympic gold medal in 2021.
Why the Spurs Might be Good for Him
The Spurs have won five NBA championships since 1999, but San Antonio is still the sixth-smallest television market, and the team is coming off a 22-win season.
However, the Spurs likely will find themselves on national TV a ton, just like the New Orleans Pelicans did in Williamson's rookie year. That didn't turn out well because Williamson's injuries limited him to 24 games.
There is no such thing as a big market these days," the personnel director said. "(San Antonio) is actually good for him. He needs that environment to develop.''
In Monday's conference-call interview, ESPN's draft analyst Jay Bilas said the Spurs have the right coach to develop the 19-year-old.
"Any great talent is going to adjust really well to Gregg Popovich,'' Bilas said. "He's one of the best coaches that's ever lived, so that won't be an issue. Wembanyama is unique. I've never seen anything quite like him on a basketball floor. At 7-4 and [with] that crazy wingspan, with fluidity, athleticism, mobility, I just can't fathom a combination quite like that on a basketball floor. I think it's a no-brainer that Wembanyama is going to be great."
Recent First-Overall Pick Failing
Recent No. 1 picks haven't proved groundbreaking. Markelle Fulz and Ben Simmons, 2016 and 2017's No. 1 picks respectively, have endured mental and physical issues, and cling to relevancy.
Suns center DeAndre Ayton, 2018's first pick, has fallen out of favor in Phoenix. Selected first in 2020, Anthony Edwards became an All-Star last season, but plays in Minnesota and hasn't lifted his team to prominence like franchise players do.
The top pick in 2021, Detroit's Cade Cunningham, missed most of last season with an injury, becoming a league afterthought playing for one of the NBA's most wretched teams.
Last year's No. 1 pick, Paolo Banchero, was the 2023 Rookie of the Year and is a nice player out of Duke. But he toils in a basketball wasteland in Orlando, and doesn't appear to be a generational talent.
Betting Odds
There's almost no action on betting the No. 1. At Betonline.org, you need to put down $20K to win $100.
The second and third picks are receiving activity, with two heavy favorites: guard Scoot Henderson, who played in the G League instead of college, and Brandon Miller, a 6-9 power forward from Alabama.
Henderson is the 10-13 favorite to go 2; Miller is even money. It's 33-1 to bet the "other."
There are more choices at 3: After Henderson at 5-7 and Miller at 6-5, it goes:
Amen Thompson 14/1     +1400
Cam Whitmore    16/ 1    + 1600
Asuar Thompson 40/1    +4000
Jarace Walker      50/1
Both Henderson and Miller have question marks attached. Henderson is an elite driver, but still doesn't possess a reliable jumper. Miller had a strong season, but critics say his numbers took a big drop against top 50 teams.
Nobody is questioning Wembanyama's upside, which includes his extraordinary switching defense. But then again, no one was once concerned about Williamson and Morant, either.