Musician Brandon Flowers Hoping to Make Killer Profit on Old Las Vegas Howard Hughes Home
Posted on: April 30, 2017, 12:00h.
Last updated on: May 1, 2017, 09:21h.
Las Vegas native and lead singer of The Killers, Brandon Flowers, has decided to sell his upscale home that was once owned by casino magnate and millionaire, Howard Hughes.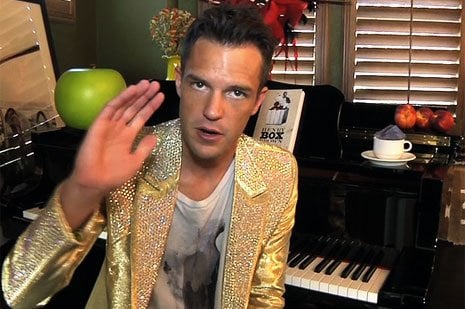 The rock band's front man has apparently made the decision to move out of state with his wife and three sons, and is asking $4.95 million, which would be almost a million more than he paid for it in 2010.
They had lived in the 8,299-square-foot, Spanish–style compound for seven years and spent $2.5 million renovating it.
It features six bedrooms, seven bathrooms, and 2 half-baths.
The main residence includes a fitness studio, an updated open kitchen, and a staircase imported from Belgium.
Outside is a swimming pool and private well, which provides water to the mature trees that surround the property.
Realtor, Zar Zanganeh is representing the seller and told the Las Vegas Review Journal that the house is in an area that is both historic and coveted.
"It is magnificent," Zanganeh said. "I've sold a couple thousand houses in my career, and this is one of my absolute favorites."
Hughes' Historic Home
The filmmaker and businessman, notoriously a recluse built the house in 1961 because of its secluded neighborhood northwest of the Strip.
It was one of three houses Hughes had before he moved to the city and never lived in it, choosing instead to reside on the top floor of the Desert Inn.
The residence has had other famous people occupy it. Jan Jones, the first woman mayor of Las Vegas, lived there with her then-husband, Fletcher Jones, owner of several high-end car dealerships.
Developer  Irwin Molasky and then Robert Frey, founder of Pure Management Group, which owns several bars and nightclubs on the Strip.
Tennis great Andre Agassi and wife, Steffi Graf lived in the house as well.
Hot Spot for Celebrities
With the real estate market improving in Vegas, stars that have resided here are making the move to buy and sell property.
Penn Jillette, who is half of the famous magician duo of Penn and Teller, sold his longtime Las Vegas home for $1.88 million in November.
It took nearly two years, but Zak Bagans, host of the Travel Channel's paranormal reality show Ghost Adventures, finally found a buyer for his 5,822-square-foot luxury home in Las Vegas in January for $2.2 million.
The last place pop icon, Michael Jackson ever lived in was placed for sale in June for $9.5 million and has yet to be bought.
Similar Guides On This Topic