Moody's Says Raiders Stadium Good for Las Vegas, but Gubernatorial Candidate Threatens Project
Posted on: May 4, 2018, 12:00h.
Last updated on: May 4, 2018, 11:41h.
The $1.8 billion Raiders stadium being built near the Las Vegas Strip will provide an economic boost to the city and state as a whole, so says Moody's Investors Service in a note this week.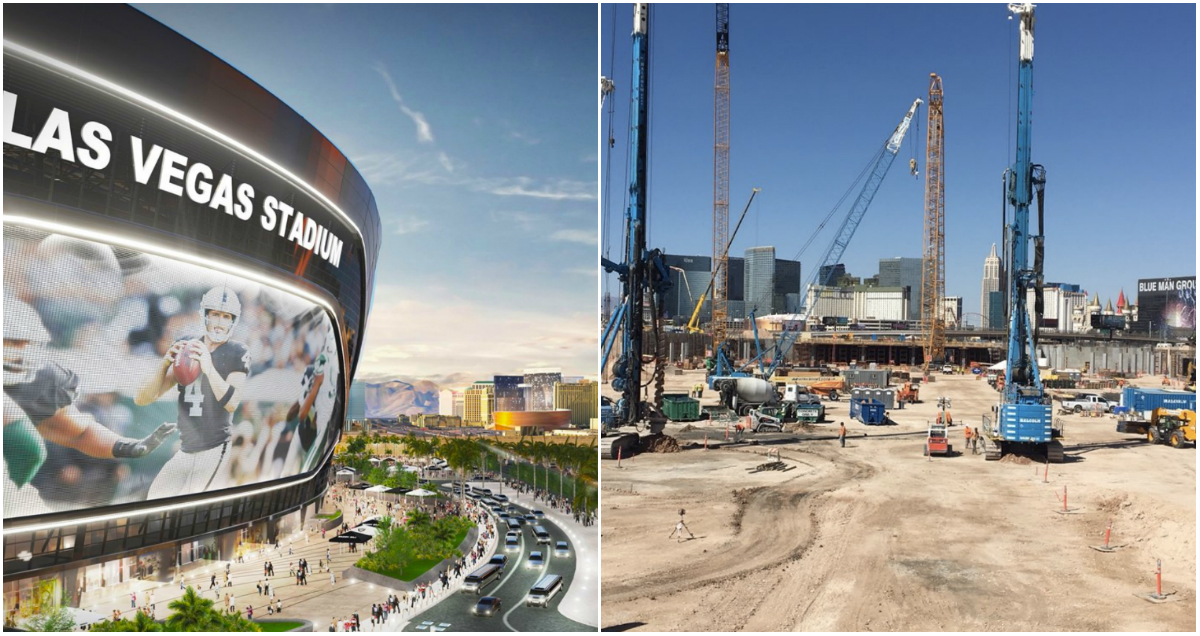 Moody's analyst Patrick Liberatore predicts the 65,000-seat domed stadium will bring new visitors to Las Vegas. In addition to at least eight NFL games a year, the venue will host UNLV football games, various sporting events, and large-scale concerts.
"The new NFL stadium will be a notable new draw for consumers and visitors," Liberatore writes. The Moody's analyst says the project is providing thousands of construction jobs, an industry that was severely hurt in Nevada by the US recession.
The Las Vegas Raiders stadium is being built on 62 acres of land adjacent to I-15 between Hacienda Avenue and Russell Road. The project is set to be completed in time for the 2020 NFL season.
Visitor traffic to Las Vegas was down 1.7 percent in 2017. Analysts believe reduction in room inventory due to several casinos undergoing renovations, as well as the October 1 mass shooting, were most responsible for the decline.
Opposition Remains
Nevada has committed $750 million to the stadium. The public funds are being raised through a small increase in the hotel occupancy tax on room stays in Clark County.
The Nevada Policy Research Institute (NPRI), a Las Vegas non-profit group that promotes limited-government policies, says the three-quarters of a billion dollars could have been used more effectively.
"If the Raiders stadium deal was a truly compelling investment, there would have been no need to rely on taxpayer dollars in the first place," NPRI Communications Director Michael Schaus told the Las Vegas Review-Journal. "The best way to create sustained economic growth would have been to keep that $750 million in the pockets of Nevadans, rather than subsidizing a billionaire's private NFL team."
Public funding of stadiums is nothing new. According to ESPN, about $6.7 billion in taxpayer money has been used to build NFL venues since 1997.
Candidate Threatens Stadium
Governor Brian Sandoval's (R) tenure will come to an end in early January 2019. One of the candidates seeking to replace him is hoping to generate support for his campaign by tapping into some Nevadans' opposition to using public money to build the Raiders stadium.
Nevada State Treasurer Dan Schwartz (R) says if elected he'll veto infrastructure bills related to the stadium, specifically the building of any new roads to ease congestion around the venue.
"Assuming I'm elected, I cannot interfere with the various contracts that are out. But the governor does control the roads. What I will do is tell them that you can build the $2 billion stadium, but you aren't going to have any roads," Schwartz declared recently.
"Why are we taking $750 million in public funds when we have the worst schools in the nation and using it to effectively pay for a stadium for a group of guys who are billionaires?" Schwartz asked.
Schwartz is one of five candidates running for the GOP ticket. Nevada Attorney General Adam Laxalt (R) maintains a substantial lead on his challengers ahead of next month's primary.
Similar Guides On This Topic